TV Series On Demand - Behind the Scenes of NBC's Manson Mania Follow-up, Season 2 of 'Aquarius'
Original | Derrick Taylor
Published June 8, 2016 08:00PM EDT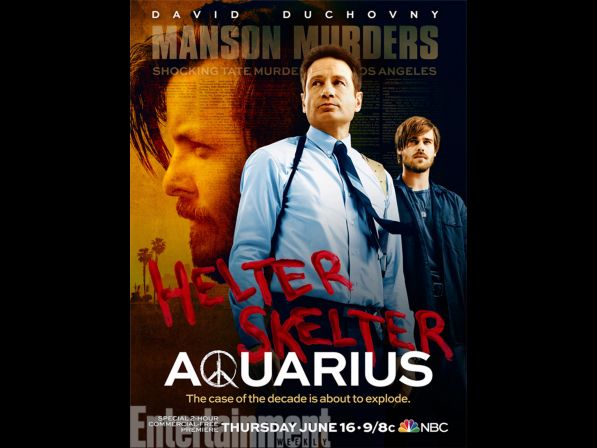 Season two of the NBC drama Aquarius is set to rock television. The gritty drama follows a group of investigators tracking down
Charles Manson
and his family before their infamous murder spree in 1969. It stars
David Duchovny
(Sam Hodiak),
Emma Dumont
(Emma Karn), and
David Meunier
(Roy Kovic), with
Gethin Anthony
as Charles Manson. The season premieres Thursday, June 16, and here's a closer look behind the scenes.
Blockbuster Premiere
NBC is doing everything possible to ensure Aquarius' success. In fact, the show's season two premiere at 9 p.m. on June 16 will be two hours long and free of commercials. Subsequent episodes will air on Thursdays at 10 p.m.
Streaming Saved Its Life
While ratings for season one weren't exactly spectacular, online streaming may have saved the show. According to Variety, Aquarius was the first series to be streamed immediately following its debut. All 13 episodes were placed online for four weeks, and the increase in online viewers is credited for NBC's decision to renew it.
Sam Hodiak vs. Charles Manson
The upcoming season will see its two of the biggest characters come face-to-face in a not-to-be missed scene. "I think we have a way for Sam Hodiak and Charles Manson to spend some quality time together," showrunner
John McNamara
told Entertainment Weekly. McNamara also says he intentionally ended season one with a cliffhanger to entice NBC to pick them up for a second season.
Claire Holt's Pioneering Role
Most female officers in the '60s didn't have the opportunity to do serious police work and investigating.
Claire Holt
's character, Charmain Tully, who is based on a real woman, was one of the lucky ones. "So the great thing about my character is she was one of the first to be able to do any sort of police work and go undercover," Holt told People. "There wasn't too much technical police training I had to do, but for one of the episodes I had to learn how to hold a gun -- that took some teaching!"
Season 2 Timeline
McNamara told AssignmentX.com where season two will pick up on June 16: "Same time period, picks up about thirty seconds after the end of the season finale, and takes us all the way to the Tate murders," he teased.
Cast Additions
Season two will welcome
Johnny Kostrey
, according to Deadline.com. He'll play Voytek Frykowski, a friend of
Sharon Tate
's husband
Roman Polanski
and victim of the Manson Family's Cielo Drive murders.
Duchovny Wants It to Last
While talking with HNGN.com, Duchovny admitted he wants this project to last a long, long time. "We are trying to make you want it so badly that you keep us on the air until we are there," he said, noting the show has much to explore if given the opportunity.
Don't Expect Holt's Backstory
When asked if fans will learn more about her character and what drives her to work as a policewoman, Holt said it's not likely to happen. "I've discussed with John in the sense that should we be lucky enough to get future episodes hopefully we'll delve more into that," she explained to TVFanatic.com. "But I think she just has a really strong spirit and a fine spirit."
Fact or Fiction
When the show initially debuted, there was a debate whether it was accurate or fictionalized. Apparently, it's a bit of both. "John, who also writes for the show, has always said it's historical fiction, and I think that's true in every aspect of the show,"
Grey Damon
, who plays Brian Shafe, told ShockYa.com. "I think the best way to put it is that's half fact and half fiction."
Homework for the Cast
Before filming got underway for season one, McNamara sent the entire cast a list of "over 100 books, movies and documentaries to read or watch," Dumont told Iconvsicon.com. "I watched a lot of old films,
Hayley Mills
films and
Audrey Hepburn
films."
David Meunier's Challenges
Meunier, who plays Roy Kovic, sometimes has trouble getting into character. "It can be a bit of a challenge sometimes because you think to yourself that something should go a certain way but you realize some of the thoughts are inaccurate because the things you are thinking about don't even exist," he told Iconvsicon.com.
Anthony Didn't Contact Charles Manson
While most actors who portray living people reach out to them, Anthony got the advice to stay clear of
Charles Manson
. The convicted killer, now 81, is currently behind bars serving a life sentence. "Meeting him at the end of his life when he's been incarcerated for most of it, I don't think it would serve me in any performance for the show and I certainly don't think it would serve him as an individual," Anthony told DailyDead.com.
What are you most excited to see in season two of Aquarius?
TWC Central
_________________
Credit to original photographer, poster, scanner, site & anyone I may have missed in between




Pix Queen




Number of posts

: 112971


Age

: 53


Registration date :

2007-04-27



Pix Queen




Number of posts

: 100670


Age

: 48


Your favorite David's role

: Hank Moody and Fox Mulder


Registration date :

2007-05-07



---
Permissions in this forum:
You
cannot
reply to topics in this forum