Calle 13 estrena en septiembre nuevas temporadas de "Aquarius", "Ley y Orden: UVE" y "Rizzoli&Isles"
Calle 13 opens in September new seasons of "Aquarius", "Law & Order: SVU" and "Rizzoli & Isles"
El mes de septiembre, es el mes del regreso a la rutina, de la vuelta al cole y por supuesto el mes en el que las series vuelven a las parrillas de programación. Y en el caso de Calle 13, tenemos tres series que vuelven en septiembre con nuevos episodios. El 9 de septiembre regresa Ley y Orden: Unidad de Víctimas Especiales con su décimo sexta temporada; El 18 de septiembre le toca el turno a la segunda temporada de Aquarius, serie protagonizada por David Duchovny; y por el último el 20 de septiembre el canal estrena la séptima y última temporada de Rizzoli&Isles.
Creada por Dick Wolf, Ley y Orden: Unidad de Víctimas Especiales es la segunda serie nacida de la prestigiosa y exitosa franquicia de Ley y Orden y estrenará el próximo mes de septiembre en Estados Unidos su décimo séptima temporada. Aquí Calle 13 emitirá la décimo sexta temporada todos los viernes a las 22.00 horas.
Esta emocionante e interesante serie nos muestra la vida personal y profesional de una unidad especial del Departamento de Policía de Nueva York, un grupo de detectives cuya labor es investigar crímenes de índole sexual y que precisan de un tratamiento especial como asesinatos pasionales, violaciones o secuestros. La sargento Olivia Benson (Mariska Hargitay, Urgencias) dirige la unidad y, es una mujer muy competente y una policía a la que le encanta la calle, pero a menudo se excede en su empatía hacía algunas de las víctimas y reponde emocionalmente debido a los terribles crímenes que presencia, eso sí, sin comprometer nunca su profesionalismo.
En las calles de Boston, hace falta mucho más que entender la mente de un asesino para rastrear a los criminales más retorcidos de la ciudad. Para resolver estos casos tan complejos, necesitas entender la ciencia del asesinato. Es por eso que la detective Jane Rizzoli (Angie Harmon, Club contra el crimen), la única mujer de la división de homicidios de Boston, une sus fuezas con la examinadora forense Maura Isles (Sasha Alexander, Navy: Investigación Criminal), conocida en el departamento como la Reina de la Muerte por su gran experiencia leyendo a los cadáveres.
La séptima temporada que Calle 13 emitirá los martes a las 22.00 horas, que será la última de la serie, comienza su trama en la mañana siguiente al tiroteo con el que finalizó la sexta entrega. El equipo tiene que emplearse a fondo para encontrar a la fugitiva Alice Sands y entregarla a la justicia, antes de que destruya la vida de Jane. Además, nuevos casos les distraerán de su objetivo principal y su vida personal surgirán nuevos romances.
Por último Aquarius nos traslada a Los Angeles, en 1967. La era del amor libre, la experimentación con las drogas y la guerra de Vietnam está en pleno vigor. Sam Hodiak (David Duchovny, Californication), un condecorado veterano de la II Guerra Mundial reconvertido en detective de homicidios, apenas reconoce ya la ciudad a la que juró proteger. Pero cuando la hija de una antigua novia, desaparece sin dejar rastro, Hodiak acepta investigar el caso.
La segunda temporada de Aquarius llega a Calle 13 (se emitirá los domingos a las 22.55 horas) con trece nuevos episodios en los que el tristemente famoso asesinato de Sharon Tate y varios de sus amigos, perpetrado por La Familia de Charles Manson en 1969, tendrá especial protagonismo a través de flash-forwards durante toda la temporada. Mientras tanto, con la profunda revolución social y cultural de fondo en esa década en Estados Unidos, el detective Hodiak y su equipo seguirán investigando crímenes y corrupción, sin librarse de permanecer en el punto de mira de Asuntos Internos por sus métodos poco ortodoxos.
Con una audiencia en su primera temporada de 5,8 millones de espectadores y un rating de 1.2 puntos entre los adultos de 18 a 49 años. La cadena NBC colgó los doce primeros episodios en Internet, convirtiéndose en la primera ficción de una cadena generalista en seguir un modelo que han puesto de moda plataformas como Netflix o Amazon. Y fue un éxito. Aquarius ha sido en la web de NBC el segundo estreno más visto de la historia, solo superada por The Blacklist. La segunda temporada se estrenó en Estados Unidos el pasado 16 de junio y antes de su estreno en septiembre. Durante la semana del 8 de agosto, Calle 13 emitirá la primera temporada completa, para terminar el viernes 12 con el adelanto del primer episodio de la segunda entrega de la serie.
Mundoplus.tv
Translator
Created by Dick Wolf, Law & Order: SVU is the second series born of the prestigious and successful franchise Law & Order and released next September in the United States its seventeenth season. Here Calle 13 issue the sixteenth season every Friday at 22.00.
This exciting and interesting series shows the personal and professional life of a special unit of the New York City Police Department, a group of detectives whose job is to investigate crimes of a sexual nature and require special treatment as passion killings, rape or kidnapping . Sergeant Olivia Benson (Mariska Hargitay, ER) heads the unit, is a very competent woman and a policeman who loves the street, but often exceeds their empathy for some of the victims and repond emotionally because of terrible crimes presence, yes, without ever compromising their professionalism.
On the streets of Boston, much more is needed to understand the mind of a murderer to track the most twisted criminal in the city. To solve these complex cases, you need to understand the science of murder. That's why the detective Jane Rizzoli (Angie Harmon Women's Murder Club), the only woman in the homicide division of Boston, joins fuezas with forensic examiner Maura Isles (Sasha Alexander, Navy: Criminal Investigation), known in the department as the Queen of Death for his great experience reading the corpses.
The seventh season Calle 13 issue Tuesday at 22.00, which will be the last of the series, begins its story in the morning after the shooting that ended the sixth installment. The team has to work hard to find the fugitive Alice Sands and submit to justice, before it destroys the life of Jane. In addition, new cases will distract them from their main objective and personal life will be new romances.
Finally Aquarius takes us to Los Angeles in 1967. The era of free love, experimentation with drugs and the Vietnam War is in full force. Sam Hodiak (David Duchovny, Californication) a decorated veteran of World War II turned into a homicide detective, just and recognizes the city to which he swore to protect. But when the daughter of a former girlfriend, disappears without a trace, Hodiak agrees to investigate the case.The second season of Aquarius reach Calle 13 (Sundays will be issued at 22.55) with thirteen new episodes in the infamous murder of Sharon Tate and several of his friends, perpetrated by the Family of Charles Manson in 1969, will special prominence through flash-forwards throughout the season. Meanwhile, with the profound social and cultural revolution background in that decade in the United States, the detective Hodiak and his team will continue to investigate crimes and corruption, without getting rid of remaining in the crosshairs of Internal Affairs for their unorthodox methods.
With an audience in his first season of 5.8 million viewers and a 1.2 rating points of among adults aged 18-49 years. NBC hung the first twelve episodes on the Internet, becoming the first fiction of a generalist chain to follow a model that have fashion platforms such as Netflix or Amazon. And it was a success. Aquarius has been on the website of NBC's second most-watched premiere in history, surpassed only by The Blacklist. The second season premiered in the United States last June 16 and before its release in September. During the week of August 8, Calle 13 will broadcast the first full season, to end on Friday 12 with the preview of the first episode of the second installment of the series.
Mundoplus.tv
Mundoplus.tv
_________________
Thank you Maria!
Pix Queen




Number of posts

: 100670


Age

: 48


Your favorite David's role

: Hank Moody and Fox Mulder


Registration date :

2007-05-07



_________________
Credit to original photographer, poster, scanner, site & anyone I may have missed in between




_________________
Thank you Maria!
Pix Queen




Number of posts

: 100670


Age

: 48


Your favorite David's role

: Hank Moody and Fox Mulder


Registration date :

2007-05-07



_________________
Credit to original photographer, poster, scanner, site & anyone I may have missed in between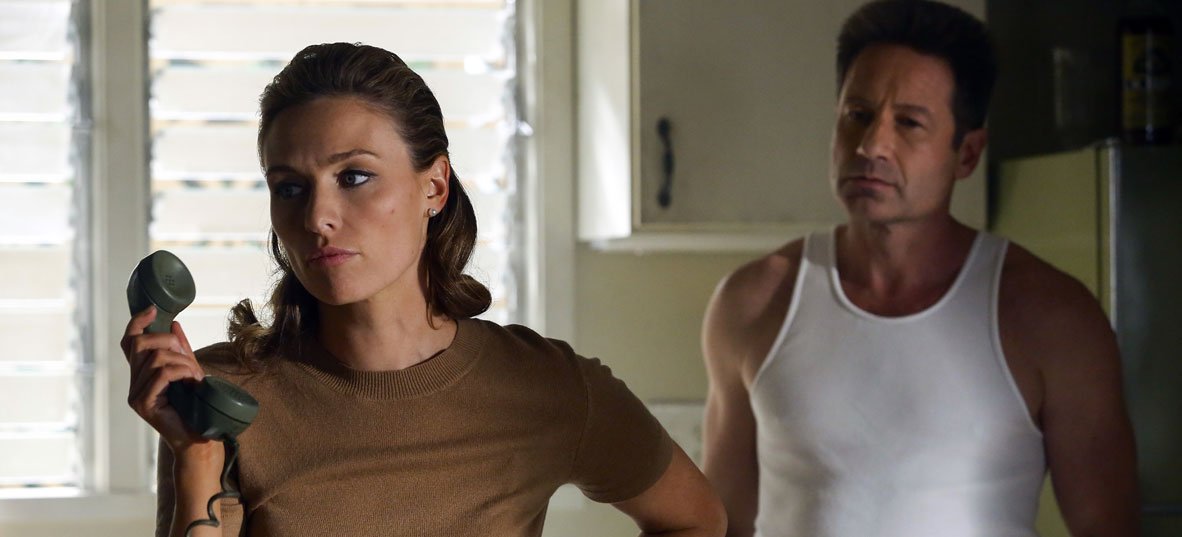 Volve a T2 de 'Aquarius' con David Duchovny a @Calle13 o domingo 18   https://t.co/dQniqgVzxA pic.twitter.com/IQ7zHtJSn2

— R Galicia (@os_de_R) September 17, 2016
_________________
Thank you Maria!
Pix Queen




Number of posts

: 100670


Age

: 48


Your favorite David's role

: Hank Moody and Fox Mulder


Registration date :

2007-05-07



_________________
Credit to original photographer, poster, scanner, site & anyone I may have missed in between




Phantom





Number of posts

: 16987


Age

: 60


Localisation

: Bologna - Italy


Emploi

: Housewife


Your favorite David's role

: Fox Mulder


Registration date :

2011-01-20



---
Permissions in this forum:
You
cannot
reply to topics in this forum