Shooting the Garry Shandling documentary with Ed Solomon and David Duchovny. https://t.co/EXojbIrd72

— Judd Apatow (@JuddApatow) February 2, 2017
_________________
Thank you Maria!
Pix Queen




Number of posts

: 100670


Age

: 48


Your favorite David's role

: Hank Moody and Fox Mulder


Registration date :

2007-05-07



_________________
Credit to original photographer, poster, scanner, site & anyone I may have missed in between




Judd Apatow memorializes mentor, the late Garry Shandling
FILE - In this Aug. 7, 2015 file photo, Garry Shandling arrives at the 15th Annual Harold and Carole Pump Foundation Gala in Los Angeles. Judd Apatow has decided to memorialize his friend and mentor Shandling in an appropriate way. Apatow made Shandling the subject of his four-hour HBO documentary called "The Zen Diaries of Garry Shandling." The new film draws on 30 years of Shandling's intimate diaries and notes. (Photo by Rob Latour/Invision/AP, File) (Associated Press)
By Mark Kennedy | AP March 21 at 11:14 AM
NEW YORK — After Garry Shandling died two years ago, his longtime friend Judd Apatow went through emails he and the comedian had recently shared. Then he started bawling.
"I realized that every single time I asked him for anything or wanted him to come to some event or to read something for me, he said 'yes' every single time," said Apatow. "It really made me cry."
Shandling, a groundbreaking comedian not far from the neurotic characters he played, had dedicated his last years to consciously encourage and mentor his friends and fellow comedians but Apatow hadn't realized the full extent of his generosity.
"He had a lot of conflicts with people but he was also trying very hard to figure it all out so he could do better," he said. "He was a complete, complex human being with all the flaws and all the greatness as anybody else in the world."
Apatow decided to memorialize his friend in an appropriate way. Shandling, who masterminded a brand of phony docudrama with "The Larry Sanders Show," is now the subject of Apatow's four-hour HBO documentary called "The Zen Diaries of Garry Shandling."
The film includes interviews with James L. Brooks, Linda Doucett, David Duchovny, Sacha Baron Cohen, Jay Leno, Kevin Nealon, Conan O'Brien, Bob Saget, Sarah Silverman and Jeffrey Tambor. The documentary airs in two parts on March 26 and March 27.
While four hours sounds like a lot, Apatow goes deep, drawing on 30 years of Shandling's intimate diaries and notes, childhood movies, stand-up performances and raw footage. Michael Cera reads the diary entries, which show a man trying to quiet his demons. "You are scared of awakening. Let go of that," one entry reads.
"It was very difficult to sit down and read his diaries," said Apatow. "It was like living in Garry's head for a while. It was very emotional. I felt all his pain and his joy."
"The Larry Sanders Show" was the forerunner to a new kind of painfully awkward, authentic comedy that would inspire "The Office," ''Curb Your Enthusiasm," ''Arrested Development" and a generation of comics.
In the series, Shandling played an insecure and spineless late-night TV talk-show host with a regular habit of watching his show in bed at night. Shandling had already made a name for himself with the comedy series "It's Garry Shandling's Show," in which the actors routinely broke the fourth wall to comment on what they were up to.
Apatow had a long history with Shandling, interviewing the comic when he was a 16-year-old high-school student doing a radio show on Long Island. He went on to write for Shandling, direct episodes of "The Larry Sanders Show" and considered his "Freaks and Geeks" a version of "The Larry Sanders Show," only set in high school.
"The Zen Diaries of Garry Shandling" explores the development of both hit TV shows and delves into Shandling's childhood, his tortured romance with Doucett, his messy break with former manager Brad Grey and the time he became a target of private eye Anthony Pellicano.
Nealon praises the documentary, calling Apatow "a skilled surgeon when it comes to putting the right things in there. He could have made it an eight-hour documentary and we still would have been riveted to it."
The film reveals that the death of Shandling's older brother from cystic fibrosis when Shandling was 10 became a pivotal event, reverberating in his relationship with his suddenly clingy mother, his future love affairs and his quest for honesty.
"When his brother died, his family didn't talk about it ever. That's how they dealt with it — by not talking about it. And I think Garry became obsessed with presence and truth because he didn't get that as this important moment," said Apatow.
"This moment changed him. He was very happy as a little kid. He had a dream relationship with his brother. I can't say he ever seemed as much at peace in footage as he does in the footage when he's a little kid rising around with his brother."
Shandling died of a heart attack at age 66 in 2016. Apatow channeled much of his grief into the documentary, which grew out of short films he made for the memorial service.
"Now that's over I'm very sad because it's like letting go of my relationship with Garry," he said. "I already miss him because the project is over."
Washington Post
_________________
Credit to original photographer, poster, scanner, site & anyone I may have missed in between




Phantom





Number of posts

: 17149


Age

: 60


Localisation

: Bologna - Italy


Emploi

: Housewife


Your favorite David's role

: Fox Mulder


Registration date :

2011-01-20



The Zen Diaries of Garry Shandling
TV-MA | 1 hr 54 min | 2018 | 5.1 | HD
Available Mon, Mar 26 at 8:00pm ET on HBO Go and HBO Now
On demand: Available Tue, Mar 27
Television: Mon, Mar 26, 8:00PM ET
When Garry Shandling passed away in 2016, he was widely remembered as a top stand-up comic and the star of two of the most innovative sitcoms in TV history. But to those who knew him, the "real" Garry Shandling was a far more complex person. Now, Judd Apatow has created a remarkable portrait of this iconic comedian in the four-and-a-half-hour documentary
The Zen Diaries of Garry Shandling
.
Epic in scope and intimate in detail,
The Zen Diaries of Garry Shandling
features conversations with more than 40 of Shandling's family and friends, including James L. Brooks, Jim Carrey, Sacha Baron Cohen, David Coulier, Jon Favreau, Jay Leno, Kevin Nealon, Conan O'Brien, Bob Saget, Jerry Seinfeld and Sarah Silverman, and four decades' worth of TV appearances, along with personal journals, private letters and candid home audio and video footage that reveal his brilliant mind and restless soul.
"Give what you didn't get," wrote Shandling in a journal late in his life, the mantra of a self-proclaimed "spiritual warrior" still challenging himself to transcend his own insecurities, despite achieving so much in the face of loss, betrayal and tragic twists of fate. From childhood tragedy to heartbreak, professional betrayal and unexpected physical trauma, to his emergence as a powerful teacher, friend and guiding spirit for a new generation of talent, Apatow's documentary not only chronicles one man's ability to survive the ups and downs of a life in show business, but also offers a profound investigation into the power of comedy to elevate the human spirit.
Part two of
The Zen Diaries of Garry Shandling
offers an extensive examination of
The Larry Sanders Show
, his landmark HBO comedy series. Colleagues remember the demands of producing material that met Shandling's high standards, while his diaries reveal an ongoing struggle with complacency and search for authenticity.
A successful gig hosting the Emmys, creating unique extras for the DVD release of
The Larry Sanders Show
and an appearance with his friend Jerry Seinfeld on
Comedians in Cars Getting Coffee
(where Shandling opined about death and mortality) hinted at some of the lessons he'd learned in his lifelong quest for peace.
The Zen Diaries of Garry Shandling
is directed and executive produced by Judd Apatow; co-executive produced by Joe Beshenkovsky and Mike Bonfiglio; supervising producer, Josh Church; produced by Sam Fishell and Amanda Glaze; co-producers, Wayne Federman and Chris Wilcha; edited by Joe Beshenkovsky; directors of photography, Matt Bass and Jonathan Furmanski; music by Mike Andrews; animation by Stefan Nadelman. For HBO: supervising producer, Sara Bernstein; executive producer, Sheila Nevins.
HBO
_________________
Credit to original photographer, poster, scanner, site & anyone I may have missed in between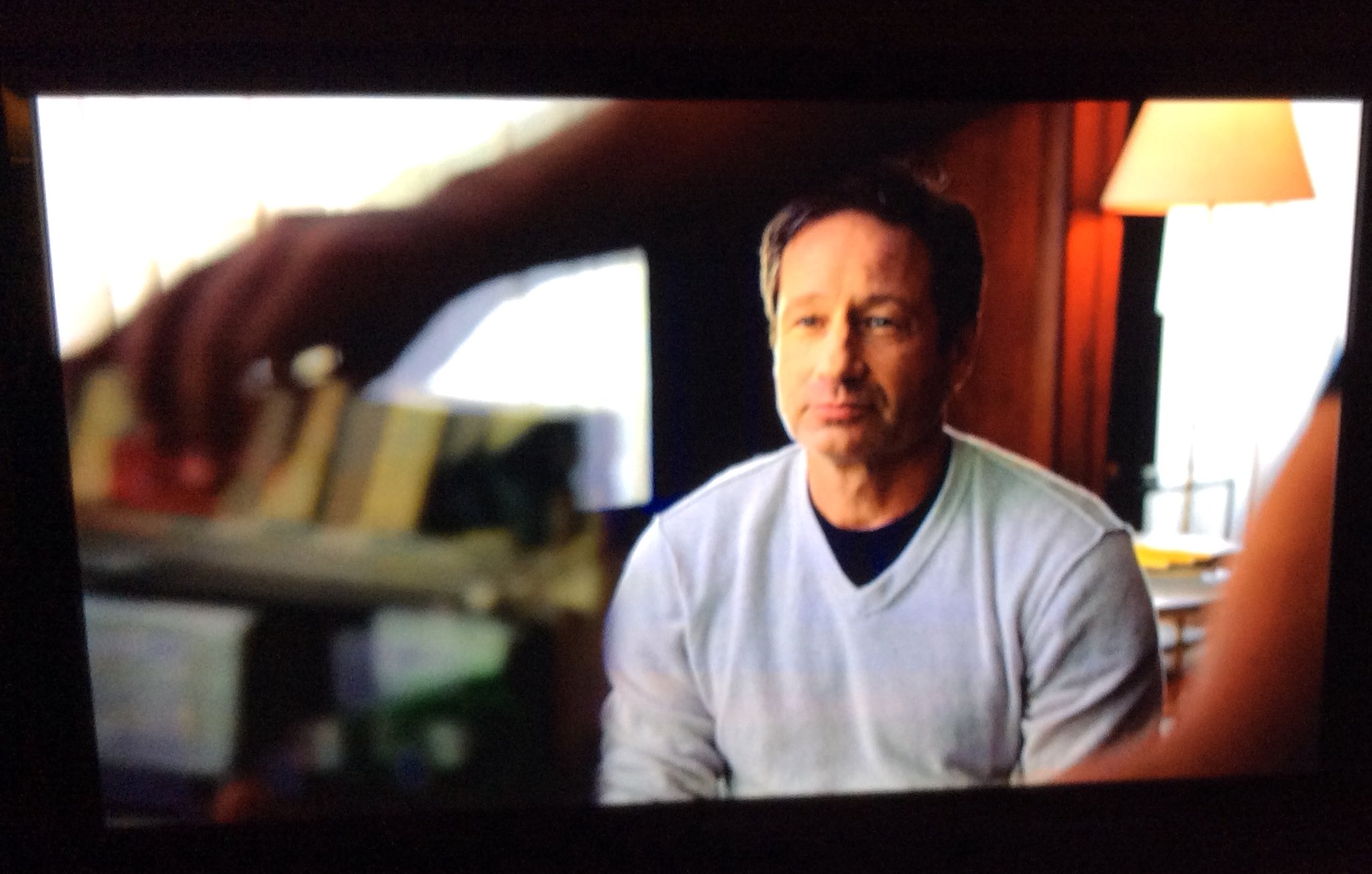 I just finished part 1, I'm assuming he's is in pt 2 tonight? But don't skip pt 1 @davidduchovny fans, it's good! #TheZenDiariesOfGarryShandling pic.twitter.com/Qw1oVHUWFv

— MelT (@DrDuchovny) March 27, 2018
_________________
Credit to original photographer, poster, scanner, site & anyone I may have missed in between




'The Zen Diaries of Garry Shandling': TV Review
1:34 PM PDT 3/26/2018 by Daniel Fienberg
Essential for Shandling fans, a superb introduction for neophytes.
Judd Apatow's four-hour documentary for HBO, about his friend and mentor Garry Shandling, is a bittersweet study of a restless psyche, an insightful look into the world of comedy and an in-depth biography all in one.
Watching HBO's terrific four-hour documentary
The Zen Diaries of Garry Shandling
, it's hard to tell if the film is a promising start to Judd Apatow's next career as a nonfiction chronicler of comedy history and its psychology or if this was a one-off culmination of Apatow's personal and professional journeys to this point.
That isn't to say that Apatow turns
Zen Diaries
into an autobiography. Shandling was a essential and formative figure in Apatow's life, dating back to a radio interview when Apatow was still in high school and through decades of active mentorship. It isn't always the case that a filmmaker's extreme closeness to his subject yields good art, but Shandling was a part of Apatow's DNA and, through the documentary, Apatow makes it clear that Shandling was integral to the comedy DNA of multiple generations.
Presented over two nights, but easy to digest in a single sitting,
Zen Diaries
is a worthwhile account of Shandling's career and evolving philosophy, an insightful exploration of stand-up comedy and the comedic voice, and a sad contemplation and reckoning from those Shandling left behind and those grappling with his legacy.
The opening chapter focuses primarily on the first two facets, tracing Shandling's upbringing in Arizona, including the pivotal role played by the death of his brother, Barry. It's a simple beginning, driven by a limited amount of photographic and home movie footage and by the speculative memories of a single cousin. It's mostly there to set the foundation for Shandling's relationship with his mother and the unresolved issues pertaining to Barry's death before Shandling heads to Los Angeles and the documentary really gets fascinating.
Shandling's stand-up beginnings at The Comedy Store are a perfect storm for Apatow and the doc because they combine a shocking amount of early stand-up audio and filmed footage and the opportunity to bring in friends and colleagues including Bob Saget, Jim Carrey and Jay Leno — plus they coincide with the start of Shandling's diaries that give the documentary its name. Shandling's scribbles, frequently narrated by Michael Cera, aren't always profound — it's a lot of vagaries like "The secret is be myself!" and "Am I going to wind up broke? I don't know!" mingled with advice on how to handle hecklers — but they're snapshots of waves of optimism and pessimism as Shandling's celebrity advances. The audio and stage footage trace certain developing Shandling bits and give insight on the refining of his uniquely ironic and withering tone. And the talking heads marvelously explain how, with his own eccentricities, Shandling was part of their group, but maybe not always at home in their group — leaving very much open the chance that someday Apatow might do a documentary on the '70s scene currently featured in fictionalized form in Showtime's
I'm Dying Up Here
.
The first night takes us through the deconstructive brilliance of
It's Garry Shandling's Show
and how the responsibilities from that series led him to give up a regular guest-hosting role on
The Tonight Show
, sacrificing a personal dream in a conflicted way apparently typical for Shandling.
These two hours, which also feature collaborators like Ed Solomon and Alan Zweibel, are the cleaner, more conventional part of
Zen Diaries
.
The second night becomes more personal, more painful, more deeply introspective and yes, in familiar Apatow fashion, more rambling and unfocused. Beginning with over 45 minutes on
The Larry Sanders Show
, it's also much more ambitious.
The
Larry Sanders
segment, with Jeffrey Tambor, David Duchovny, Penny Johnson Jerald, Sarah Silverman and writer Peter Tolan among others, breaks down the difficult process of making one of TV's most important comedies. From there, though, the doc has an additional 90 minutes of uncertainty that reflects how sometimes human life doesn't have a clear arc.
There were the emotional and legal obstacles of Shandling's split from longtime manager Brad Grey and the paranoia-inducing revelations of the Anthony Pellicano case. Apatow and various talking heads discuss why Shandling didn't do another TV show, what went wrong with his film
What Planet Are You From?
and whether Shandling was happy. Some of those are little questions with simple answers — Mike Nichols and Shandling apparently just weren't on the same page in their ill-fated cinematic collaboration — and some are obviously very big questions, getting at Shandling's transition from identity crisis to identity acceptance. There's a coming-to-terms that's going on, both for the documentary's subject and its filmmaker.
Shandling's post-
Larry Sanders
life lacked a clear structure, and occasionally Apatow's struggles to make sense of it are evident. For example, there's a segment that's almost nothing but Shandling's appearance on
Comedians in Cars Getting Coffee
, which I would have watched if that were what I wanted to watch. Shandling's interest in Buddhism, hinted at in the title, is never really given life, and it's left to Sarah Silverman of all people to observe, "It's not because he's Zen. It's because he was in desperate need of being Zen." There's a simultaneous need to give Shandling's last years meaning and Apatow's awareness that assigning a single meaning or revelation wouldn't honor his friend.
If the second half of the doc feels padded and occasionally a bit too much like a prelude to a premature death, it's still full of utterly exposed moments from the people who loved Shandling, starting with Apatow. You get Conan O'Brien remembering Shandling's last visits to his late-night show and recalling how important he was after the fiasco of O'Brien's
Tonight Show
departure. You get Bob Saget trying to make sense of how the Brad Grey separation left them estranged. You also get footage from Apatow and Shandling's paired semi-standup appearances in his last years, the promises of a return that never quite materialized.
Mostly,
The Zen Diaries of Garry Shandling
justifies its sprawling form. It's bittersweet, very funny and does right by the man and the comic world that gave him so much insecurity and so much success.
Airs: Monday and Tuesday, 9 p.m. ET/PT (HBO)
Hollywood Reporter
_________________
Credit to original photographer, poster, scanner, site & anyone I may have missed in between




Phantom





Number of posts

: 17149


Age

: 60


Localisation

: Bologna - Italy


Emploi

: Housewife


Your favorite David's role

: Fox Mulder


Registration date :

2011-01-20



Screen captures from the beautiful and poignant documentary about Garry Shandling 
Source: ddismyguiltypleasure
_________________
Credit to original photographer, poster, scanner, site & anyone I may have missed in between




---
Permissions in this forum:
You
cannot
reply to topics in this forum