Page 3 of 3 •
1, 2, 3
THE X-FILES Review: "My Struggle III"
January 4, 2018
Often I think I've seen the worst of the worst when it comes to television shows. Then a wonderful series like
The X-Files
is defiled with the pure idiocy that is "My Struggle III." It's not just that this episode is bad, makes no sense, has no causation or narrative structure,
and
retcons the
X-Files
mythos in offensively misogynistic ways. All of that would be bad enough. What makes this truly egregious is that it
isX-Files
and hence could be great and should be great with even the most minimal effort. Instead we get lazy hack nonsense that my thirteen-year-old fanfiction fever dreams put to shame. I legitimately can't fathom why these actors keep signing on for this nonsense. There is literally
nothing
in this episode that is good or even neutral. The whole thing is bad. The "plot" is bad; the structure is bad; the characterizations are bad; the dialogue is bad; the twist is actively disgusting, especially in our current climate of exposing the sexual harassment that women in every industry face every day simply by trying to exist. I want to ask the heavens who thought this was a good idea but it's definitely Chris Carter who thought this was a good idea. Fun story! Carter, responsible for creating one of the most iconic science fiction texts in pop culture history, actually does not like and knows nothing about science fiction. He heard a Hollywood nutjob telling a story about government conspiracies and aliens at a party in the early '90s and thought it would make a great TV show. I feel like the longer this goes on the more he exposes how dumb he is about sci-fi and how actively misogynistic he is. It's easy to forgive
X-Files
a lot of its weird treatment of women because the bulk of it was a mainstream '90s series. The treatment of women has gotten worse as the world has become more cognizant of problems with gendered representation which means
newer
X-Files
has already aged worse than the originals.
As with the previous season, this show's mytharc doesn't seem to understand that the cultural context of conspiracy theories has changed
dramatically
since this show's inception. Conspiracy theories used to be an expression of distrust in the military industrial complex. They were the liberal expression of individuality and the power of the people. If just-plain-folks can uncover the big shady plans of the government then just-plain-folks can take back power. Conspiracy theories used to be weird hippie-dippy nonsense. Now they are an ultra-politicized arm of the fascist propaganda machine of the right-wing. You can't just keep using conspiracies in this story in the same way because they mean something completely different now. In addition, the sudden inclusion of terms like "fake news" and clips of Trump, Putin, and various other dictators and right wing media figures is jarring and absurd considering that the previous season of this show ran in early 2016 and presumably no time has passed narratively between now and then. The world is changing too fast around
X-Files
and it's too slow and stodgy to keep up. What was once a cutting-edge progressive show is now backwards and painful.
Not only is
X-Files
now hopelessly out of touch with politics and the zeitgeist but this episode is also actually
stupid
. Characters make enormous leaps in their logic and presumptions which read as an attempt to create urgency and increase the pace without the writers actually doing any intellectual work. The neurologist immediately decides that Scully's visions are some kind of messages put in her head by the government, which would be all right in the context of this show except she pulls it out of thin air like that's a common cause your average neurologist would presume. Somehow Scully's brain is flashing Morse code messages in the CT scan which would probably actually just kill you. Somehow Scully is "impregnated" years before she actually became pregnant, and a whole host of other things. Literally nothing in this episode makes sense or logically follows. Even the fact that Scully is having seizures at all is
hysterical
. It's like they heard the complaints about the previous season ending on a very stupid world-ending cliffhanger and tried to walk it back. It's possibly the first time this show has realized that it's painted itself into a corner but sudden magical seizures in the main female character who is having them solely because of her magical son is just the limit. They've tried to martyr Strong Female Archetype Scully for the sake of humanity. Now that I think about it, it's in the classic fan fiction hurt/comfort genre. Scully is super-sick, only her sickness can save the world, and only Mulder can save her. The thing is, even the worst of the old usenet melodramas had more coherent plots than this. They had to or they'd get ripped apart by readers.
Thankfully, there are ten episodes this season and I'm given to believe that the next eight are standalone Monster of the Week episodes. The mytharc in this series died like literally 20 years ago so I wish they'd just stop even pretending anyone cares about this part of this story. It's impossible to fix at this point so just stop. Give me monsters and shut up about conspiracies.


Season 11, Episode 1 (S11E01)
The X-Files airs on FOX on Wednesdays at 8PM
The Tracking Board
Pix Queen




Number of posts

: 110613


Registration date :

2007-04-27



TV REVIEW: 'The X-Files' – 'My Struggle III'
'The truth still lies in the X-Files'
Hunter Heilman | January 4, 2018
WARNING: Spoilers for "The X-Files" ahead.
Dana Scully (Gillian Anderson) awaking from one of her visions. Photo courtesy of Robert Falconer/FOX.
I'll be honest, I 
hated
the finale to the last season of "The X-Files," for what was a decent season overall. My biggest fear after the finale of the mini-series that was season 10 of the iconic show was that we were to leave one of the greatest shows of all time on a horrendously plotted cliffhanger that did no one any favors whatsoever. And with that, my first thought when I think of Season 10 of "The X-Files" is of its horrid low with its ending, not it's sometimes great highs, with episodes like "Mulder and Scully Meet the Were-Monster" that hit so well into our nostalgia bones. The plain and simple truth of the matter is that "The X-Files" is a show much more enjoyable when actually dealing with individual cases within the X-Files, not the grand mythology that creator Chris Carter always wants to shove at us. The "Monster-of-the-Week" episodes are the iconic ones that I remember as a fan of "The X-Files," and that's all I really ask for in Season 11 is more of them, and less convoluted mythology episodes.
Too bad "My Struggle III" is one of the dreaded mythology episodes. Though, it's not as poor as it could've been.
Starting off with a monologue from the Cigarette Smoking Man [CSM] (William B. Davis) about the state of the world we live in and the secrets he holds within him, "The X-Files" catches us up to speed with the world since we last left the show nearly two years ago. It does a decent job in stating how far the world has come since the events of "My Struggle II" (even though the episode picks up immediately where the last one left off, nearly two years earlier).
Fox Mulder (David Duchovny) and Scully reuniting after her seizure that put her into a coma. Photo courtesy of Robert Falconer/FOX.
After the opening credits, we finally learn what happened to Agent Dana Scully (Gillian Anderson) after she looked directly into the light of the alien spacecraft on the 14th Street Bridge at the end of last season. We learn that Scully suffered a seizure and that the events of "My Struggle II" were all a vision from Scully of what could happen in the future. While I really hate the idea of the "It was all a dream!" trope, and while it does seem like a cop-out here, I have no issue wiping "My Struggle II" from the slate and starting over. As it was so clumsily written that I'll accept a re-write, even if it also comes in a clumsy manner.
After an MRI shows Scully to be emitting a morse code signal saying "Find him," Fox Mulder (David Duchovny) knows she is talking about William, their missing son, that seems to be the key to everything surrounding the mythology these past two seasons. When Scully awakes, she tells Mulder of her visions, and warns him that Mulder will die without seeking out the CSM and ending it once and for all, preventing the spread of the spread of the fatal pathogen.
Later, Scully is visited by Jeffrey Spender (Chris Owens), Mulder's brother, whom they entrusted William with in the original series. He tells them that he's being followed by someone who wants William and came to warn her. When Scully asks Spender to reveal William's location, he refuses to break his promise he made her to never tell anyone of William's location. Though, after pleading, he says he can reveal who the adoptive parents are, yet is interrupted by hospital staff before he can.
Scully having suffered yet another seizure from her visions after leaving the hospital. Photo courtesy of Sergei Bashlakov/FOX
Next, we return to the CSM with Monica Reyes (Annabeth Gish), revealed to be in alliance with him last season. They begin speaking of Mulder and Scully's plans, to which Reyes implies that they might realize William to be the weakness in CSM's armor. Here, we get an update to our world when CSM states that however airtight his plans of human extinction might be, they would simply be dismissed as "fake news" in our day and age. Scandal over substance, etc.
At this point in the episode, I'm pleased with how they turned around the sins of "My Struggle II," but I myself and struggling to keep up with everything going on at once and why it's particularly important. After 11 seasons, there's only so much "The X-Files" can do with its mythology before it becomes batshit crazy, and not even the good kind of batshit. It's already convoluted, but it always finds a way to redeem itself, which it seems to be doing at the exact same time as it's pressing more into its convoluted nature.
This being said, the episode does pick up a bit from here and while I can't ever say that it does anything spectacular, it's enough to keep me interested in this season.
Mulder approaching the house of the Cigarette Smoking Man (William B. Davis) Photo courtesy of Robert Falconer/FOX
As Mulder makes his way down to the CSM, he soon finds upon arrival that he has left his home and members of the Syndicate, a group nearly wiped out in the original series, are in his place, propositioning Mulder to kill CSM on their behalf, to continue in their plan of alien colonization. When the group explains their intention is to throw CSM off, rather than playing the obvious move of killing him themselves, Mulder sees through it as a way for them to implement their own plan of alien colonization without risk of failure. Mulder storms out of the proposition refuting the idea that he can save them, but that he knows someone who could, and that they know her too.
It sounds like a clusterfuck, and it kind of is, but there's a sort of playfulness to the second half of the episode that I like about it. It's silly and out there in the way that "The X-Files" should be. Is it perfect? No, but there's enough fun here to go around.
All the while, Walter Skinner (Mitch Pileggi) has been cornered in a parking garage by Reyes and CSM, who begin to explain their plan of human cleansing. He explains his plan excludes Scully and William, as they are immune to such a disease, and he attempts to bring Skinner to his side to lure more allies away from the X-Files and into his pocket. Here, we get to see a more fiery Skinner that we got in the original series, hardlining his stance against CSM in a way we didn't get in Season 10.
Scully, having exited the hospital and behind the wheel of a car, suffers another vision and involves herself in a car accident, landing herself back in the hospital when Agents Einstein (Lauren Ambrose) and Miller (Robbie Amell) find her after her accident. Later that night, Scully is visited in her room by a member of the Syndicate, who wastes no time in attempting to smother her in her sleep, only to be thwarted by Mulder, who has traveled back from South Carolina in record time somehow, slitting the assailant's throat.
Mulder confronting Walter Skinner (Mitch Pileggi) about his whereabouts after Scully's attack. Photo courtesy of Robert Falconer/FOX
Recovering from the attack, Mulder and Scully share a tender moment, which leads into the 
one thing I wanted from this episode
: a lead in to more "Monster-of-the-Week" episodes, saying that until they can find William and CSM, all they can do is their work, and that even outside of their search, the "truth still lies in the X-Files." Damn right it does. This is the content I signed up for. I might not have gotten it in this episode, but dammit it's coming.
Skinner soon walks in after his confrontation with CSM, Mulder questions him on his whereabouts, telling him he smells like smoke, leading to a confrontation that in turn leads to a flashback to the car, where CSM reveals to Skinner that Mulder is not William's father, but he is. That 17 years prior in episode "En Ami," when Scully was drugged by CSM, he in turn, whether by force or science, impregnated Scully.
This twist goes two ways for me, on one hand, it's a good way to shake up the series in a way that I didn't see coming. On the other hand, it's scummy and disturbing. Granted, we aren't supposed to think anything less of CSM, but it certainly does give him an extra layer of grossness we never got before. The fact that Scully gave birth to Mulder's half-brother all this time is a disturbing revelation, but one that I'm interested to see how it unfolds going forward. It took 41 minutes to get to the real dark meat of the episode, but it came.
"My Struggle III" was a mixed bag for me to say the least. It has good elements about it, but even in damage control mode, it's still a mess that makes me like the mythology episodes even less than I already do. I'm absolutely stoked for the upcoming "Monster-of-the-Week" episodes, and this season premiere is the obvious hurdle we had to cross to get to such episodes. I commend Carter for correcting his awful mistake with "My Struggle II," but I need him to lean in more to really flesh out what he wants "The X-Files" to be in what appears to be its final season. Until then, bring us the monsters dammit.
My Struggle III: 3/5
Niner Times
Pix Queen




Number of posts

: 110613


Registration date :

2007-04-27



January 3, 2018 9:00 pm
The X-Files Season-Premiere Recap: Mind If I Smoke?
By Brian Tallerico
Photo: FOX
Editor's Rating  4 stars    
The X-Files
creator Chris Carter took some heated criticism for 2016's mini-season of his iconic show, but he doubles down with this season 11 premiere, amplifying the elements of his style that his detractors don't like in a way that almost turns them into poetry. There's a glorious insanity to "My Struggle III" that approaches telenovela ridiculousness and climaxes in a series of revelations that challenge the entire arc of the show.
The Carter episodes — and this season, he's only directing the premiere and finale — have become like fever dreams turned into
X-Files
fanfiction. They're purposefully ludicrous, but Carter is so committed to his loony tone that it's easy to get carried away by it all. There's a meta way to read Carter's willingness to push boundaries, too: He's always preached that structure and routine are just lies to keep us comfortable. Don't ask questions. Just believe.
So, of course, "My Struggle III" opens with one of the greatest lies of all time, as a young Cigarette Smoking Man watches the staging of the moon landing. This comes after an introduction by CSM, in which we learn his name is really Carl Gerhard Bush, and we watch the show's villain
Forrest Gump
–ing his way through history. To be fair, this feels a bit anti-canon given how often this character has been portrayed as operating in the shadows and not alongside presidents, but this episode is all about blowing up what we thought we knew. It's Carter in full mythology-destruction mode, asserting that this iteration of
The X-Files
is more revision than revival.
After the intro, we open on Scully's eye — Carter
loves
eye imagery — and the conspiracy opera starts by essentially wiping out the cliff-hangers from the end of season ten with a
Dallas
-esque "it was all a dream" rationalization. Or does it? Was the action of "My Struggle II," which saw the world nearly destroyed by a plague and Dana Scully staring up into the beam of a spaceship, all a dream or a prophecy? Either way, it happened in Scully's head and she's now in a hospital bed, communicating with Skinner through her brain waves. In one of the show's more WTF moments, Skinner swears that her brain activity is communicating through a message in Morse code: "Find him." It's a callback to two beats from last season: "Find her" from "Founder's Mutation" and Scully's mother's deathbed words about William in "Home Again." Who is the him? Is it William or CSM or Mulder?
As Mulder is inner monologuing about how he can save Scully, she wakes up. She starts rambling a bit about the plague, and Mulder turns skeptic. (Fans of the show will note how the standard "Mulder the believer" and "Scully the skeptic" dynamic can be regularly twisted whenever the plot demands it or emotions are involved.) Mulder presumes Scully's ramblings are a product of her illness. CSM can't be alive. But we know that he is, and Scully is right that he's in Spartanburg, North Carolina, from where he will unleash Hell on Earth. How exactly Scully knew this seems to be the unfolding arc of the season, but it likely also has something to do with her son.
Suddenly, we see Agent Jeffrey Spender for the first time since the original series finale in 2002, looking a bit more like himself as he's chased down and hit by a car in a parking garage. All they want is the boy, he's told. Spender hides behind a door of an apartment building that reads "The 209." As you might have guessed,
nothing
is by accident on this show. Guess what episode "My Struggle III" is in the series overall? Yep, 209.
Spender calls Mulder and CSM hears the call, revealing he's in a room with Monica Reyes, who basically becomes his sounding board for conspiracy monologues this episode. (After all, every supervillain needs someone to monologue to.) CSM says, "We're not to be found," and we see a car speeding after Mulder. While our hero is distracted with some pure unfiltered Carter inner monologue, a car chase unfolds. It's actually well-staged and one of the only pure action moments in an episode that's heavy on mythology dialogue, although Carter has to intercut it with some Reyes-CSM silliness about not being able to stop "what's already begun."
Like a ghost from her past, Spender appears at Scully's bedside, revealing that someone is looking for William. He first balks at telling her the location of her son, revealing only the name of the family that adopted him. Meanwhile, CSM is still rambling, although it's fun to hear this iconic character drop the phrase "fake news" and consider how his brand of disinformation plays in the Trump era.
Mulder is following the bad guy that he thinks will take him to CSM, but he arrives somewhere else with mysterious conspirators who look a lot like his resurrected father and Reyes. We learn that the pair Mulder is seeking are with Skinner in his car. It's time for everyone to talk.
The final act of "My Struggle III" consists mostly of a pair of three-way conversations: Mulder and his two new friends, then CSM, Reyes, and Skinner. The doppelgänger pair says they are part of "the Syndicate," a group involved in alien colonization. They want Mulder to kill CSM so they can colonize space. A hilarious argument ensues about the feasibility of such a thing as CSM asks Skinner to turn his back on the whole human race. Meanwhile, Scully is back in a hospital bed, rescued by agents Einstein and Miller, who saw her get into a car accident. It's just an excuse to put her in a vulnerable position so an assassin can try to kill her again. And if it's not clear who's trying to whack Dana at this point, I think that's Carter's purpose — confusion over loyalties and purposes.
After Mulder kills the assassin, Scully says that she doesn't think CSM sent him. She reveals her visions are from William, the new "Chosen One" of
The X-Files
. As Skinner comes in, smelling like smoke, we flash back to the car and then flash back further, 17 years, to the
major
revelation of this episode: CSM, not Mulder, impregnated Scully. "William is my son."
Other Notes
• "My Struggle III" contains SO many echoes of season ten. It's got visual cues like the focus on eyes, as well as plot callbacks like "find her" and the piercing sound from "Founder's Mutation," the deathbed wish of a mother from "Home Again," and even the Einstein and Miller doppelgängers being reflected in the new doppelgängers of the Syndicate. I half expected to see a were-monster in the background.
• My favorite beat may have been the Skinner and CSM showdown. When Skinner told him, "Get your ass back in the car, I'm not finished," I was reminded of how much I adored these characters in the show's original run. They both felt like mere devices in season ten, so it was good to see both actors get something meaty this episode.
• Actually, take that back, the best beat is Scully saying, "The truth lies in the X-Files, Mulder." You know it does, fans.
• "My Struggle" opens with narration by Mulder; "My Struggle II" opens with narration by Scully; "My Struggle III" opens with narration by CSM. Is this episode more about
his
struggle than Mulder or Scully's?
• The words "William" and "my son" are repeated over and over again, so you can be sure that's going to be the major arc of the season, possibly even through the non-mythology episodes.
• The images from the end that reveal the "truth" about William are from season seven's "En Ami," although they've been cut a bit for dramatic purpose. It's a PERFECT callback to the opening scenes of the faked moon landing in that it's saying, "Here's something you've seen before, but you didn't know the truth about it." And, interestingly, it was the only episode of
The X-Files
written by … you guessed it, Cigarette Smoking Man himself, William Davis.
Vulture
_________________
Credit to original photographer, poster, scanner, site & anyone I may have missed in between




The X-Files 11.1 Review – "My Struggle III"
January 4, 2018 | Posted by Wednesday Lee Friday
7 The 411 Rating
7 Community Grade
The opening montage of My Struggle III does one of the things X-Files does best. It forces us to acknowledge that the aliens, conspiracies, and population-decimating events are happening in our world, today, to us. An imagine of Kim Jong Un was seen over the word "tyrant," and one of Trump over a statement about hubris and personal gain. Tonight's episode might have maintained that sense of urgency, had they not backed away and allowed not one—but two major characters engage in long monologues and bits of overhead narration. I hate overhead narration. As always, expect spoilers to follow.
We begin with "Carl Gerhardt Busch," more commonly known as CGB Spender, Big Spender, Cigarette Smoking Man, or just Smoking Man. He's probably also referred to by colorful swears, because he's a bad man who does bad things, yet inexplicably remains alive to do more bad things. He's back to bad thing doing this week. Smoking Man reminds us that Nazis are bad and progress is an exercise in futility. The camera pulls back to reveal the moon landing being staged. I knew it! LOL We're also reminded that Fox Mulder is Spender's biological son. Ew.
X-Files creator and staple writer Chris Carter wrote tonight's ep, so you know it's going to be super heavy on mythos. Further alien conspiracies, Area 51, biological pandemic contagion—you know—the usual stuff is all front and center this week. It seems forced, and a little labored, honestly. Mulder and Scully love each other. They wouldn't stop looking for their son ever—simply because he's their son. Making the kid they key to saving or preserving all of humanity seems like overkill. This week, many things do.
The events of last season landed Scully in the hospital, where a Dr. Joyet proves herself as a highly competent badass. I love how she's as skeptical as Scully, but suspends her commitment to established science once the evidence clearly demands it. We'll no doubt be hearing more about Joyet and her experiences, since she's a strong candidate to be a regular character (or a spinoff with Kyd and Einstein). We have to laugh when Fox says, "I just want someone to tell me what the hell is going on?" That's what fans have been saying since the 90s. What IS going on? She's got abnormal brain activity that's making a flashing code telling Mulder and Skinner to "find him." Find who? Why, William, of course.
When Mulder tells Skinny that he doesn't believe his hypothesis, Skinner fires back with, "I've seen you believe in far more absurd things, Mulder." Ha! He's got you there, handsome! I've always liked Skinner. He strikes a good balance between being a company man and paying attention to reality as the team sees it. And of course, he's a great foil for Mulder because they both make good points; they just never seem to agree.
Scully's visions (which may be causing, or caused by her seizures) conveniently sum up what's going on. There's a pathogen, Smoking Man is gonna start some bullcrap, and he wants Mulder dead. I have to say, I love Fox Mulder and all. But he's over 50 and has been intentionally involving himself with aliens, government conspiracies, monsters, and all manner of criminals for decades. At what point would his death be less 'unimaginable tragedy' and more 'the expected result of a lifetime of enormous risks?'
The highlight of My Struggle III comes in the form of Jeffery AKA Little Spender. He's a good, upstanding, moral man. He defied his own father when he realized he was evil. Jeffrey hid William from Dana and Fox, keeping the boy safe in the face of–*gestures broadly*. Having in appear before as a badly burned different actor, I did not like. So his appearance this week was awesome. Seeing that Reyes is still doing the bidding of the Smoking Man (Fox and Jeffrey's dad) was less awesome. At one point I found myself thinking, "Oh, that's right. Reyes sucks now." She sold out all of humanity to save her own skin. Gross.
Scully is having visions that say Smoking Man wants William for some nefarious purpose, and wants Mulder dead. When Mulder chases Smoking Man, he encounters a mysterious Mr. Y and Barbara Hershey, who TV still doesn't seem to know what to do with. These two reveal that SM plans to release a pathogen that kills pretty much all of humanity (except Scully and William). We already know that Spender/Smoking Man has been cool with humanity being destroyed a few other times—so this development lacks the impact it might have had, say 25 years ago. Smoking Man referring to "fake news," was either annoying or hilarious. I can't decide.
Little Spender reveals that William is living with a family called Van DeCamp. Presumably, they catch and sell frozen fish planks. Spender's role in keeping William safe makes him seem even more heroic. Does Jeffrey really not believe his dad is alive? Or does he just really want to believe he's dead? Smoking Man is up and around, posing the same deal to Skinner that Reyes went bad for—immunity from the pathogen. Skinner won't take it. We know he won't. Smoking Man does reveal that William and Scully are immune to the pathogen. William being "a very special child," sounds downright banal at this point. It would have been more surprising if Mulder and Scully's son had been normal, boring, and completely uninterested in science or aliens.
Einstein and Kyd, the young agents everyone thought would get a spinoff, appeared this week just in time to not know an assassin when they see one. Mulder uses his brute man powers to murder the assassin and save the mother of his child, before launching into more overhead narration about how slam-bang-awesome it is to be a dad with dad responsibilities. Which is why…
…it's supposed to break our collective hearts to learn that William's father isn't Fox. It's the Darth Vader of X-Files, Smoking Man. Personally, I'm more grossed out than shocked. So William isn't Mulder's son; he's Mulder's brother. Skinner knows this and doesn't reveal it to Mulder immediately—though he might have had Scully not been in the room. She's had enough unpleasantness for one week.
We're left with a blatant reminder that the truth is still where they left it…with the X-files. Scully feels certain that Smoking Man won't harm her or William. We're still not sure of the motivations of Mr. Y and his companion. Mulder doesn't trust them, nor do we. Reyes accuses Smoking Man of being in love with Scully—but her Dana-jealousy is nothing new. My Struggle III ends with a shot of a boy, presumably William, having some kind of supernatural looking seizure.
In terms of X-Files mythos, this episode developed a fair bit of existing story. It's just that the story is so tired by now, so overdone, that it's hard to care or even remember all the twists and turns. Those of us who remember when the kidnapping of Samantha Mulder was the most important mystery in the universe might find these recent developments to be borderline silly. I'm in the mood for a classic, monster-of-the-week episode. Scully's quip that they'll just be getting back to work while they wait for William to find them suggests that we'll get this in episode two. I can't wait!
See you's next week!
7
The final score: review Good
The 411
Is there a happier time for sci-fi fans than a new season of The X-Files? Unless or until Firefly comes back, no there isn't. We're all pretty stoked to follow Mulder and Scully's adventures in the paranormal, their search for their son William, and to see if the Cigarette Smoking Man can actually be killed. Some of this premiere was amazing, and some, downright cringeworthy
411mania.com
_________________
Credit to original photographer, poster, scanner, site & anyone I may have missed in between




The X-Files Season 11 Episode 1 Review – 'My Struggle III'
January 4, 2018 by Matt Rodgers
Matt Rodgers reviews the first episode of The X-Files season 11…
There are two huge surprises to be found in the opening hour of this eleventh trip to the basement of the FBI headquarters; one is the fact that it even exists at all after the terrible tenth season, and the second is a disturbing narrative twist that is right up there with the very best in the show's history.
Series creator, Chris Carter, who was responsible for the lamentable bookend episodes from the 2016 mini-series, returns to write and direct My Struggle III, which has the unenviable task of making sense of the mess that was left when Scully was stranded on that bridge in the midst of an impending apocalyptic plague.
There's a moment early on in which David Duchovny's Fox Mulder, once the pricked ears enthusiast, now replaced by a tired renegade, pleads
"I just want someone to tell me what the hell is going on here",
and so Carter obliges with a wonderful prologue in which he repositions the Cigarette Smoking Man (the perennially brilliant William B. Davis) as the 'bad guy'. It's a sequence that drags the show towards relevance, with its sociopolitical imagery, but more importantly, simplifies that ridiculously exposition heavy plague arc that bogged down season ten.
My Struggle III still has its clunky moments, such as Scully waking from a seizure looking as though she's framed for a perfume ad, but it works hard, and at quite a pace, to course correct the ludicrous plot of the first two My Struggle episodes. Carter even takes time to poke fun at himself by having an exasperated Mulder become the audience projection, by uttering, "
This is insanity
" during an early exchange.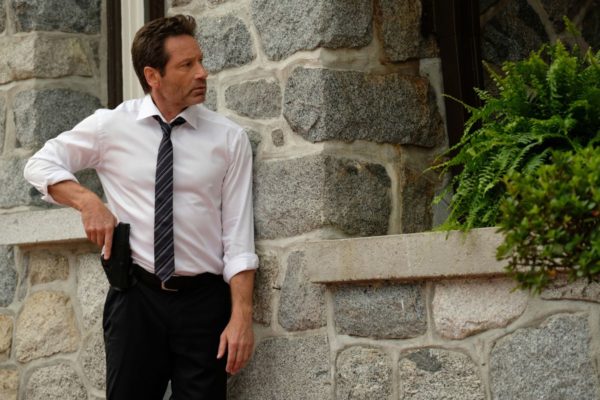 As for our favourite agents, the show is never stronger than when they're on-screen together. It means that we don't have an over-reliance on Duchovny voiceover, but more integral to why we still blow the dust off
The X-Files
after all these years, is that fact that their chemistry has never dulled. Thankfully, this opening hour is spent moving all of the pieces into place quickly, so it doesn't suffer from the
Stranger Things 2
 affect of keeping the major players apart.
On which, Mitch Pileggi's Walter Skinner returns to remind us why he was such an intriguing aspect of the original run. His questionable loyalty permeated the strongest seasons of
The X-Files
, and once again he's written as a potentially duplicitous traitor. They're the kind of plot beats that will make fans of the show giddy.
My Struggle III is a more polished attempt at the greatest hits than last time around, injecting some biting fake news commentary –
"we've thrown science out the window in favour of scandal"
– as well as dumping Gillian Anderson in a hospital bed [again] for most of the running time, and implanting something alien in her head [again] for the sake of narrative propulsion. But you don't care, because unlike last time, this feels like
The X-Files
.
Matt Rodgers
Flickering Myth
_________________
Credit to original photographer, poster, scanner, site & anyone I may have missed in between




The X-Files Season 11: 10 Things We Learned From My Struggle, Part III
The show is back in fine form.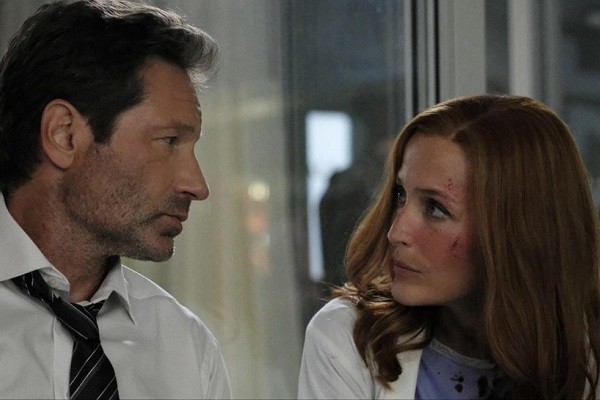 2016's revival of The X-Files wound up being a hit-and-miss affair. The six episode tenth season had one true classic, a couple of good episodes, and a couple of poor ones. Most were forgettable, but the show's return sparked enough interest to buy it another, longer season.
Wednesday night, Season 11 arrived, in the form of My Struggle, Part III. A direct continuation of season ten finale My Struggle, Part II, the first X-Files outing of 2018 rewrites some of the narrative established last season — and for good reason. If we're being honest, the show had written itself into a corner by leaving off on a cliffhanger of Mulder and Scully, trapped on a bridge with an alien ship overhead, and Mulder near death.
The show hasn't fully abandoned the events of season ten, but has wisely reigned some in. The end result is a more focused affair, one that feels more like The X-Files than the previous season. It's not a perfect start, but My Struggle Part III is one of the best season premieres the show has had (they were never its strong suit). More importantly, it breathed life back into the show, and opened up a whole new range of conspiracies while staying true to the show's past.
In true X-Files fashion, there are more questions than answers, but let's take a look at ten things we learned from My Struggle Part III.
10. America Faked The Moon Landing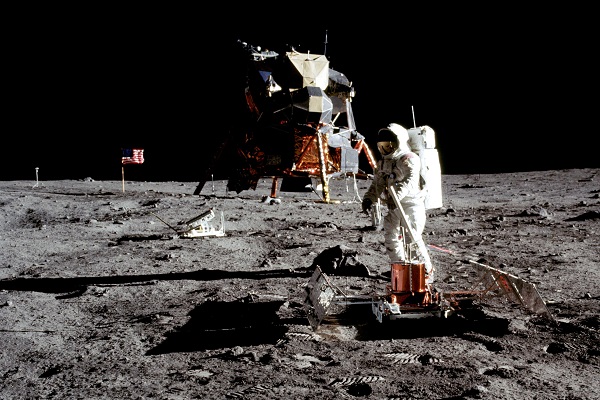 NASA
The X-Files has tackled any number of infamous conspiracy theories, from Crop Circles to JFK's assassination to Roswell. So it's no surprise to see the show incorporate another famous conspiracy yarn: that America faked the moon landing.
In an early scene in My Struggle, Part III, a younger version of the ominous Cigarette Smoking Man is witnessed overseeing a closed movie set. An actor steps out of the Lunar Lander, and utters the famous Neil Armstrong line "One small step for man... one giant leap for mankind." The shot then dissolves (we later see that yes, this is the actual broadcast).
Later in the episode, the Smoking Man is seen watching the clip with a young Jeffrey Spender, the son he would later try to murder as an adult. He remarks that it's how "heroes are made." Young Jeffrey believes he means doing what was once thought impossible. The Smoking Man no doubt means dealing in lies.
It's not a pivotal moment in the episode, but it is a nod to the show's origins. The X-Files is, after all, built off real-life conspiracy theories, whispers, and tales of the bizarre. It's actually shocking that the show hadn't tackled the "moon landing was faked" story before now.
9. It Was All A Dream - Part Of It Anyway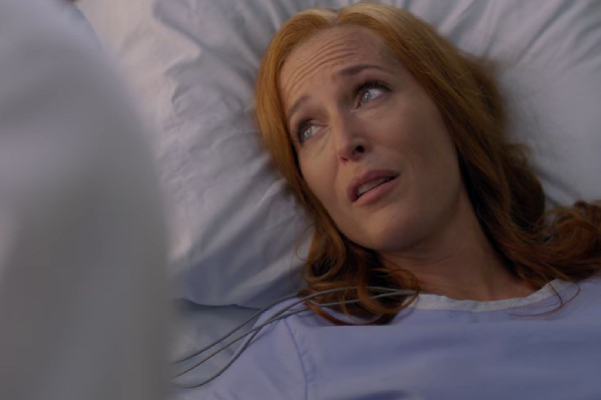 FOX
A key concept of My Struggle, Part III is that Dana Scully has been having visions. The events we saw in My Struggle, Part II (season ten's finale) were part of those visions. That future — the outbreak of the Spartan virus, Mulder's imminent death, the agents trapped on a bridge with an alien ship overhead — has not happened yet.
Scully believes these visions to be real. We'll get to why, and what they are, later. The side effect of them is that Scully is sick. Very sick. Experiencing seizures. When the episode kicks off, we find her in hospital, a worried Mulder by her side. Skinner is there, frankly keeping him from going off the rails.
This is big. It's literally a chance to re-do some of the creative decisions that didn't work in season ten. One of those was creating a "Scully saves the world" scenario that defied logic. Yes, The X-Files leans towards the sci-fi end of the spectrum, but the show always felt grounded. That was lost when Scully was tasked with finding a cure for a virus, practically alone in an overcrowded hospital.
Other parts of season ten remain intact: the Smoking Man's alive, a virus is in play. But at least Mulder isn't on death's door!
8. The Show Has Plenty To Say About America's Social And Political Climate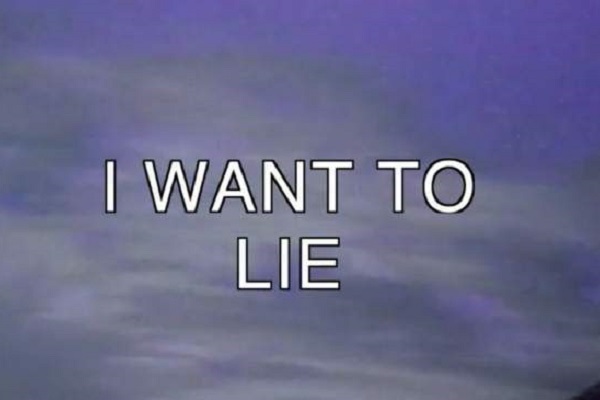 FOX  
Two figures really stand out in My Struggle, Part III — and they are not Mulder and Scully. Not even Jeffrey and CGB Spender.
No, the pair that stands out is U.S. President Donald Trump and North Korea's Kim Jong Un. The feuding world leaders are part of the backdrop of the episode, which reminds us that science has been discarded, and that the truth has become fluid. For a show that has always dealt in the quest for truth, and the need for scientific rationale, the message is clear. The truth is still out there, but it's harder to find than ever. And when it is uncovered, it might be dismissed as "fake news."
It's underlined when the show's "I want to believe" catchphrase dissolves to "I want to lie."
The show doesn't stop there, however. It has quite a bit to say about technology having become our new religion, and frankly, it's not wrong. Whether this concept becomes a theme for the season remains to be seen. More importantly, it never comes off as preachy, though your interpretation may vary based on how glued to your iPhone you actually are.
It's clear, however, that The X-Files is as timely today as it ever was, in a world where what is deemed true seems more reliant on how many likes a story gets than how accurate it actually is.
7. Aliens Are No Longer Colonizing The Planet, Because Of Us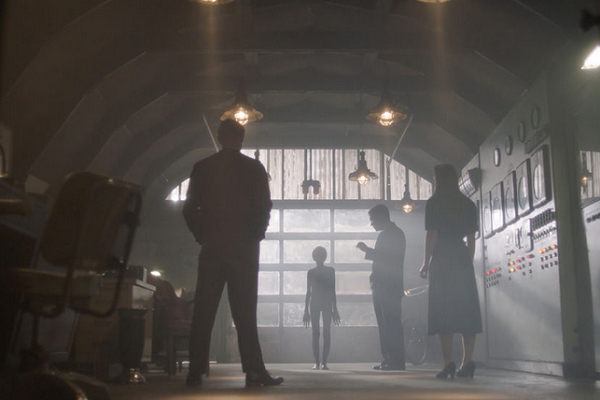 FOX
Now here's a kick in the teeth. It's sort of like being dumped by the popular girl in school, because you're not cute enough. She's moved on to a bigger, fitter, more handsome guy. See, aliens showed up on Earth eons ago, then returned to colonize the planet. X-Files fans have known that for years. Only, they don't want to colonize us anymore, we learn in My Struggle, Part III. Pretty much because we've wrecked the place.
Ouch.
While the episode isn't exactly consistent (at one point aliens are referred to as having come to study us), we do learn that aliens are no longer interested in colonizing the joint. Why? Because the planet is heating up.
We can change. We'll do better!
The global warming twist is an interesting one, and hopefully it gets expanded on later in the season. In any case, we also learn that the Smoking Man was the agent in charge of dealing with the alien threat, which should come as no surprise to faithful viewers of the show. What is new, is that the Smoking Man became power hungry early on, and unwilling to listen to anyone but himself. He wrests all power away from his contemporaries, leading to the manipulative, shadowy figure we know today.
6. William Is Reaching Out To Scully Telepathically, But Only Spender Can Help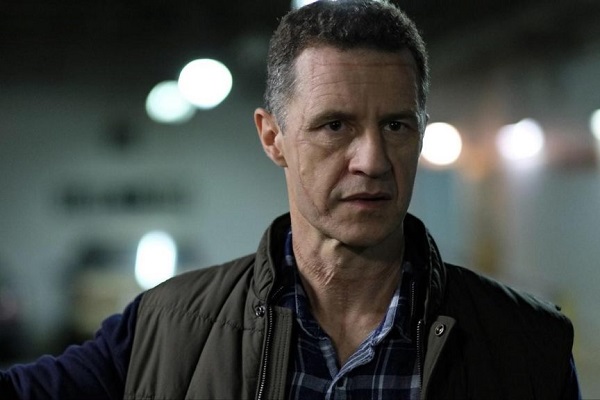 FOX
We said we'd come back to Scully's visions, which landed her in hospital. So here we are. Throughout much of My Struggle, Part III, Scully has visions of the future. The outbreak of the Spartan virus. The return of the Smoking Man. She also sees glimpses of William, her son.
In fact, Scully believes that these visions are coming from William himself. That he's sending them to her. The side effect of them is the seizures she's experiencing, but she knows that she must find him.
The only problem is, he was given up in a blind adoption. The only person who has any inkling of where William is happens to be Jeffrey Spender.
Spender looks far better this season than in the past, his burns apparently repaired by some extremely effective plastic surgery. He's tracked down early in the episode, however, by an unnamed assailant demanding to know the location of William. He refuses to give the boy up, then heads off to see Scully, warning her.
Despite a promise never to tell Scully where her son is, he gives up the name of her adoptive parents at her insistence. This will no doubt be key as the season unfolds.
Though Spender was never a popular part of the show's original run, we learn one other thing in My Struggle, Part III: for the first time in ages, he's a compelling part of the narrative.
5. Monica Reyes Is All In WIth The Smoking Man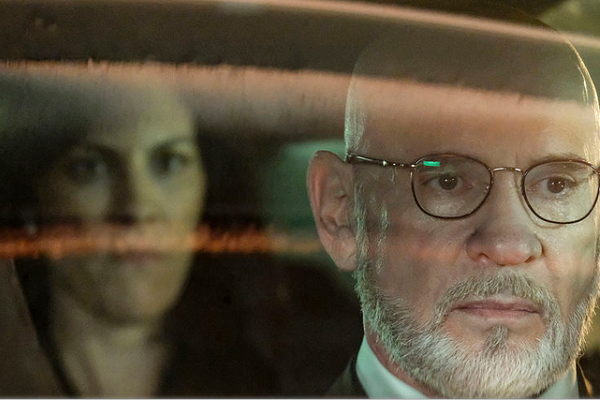 FOX
Surprisingly, Monica Reyes (Annabeth Gish) is a big part of My Struggle, Part III. Not only that, she's extremely effective with the role given to her.This turn of events is one of several pleasant surprises in the episode, and highlights that the show is still capable of writing that demonstrates some logical character growth.
Reyes was brought in late in the original series, in the absence of David Duchovny and with Gillian Anderson's role reduced. An FBI agent with new age beliefs, she came off as a caricature in the original run. A hippy mindset in a corporate environment.
When the show returned in season ten, we learned that the Smoking Man had come to her in his time of need, convincing her to join him. A deal with the devil, essentially. She knew of the viral apocalypse to come. Since she didn't appear for long, however, that's about all we learned.
In My Struggle, Part III she's very much The Smoking Man's right hand woman. Reyes questions his course of action, at times, but ultimately defers to him. She's very much all in with the man otherwise know as The Cancer Man.
A cancer he may be, and one with Reyes under his spell. She's colder than earlier incarnations, and doesn't flinch when Walter Skinner trains a gun on her. Reyes is all grown up in season 11.
4. Walter Skinner Is Looking At The Bigger Picture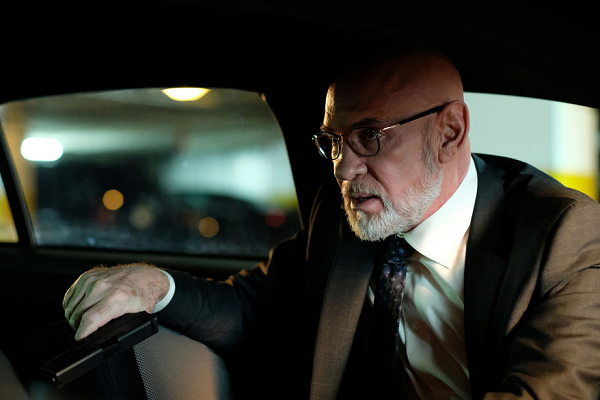 FOX
Monica Reyes isn't the only character to undergo significant (and organic) character growth in My Struggle, Part III. Walter Skinner (Mitch Pileggi) finds himself torn by a devil of a deal, offered by the devil himself. A change of allegiance is hinted at, though it may very well be a red herring.
First, however, we see a more assertive Skinner early on. Skinner has always butted heads with Mulder, but he seems determined to reign the agent in early on in My Struggle, Part III. It's no doubt out of concern for Mulder, mind you.
Later, Skinner is approached by Monica Reyes and the Smoking Man. He's offered a deal: help them, in exchange for his survival from the coming alien plague. Scully and William's survival is assured as well, though crucially, not Mulder's.
Skinner asks why he'd ever betray his closest allies... but the devil can be convincing. He assures Skinner that Scully herself would take the very same deal. We never do hear whether they come to an agreement.
In the final scenes of the episode, however, Mulder (literally) sniffs out what has been going on. Demanding to know what Skinner is hiding, Skinner refuses to show his hand. Has he switched sides? Probably not, but it's clear he's looking at the bigger picture. He may have inserted himself in a place where he can ferret out crucial info for the agents.
3. A New Faction Of The Syndicate Has Risen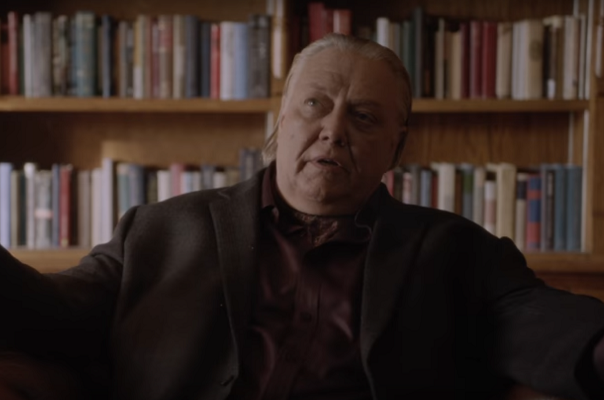 FOX
My Struggle, Part III spends a lot of time with Agents Mulder and Scully separated. Scully's story follows her visions and hospital stay. For Mulder, it's tracking down the Smoking Man, by following a car that was originally tailing him.
While he never does find ol' Smokey, in his place, he does find another member of the Syndicate, with cronies. Saying that he has gone by many names, this shadowy figure — also a smoker — implores Mulder to help them stop the Smoking Man. Why? Well, because they want to help save the world, of course.
Mulder sees through this facade. When confronted, they admit what they're really after: colonizing the stars. They're closer than you might think, they claim. Mulder tells them that "they want blood in streets" and points out that there's no way they could possibly evacuate the entire population of planet Earth.
No, they admit, just a chosen few. But Mulder can be one of those few, if only he were willing to join with them. He's the only one who can save the human race.
To that, Mulder has another answer: he knows someone else who can save them. Dana Scully.
What did we learn here? What's left of the Syndicate is once again in a power struggle. It's not the first time, but it may very well be the last.
2. Fox Mulder Is Not William's Father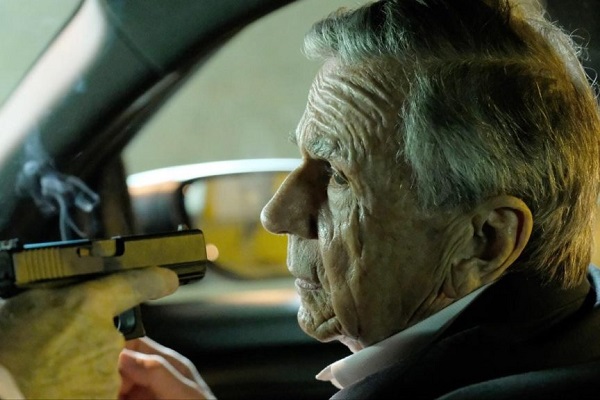 FOX
The bombshell to end all X-Files bombshells. The fallout from this particular plot twist is currently worming its way across the internet, striking down hardcore Mulder and Scully shippers left and right. But hold tight - because the news isn't as bad as you think.
Fox Mulder is not the father of William. In fact, William would technically be his half-brother. That's because the Smoking Man (who actually, supposedly gives his real name early in the episode) is the father. CSM reveals this to Skinner when trying to convince the FBI's Assistant Director to join him. The episode then flashes back to season 7's En Ami, where Scully and the Smoking Man take a little road trip, only for Scully to awake alone in a bed in the man's supposed home.
To Skinner, the shadowy figure claims that he impregnated Scully, hinting that it was science that brought about the first super human child. In other words, he crossed his DNA with alien DNA, then artificially inseminated the FBI agent.
As bizarre as it seems, this isn't out of character. The show address experimentation on unsuspecting women early in the series, a plot turn that left many dying of cancer — Scully included, though it was later cured. This twist also does away with the ridiculous "miracle baby" / second coming idea introduced back in season seven. And no, it doesn't stop Mulder and Scully from loving one another, so put those pitchforks down. No doubt Mulder will still be seen as the father figure.
1. The Truth Is Still In The X-Files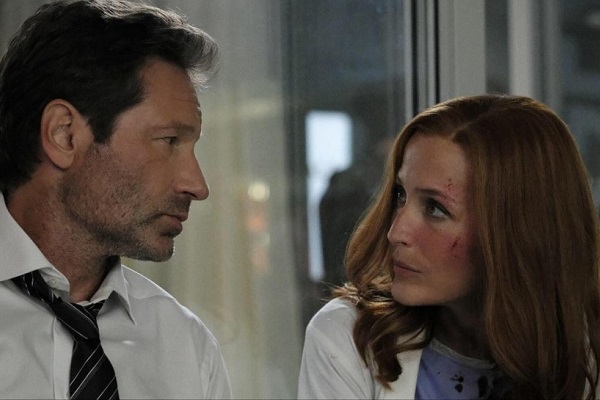 FOX
Monica Reyes has turned to the dark side, Walter Skinner may be playing both sides. Fox Mulder, you are not the father. William, your mother wants you, and not because you're late for dinner. Smoking Man, you ARE the father. There's a new conspiracy, the world is in danger, and the truth is still out there.
And, as Dana Scully says at the end of My Struggle, Part III, the truth is still in The X-Files.
If this is to be the final season of the show (and it may very well be), it's off to a good start. It feels like a lot of answers are forthcoming. The show found its footing again at with its season 11 premiere, and it has certainly created hope that it could go out on a high note.
Early reviews from the next four episodes indicate they're even better than My Struggle, Part III. If that's the case, we have a lot to look forward to. There's more mythology, and plenty of Monster of the Week outings to come.
David Duchovny, Gillian Anderson, Mitch Pileggi, and William B. Davis were all on their game in the premiere. No one phoned it in — another good sign. The season arch holds promise — and we still have nine episodes to go.
Add your thoughts on The X-Files Season 11 Premiere My Struggle, Part III below!
WhatCulture.com
_________________
Credit to original photographer, poster, scanner, site & anyone I may have missed in between




The X-Files 11×01 Review: "My Struggle III"
Katey Stoetzel
January 4, 2018
FOX
Despite last night's meager return for
The X-Files
, I'm still genuinely excited about the rest of the season. I have more faith right now in stand alone
X-Files
stories than the continuing mythology episodes. "My Struggle III" doesn't provide many answers to last season's cliffhanger ending, but it's still rife with melodramatic dialogue and narration, haphazard plotting, and nonsensical global doom. But hey, they had to wrap this narrative up somehow, right?
Season ten ended with a biological apocalypse on the rise, Mulder dying, and Scully standing in the light beam of an alien spaceship. Everything was chaos, the government conspiracies and experiments merely hinted at in the original series coming to fruition in an instant, all put into motion by the Cigarette Smoking Man (CSM). Scully, desperate not just to save everyone with her own alien DNA, but to also find her son William, whose stem cells would be the only thing to save Mulder… or something. "My Struggle III" course corrects, explaining what we saw were just visions Scully was having of what's to come. Scully spends most of the hour in the hospital, pleading with Mulder and Skinner to find CSM and to find her son, who she determines is the one who's sending her the visions. William being the center of everything is a nice way to tie him into the narrative without diverging from the main plot with family drama.
Mulder seems to be on the fence with Scully's explanation, but circumstances have him inadvertently pursuing fate as he follows someone to South Carolina, same as "My Struggle II." In one of the better twists of the evening, Mulder does not find CSM, but two other shady people: former Syndicate members who tell Mulder they want him to kill CSM. Meanwhile, CSM and Monica Reyes, whose role in all of this is still unclear, corner Skinner. That biological meltdown of everyone's immune systems is going to happen and Skinner will be saved, as long as he betrays Mulder and Scully and finds their son. In the same scene, we learn William is actually CSM's son, flashing back to scenes from the season seven episode, "En Ami," when CSM and Scully went on a road trip. This is when he apparently impregnated Scully ("With science, Mr. Skinner. Alien science").
This definitely rates as one of the creepier developments in
X-Files
history and one I'm not too happy about. It's more convolution and retconning than the show needs right now, not to mention the ramifications of Scully being violated once again in this show. There's still a chance CSM is lying. It seems like something he would lie about, but for now the revelation is the one dark spot for me in this new season.
The episode does open with an interesting narration by CSM. It's mostly him justifying himself about how he's saving the world, but the images he talks over do the most damage. Stills and clips from Trump's campaign and inauguration and other recent political rallies bring this consipiracy-minded show into our reality.  In our current political climate, this type of poke at the real world gives the events unfolding on screen a little more weight, and in that regard, Chris Carter does a great job. Even though he gets lost in the details, this still feels like a great time for
The X-Files.
So what does all of this mean? The idea behind "My Struggle III" was interesting, bringing the shady dealings of the original series on a national scale, but the execution was terrible. Backtracking and a ten-episode order might give the show time to pace it out around the monster-of-the-week episodes. Gillian Anderson and David Duchovny are still game, much more so than in the first installment of this "My Struggle" series. The energy is there. We'll see how long it lasts.
Stray Observations


Spender returns! And then disappears. He's the only who knows where William is, so he'll probably be back.


One thing I definitely do not miss — Chris Carter waxing poetry and philosophy in Mulder's narration. "The sound of drums in my heart" or some nonsense like that.


After doing away with the events of "My Struggle II," "My Struggle III" literally ends with Scully and Mulder deciding the only thing to do is wait. A lot of build up, zero follow through. Ah, well. Bring on that episode with forehead sweat in the title.

The Young Folks
_________________
Credit to original photographer, poster, scanner, site & anyone I may have missed in between




The X-Files S11E01 Review: My Struggle III – Full of mytharc madness!
Posted on January 4, 2018 by Salome G
The X-Files returns for its 11th season this week and gets a mytharc episode out of the way right quick. For those of you who are too blessed to be obsessed, mytharc is a term that's short for "mythology arc," and refers to episodes or storylines that concern the mythology of the show. It can be used for other shows–see also: Supernatural–but in the context of The X-Files, the simplest explanation is that the mytharc is Mulder and Scully's search for the truth.
Episodes that don't necessarily deal with the mytharc are often "monster of the week," or MOTW episodes, as they deal with Mulder and Scully hunting, you guessed it, a monster that week.
During the regular run of the show, each season was a mix of mytharc and MOTW. The first movie was mytharc and the second movie we don't talk about.
Last season, the return, was a mixture, as usual, although it ended in mytharc. And this is a lot of words to get out of the way to say that I don't care for mytharc. Give me a MOTW any day.*
That's not to say that I haven't enjoyed some mytharc episodes or aspects, though. Like many longtime fans, I'm quite fond of the CSM or Cigarette-Smoking Man, as he's long been called. (Guess why!)
Luckily, this season begins with the CSM himself, reflecting on his past as a grand cosmic meddler in the history of the world. How old is he now, 100?
After the credits, in which "I Want to Believe" switches to "I Want to Lie," we cut to Scully, having recently suffered a seizure. The doctor tells Mulder and Skinner that her "brain is on fire." Is that good?
So I guess all that stuff from last season's finale, with the spaceship and the mass deaths was what? Chris Carter, so help me God, you better not have "it was all a dream"ed us. Anyway, her brain is full of abnormalities, which include parts that flash, in Morse code, "Find him." The "him" turns out to be the CSM, as Scully tells Mulder when she wakes. This scene is an interesting reversal of their usual roles, as Scully is insistent that they need to get to work right away (to prevent the spread of the Spartan virus plague) and Mulder urges caution.
At the same time, Jeffrey Spender, Mulder's half-brother (and CSM's other son), is attacked by a man looking for William, Mulder and Scully's son. He comes to Scully [HOW DID HE FIND HER?!] to tell her about it while Mulder goes to Spartanburg, South Carolina, to force-choke the CSM or whatever.
Spender tells Scully that all he knows about William's current living situation is that his adoptive parents were named Van de Kamp. And that's all he can say and all he can do and he must be going now. Bye, Spender!
Scully checks herself out against adamant medical advice and decides getting behind the wheel is a great idea while she's having prophetic flash visions, probably courtesy of William. It takes her about five minutes to wreck and it's back to the hospital.
Meanwhile, Mulder arrives in Spartanburg to find a smoking man, but not the one he's seeking. That's because CSM and Monica, the FBI agent who now serves as his caretaker, are carjacking Skinner. Instead, the two people Mulder meets are part of the Syndicate, the Illuminati-alike that's been orchestrating world events. They want Mulder to kill the CSM because space colonization. Obviously, their motives aren't really all that altruistic. What they really want is power and you can get that only by taking more powerful pieces off the board.
While this is going on, CSM is filling Skinner's head with his wholesome plan. You know, to kill us all. At some point, I just want someone to roll their eyes at this. Like, "Lemme guess. You want to destroy the world again." At one point in his monologuing, we get a flashback to experimentation done on a restrained
gray
and he's so pitiful and LEAVE HIM ALONE. This is why I'll never be chosen for that sort of thing.
Anyway, getting Scully back to the hospital, which apparently has one half-hearted security guard, is just a good way to put her in a vulnerable position so that some rando can try to strangle her. I say "try" because Mulder slits his throat. Oh, my word.
Scully is insistent that they must find William, that they must find their son, because in his stem cells lies a cure to the virus that will one day wipe out Mulder.
Oh, but about that paternity. As Skinner returns to the hospital, reeking of cigarette smoke, we see the most important thing the CSM told him. He, not Mulder, is William's father. So. Y'all still need those stem cells?
7.5/10 – While any return of Mulder and Scully is cause for celebration, I must evaluate this fairly. And what this was was an episode full of mytharc madness that sidelined Scully for most of the hour. Your patience for that may be in greater supply than mine. Overall, this episode was fine. It was tablesetting, obviously, though, but I'm looking forward to the meal. 
*My favorite episodes are all MOTW: Home, The Unnatural, and Clyde Bruckman. What are your favorites?
Cult of Whatever
_________________
Credit to original photographer, poster, scanner, site & anyone I may have missed in between




'The X-Files' returns with very weak storytelling effort
By Rick Bentley Tribune News Service 23 hrs ago
Trying to explain what happens in the latest batch of 10 new episodes of "The X-Files" would be complicated enough just because of the strange, bizarre and flexible style of storytelling used in the Fox sci-fi/fantasy drama since it launched in 1993. Add to that a passionate plea from the team behind the show not to give away any details about what transpires after the end of the six-episode run return of "The X-Files" from two years ago and you are just going to have to trust that "The X-Files" is as fascination and frustrating as ever.
In case you forgot, the six-episode run ended with the world on the verge of total annihilation because everyone had lost their immune systems. A host of diseases was set to wipe out all humans. Even Fox Mulder (David Duchovny) looked to have one foot in the grave just at the moment a giant alien-looking craft appeared in the sky. Details of how that scenario is handled in the new shows are heavily classified, but what can be said is the way the previous short-run series is bridged into the new is very unsatisfying.
One of the hallmarks of "The X-Files" has always been that the thick mythology that ran through the series could be altered or manipulated when needed. It's not a documentary about an FBI team that explores the strange and unusual; it's a fictionalized tale. The adjustments made for the opening episode show less of the kind of creative skills that made episodes like "Triangle," "Home" and "Ice" so memorable and come across as a uninspired solution to what looked like an unfixable situation.
The good news is the show gets better. Once the bridge has been completed to the new offerings, "The X-Files" shifts into the same kind of alternating storytelling style used from the beginning. In a 2016 interview to talk about the return of "The X-Files" after 14 years, series creator Chris Carter said, "The signature of the show was we would do a mythology episode, and then you could do a monster-of-the-week episode, and then you can do a comedy episode and go right back to a mythology episode, and it worked, and the audience went with you week to week.
"The thing we became known for was our range, how the show could come right back to its original concept. We did that always in the run of the original series."
Stand-alone episodes have always been the best format for the series as it would give Mulder and Dana Scully (Gillian Anderson) the opportunity to investigate and defeat the creature of the week. Solo episodes gave viewers a break from trying to keep track of the complicated threads that had to do with conspiracies, kidnappings, close encounters of the weird kind and the how all the histories of the characters align.
That mixing of styles worked as during its nine-season run, the series went from a sci-fi favorite with a small but loyal fan base to being a massive global hit. "The X-Files" earned 16 Emmy Awards, five Golden Globes and a Peabody Award. All that goes to making the first episode of this latest batch of new shows all the more frustrating, as it has taken a far too lazy path. More would be said, but out of respect for the series, the only way to find out what makes the return so unsatisfying is to watch.
Don't give up on the show because of the first episode, as the format quickly shifts to more self-contained episodes. "This," airing 8 p.m. Eastern Jan. 10, features the return of a popular character who reaches out to Mulder and Scully for help. The identity of the character is also considered to be top secret, but it is a superbly written story that brings the character back.
The Keene Sentinel
_________________
Credit to original photographer, poster, scanner, site & anyone I may have missed in between




The X-Files 11×01 Review: My Struggle III
Posted by Tara Lynne On January 09, 2018
The first season of The X-Files revival left us dangling nearly two years ago, but the finale that left me asking, "Wait, what? Why?" with all of its loose ends was almost entirely wrapped up in the season 11 premiere, "My Struggle III".
I suppose I should have expected as much based on the episode name alone, but while "My Struggle III" gave plenty of answers to the season 10 problems, it still introduced some pretty big issues of its own. And I'll be honest – I'm not sure how I feel about it all.
Of course we knew that the Smoking Man (who has a name that we now know, but honestly how can he ever be anything but the Smoking Man?) was behind so many of the big X-Files mysteries, but it wasn't easy wrapping my head around the fact that he was still alive when that was revealed last season. Oh, and Reyes is still being awful, despite my hopes that I was wrong about how awful she was and that maybe she wasn't really up the Smoking Man's butt (ha, bad pun).
Okay, okay, I know I'm being rude and it sounds like I hated the episode. I also acknowledge that I'm extremely late in writing this review, but I have an honest excuse for that (being at MAGFest all weekend, that is). But at the same time I'm questioning some of the characterization in "My Struggle III"; yes, Reyes, but I never liked her anyway. The real problem was – in my opinion – Fox Mulder.
Seriously, the episode began with him outright refusing to believe that there was anything strange going on in Scully's head, which is very un-Mulder-like even considering the un-Mulder-like things he did in season 10. He also insisted that she was better off in the hospital…and didn't change his mind until after he drove all the way to South Carolina only to find out that he'd essentially been led to do so by the Smoking Man's former partners in crime. This meant that he barely made it back in time to save Scully from being murdered…and also led to a lot of lengthy car chase/driving scenes, most of which didn't seem to do anything but pad the episode's length.
As for Scully, well, when she was conscious she was her usual brave and determined self, but I have to hope that "My Struggle III" wasn't a hint at how much of her we're (or rather, aren't) going to see this season. She didn't have anywhere near as much screen time as Mulder, and while I didn't count every second (or even minute), I doubt she was both on screen and conscious as much as the Smoking Man or Skinner or even Reyes. I know that the show runners understand that the Mulder/Scully dynamic is a huge part of what made this show as good as it was, but now that Gillian Anderson has revealed that this is absolutely, definitely her final season I'm worried that means we won't be seeing much of her at all in the next nine episodes.
I suppose it's good that the writers at least understand that Scully is absolutely amazing – even though she wasn't there and awake for much of the episode, she was on everybody's mind. Skinner and Mulder were both worried about her and Reyes and the Smoking Man couldn't stop talking about her; in fact, they even accosted Skinner and tried to convince him to help them (and to essentially do so in Scully's name). By helping them, he will supposedly also save himself from the Spartan virus that's apparently about to wipe out most of humanity…but while Scully and her child William would also be safe (because they're immune to said virus), Mulder would be…sacrificed, I guess? The Smoking Man acts like he doesn't care whether his older sons (Mulder and Spender) live or die because guess what – he'll still have one son left. Because William isn't Mulder's son – he's the Smoking Man's son.
Even amidst all the other 'reveals' in this episode (be they brand new or simply confirming old theories, and they were mostly the latter), it seemed to me that the writers thought they were dropping a bombshell by revealing William's actual parentage. I for one wasn't overly surprised, but I'd love to hear from other fans regarding what you thought about this, err, news!
And what about Skinner? I heard that we're going to learn more about him this season than ever before, but "My Struggle III" was intent on keeping his choices/intents in the shadows. Still, while he has definitely been maddening more often than not, I'm holding out hope that when we find out what he's up to and why, it won't be all bad.
What did you think of the season 11 premiere? Were you truly surprised by any of the reveals? Let us know in the comments!
The Geekiary
_________________
Credit to original photographer, poster, scanner, site & anyone I may have missed in between




Page 3 of 3 •
1, 2, 3
Similar topics
---
Permissions in this forum:
You
cannot
reply to topics in this forum