Tune into @cknw at 7:35am to hear my interview with @davidduchovny on the @jonmccomb980 show pic.twitter.com/d96k3qGfPF

— Niki Reitmayer (@NikiReitmayer) October 16, 2017
_________________
Credit to original photographer, poster, scanner, site & anyone I may have missed in between




Sit Down With David Duchovny in Vancouver
Published Oct 16, 2017 1:03 PM
CKNW's Niki Reitmayer interviewed X-Files actor, David Duchovny. He was in town to play a concert with his band and film a documentary.
_________________
Credit to original photographer, poster, scanner, site & anyone I may have missed in between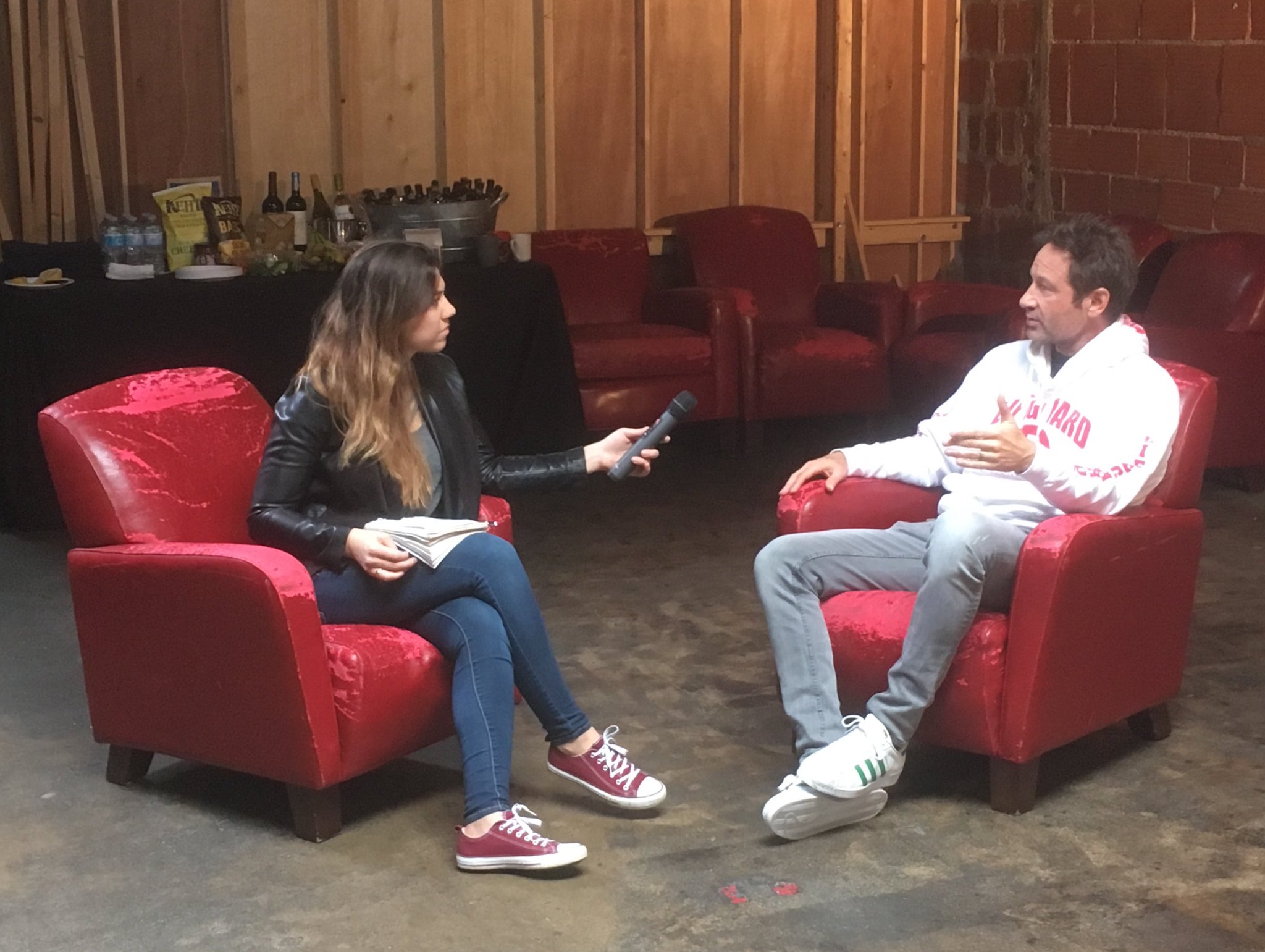 LISTEN: @davidduchovny discusses his music, @thexfiles and U.S. politics with @CKNW's @NikiReitmayer. https://t.co/4LvdloStwD pic.twitter.com/phsoEC52DM

— John O'Dowd (@JohnODowdIRL) October 16, 2017
_________________
Credit to original photographer, poster, scanner, site & anyone I may have missed in between




October 16, 2017 1:31 pm
Behind the microphone with David Duchovny
By Simon Little Digital Reporter CKNW
David Duchovny performs at The Imperial in Vancouver on Saturday, Oct. 14.
Sarah-Jane Gullacher
If you happen to spot David Duchovny around Vancouver these days, odds are it's related to the filming of the latest season of the rebooted
X-Files
franchise.
But that wasn't the case for one audience at The Imperial in Vancouver this weekend, who turned out to catch the actor at his second passion: music.
The Jon McComb Show's Niki Reitmayer caught up with Duchovny ahead of his set to talk about music, his creative process and art in the age of Trump.
Duchovny released his debut album
Hell or High Water
back in 2015 at the age of 54, and admits it wasn't easy.
"I don't think I've progressed that much as a guitar player. Maybe a little bit. Especially when you pick it up not as a child, and your brain is more like a rock than a sponge," he said.
"I'm going to have a serious limit to how good I can get, and I don't care to get that good."
Instead, Duchovny said he's poured energy into improving his singing — an area where he said he's grown in confidence, and which has allowed him to grow as a songwriter.
David Duchovny.... why won't you love me pic.twitter.com/6txt2SYDPr

— pumpkin spiced SJ (@Agoodwoman7) October 15, 2017
Writing is not foreign turf to Duchovny, who has an MA in English Literature from Yale and has published two novels.
He said he's been playing around with poetry since he was a teen, and in college "identified himself as a poet, tragically."
It's something he said comes easier now that's he's learned music.
"A lyric on a page doesn't make a great poem necessarily. I mean, you look [at] Leonard Cohen's stuff, and it's okay. It's not like great poetry. But it's great songwriting."
A successful acting career has also opened the door for Duchovny to explore music that is personally fulfilling, rather than crafted for commercial success, he said.
"I don't think I've ever written a song and said let's try to make a hit, I don't even know what that means in today's music so much. I mean, if I'm going to try and write a hit, I'm going to write a song that would have been a hit in 1977."
Duchovny's acting career has intermingled in other ways with his musical life as well — with one of his songs finding its way into the new season of the
X-Files
.
"[Showrunner] Chris Carter totally surprised me by having a local punk band cover
Unsaid, undone
and putting it in. I think it's the third episode," he said.
"I was totally touched."
While politics appears to be everywhere in popular culture these days, from music to comedy to the NFL, Duchovny said his music tries to steer clear of the politics of the moment.
That's despite the actor and songwriter suggesting he leans towards "the morals of the left," and describing U.S. Vice President Mike Pence's walk-out from a football game where players knelt in protest as "a craven political stunt."
But from Duchovny's perspective, injecting political views into art transforms it into "propaganda" — regardless of one's opinion of those views. He said where art should be political is in its exploration of deeper truths.
"Just making art means you don't accept the world as it is," Duchovny said. "If you accept the world as it is you wouldn't make art, there would be no need to make extra."
Saturday's set, with proceeds going to victims of Hurricane Harvey, is not the first time Duchovny has played Vancouver; he played a pair of shows at Alexander Gastown while the
X-Files
was filming in Vancouver in 2015.
Duchovny and the cast and crew of the
X-Files
are expected to be in Metro Vancouver shooting the latest season of the franchise until mid-December.
David Duchovny took the stage in Vancouver this weekend, but it wasn't to reprise his role as Fox Mulder. https://t.co/akNV8gtbcH

— CKNW (@CKNW) October 16, 2017
_________________
Credit to original photographer, poster, scanner, site & anyone I may have missed in between




---
Permissions in this forum:
You
cannot
reply to topics in this forum