Page 3 of 3 •
1, 2, 3
The X-Files: Familiar – there is no getting out of this town
by Susan Leighton
31 minutes ago
Follow @SusanontheLedge
When the brutal murder of a little boy happens in Eastwood, Connecticut Mulder and Scully race to track down the culprit. Is the killer the evil in our society or an ancient curse?
"There is no getting out of this town these days." – Fox Mulder
Rush to Judgment
In today's world, we are often blinded by our own beliefs and biases. It's a part of being human, unfortunately. However, sometimes that tendency prevents us from thinking clearly. Tonight's episode of
The X-Files
, entitled
Familiar,
deals with not only a supernatural element but a societal phenomenon as well.
People are often tried in the court of public opinion and in social media outlets. Due process is overlooked in favor of mob mentality. Benjamin Van Allen's script deals with this fact in typical
X-Files
style.
When Mulder and Scully try to track down a cold-blooded killer, they are witness to the insular tight knit clannish mentality of the small town in which they find themselves. On the outside, things may appear to be white picket fences and everybody knows your name type feel but behind closed doors, when suspicions are raised, an ugly side rears its head.
We see what happens when a convicted sex offender, who actually had nothing to do with the murder of a local child, becomes a target and is nearly kicked to death. The scene is undoubtedly uncomfortable for some viewers but hits a deep chord. Is this what has become of us?
Mr. Chuckleteeth or Pee Wee Herman from Hell
All I can say is writer 
Benjamin Van Allen
must REALLY have a deep dislike for the Teletubbies and Pee Wee's Playhouse. These two cartoons are kind of prominent in the Familiar episode. Well, their demonic cousins maybe.
Pee Wee has been replaced by the malevolent Mr. Chuckleteeth and the Teletubbies, well their substitutes are the black-eyed Bibbletickles. In the very first scene we are introduced to the doll form of Mr. Chuckleteeth as young Andy Eggers (
Sebastian Billingsley-Rodriguez
)playing on a merry-go-round.
He gets lured into the woods by a real-life Mr. Chuckleteeth when his mother Diana (
Sharon Taylor
) is engrossed in a deep conversation on her cell phone. When she finishes, she turns around to find that her son is missing.
Nighttime falls and a search party of local police officers are combing the woods. One of the group, Officer Wentworth (
Roger Cross
) finds the mangled body of Andy. His father who is a fellow officer, Rick Eggers (
Jason Gray-Stanford
) cries out in anguish when he sees his son.
Hell Hound or Serial Killer?
Mulder (
David Duchovny
) and Scully (
Gillian Anderson
) are on the scene. Immediately when Scully finds out that Andy had a crushed windpipe and a broken neck, she overrides the police that think it is a coyote attack. Even Mulder chimes in that it could have been a Coy-Wolf.
Always logical, Scully think the bite marks were postmortem and that it is murder. She gives a profile to the police and tells them that he is probably a resident of Eastwood and frequents the park.
When she and Mulder get back to their car they start talking about the case. Scully scoffs at his suggestion that the perpetrator was a Coy-Wolf. He informs her that he was thinking more along the lines of a hell hound.
Of course, Scully stares at him incredulously. Mulder then explains that the hell hound guards the gates of hell and that Eastwood is ground zero for that kind of supernatural activity because of the past. Apparently, a witch named Goodie Bishop spontaneously combusted and the ground is cursed.
In typical Scully fashion, she discounts what Mulder says and insists that it isn't paranormal it is the work of evil in this world. During the course of the examination of Andy's body, Mulder discovers salt on his ankle.
Neither he nor Scully understand why. After they finish, they discuss talking to the Chief of Police's daughter since she was a witness.
1428 Elm
Pix Queen




Number of posts

: 113904


Registration date :

2007-04-27



The X-Files season 11 episode 8 recap and review: Familiar
by Sarah Crocker
1 hour ago
Follow @superduperspock
Get ready for gore, violence and the worst Teletubby you have ever seen in Familiar, the latest episode of The X-Files season 11
It all begins with a creepy, rainy playground where surely nothing terrible will ever happen. A young boy named Andrew – dressed in a bright yellow raincoat like poor Georgie Denbrough in Stephen King's It – is on some playground equipment. His mother, Diana Eggers, is nearby. However, she is distracted by a tense phone call. She might also be trying to ignore her son's horrible doll, a dark-gray monstrosity he calls "Mr. Chuckleteeth".
Maybe she should be paying a little more attention because her son sees a full-size Mr. Chuckleteeth looming about in the woods. Young Andrew runs off and ultimately meets a gruesome end. When we later cut to the police officers searching for him that night, the episode twists the knife even more by making his father one of the officers.
At least Mulder manages to keep it together when interviewing Emily, the police chief's 5-year-old daughter who was also at the scene. She's watching a horrifying version of the Teletubbies, the "Bibbietiggles." They are almost the same, down to the bottom-heavy costumes and brightly colored fur. But their eyes are black voids and they dance over and over to the same music. Then, Mr. Chuckleteeth shows up on screen, dancing and grinning forever. Between that and the extensive witchcraft library, Mulder is thoroughly creeped out.
"Familiar" is definitely gory, perhaps even excessively so. That's certainly the case when we come back from commercial to see Scully and Mulder perusing crime scene photos. The cops say it was probably a wild animal attack, while Scully thinks it might actually be a human.
Mulder chimes in with witchcraft, or possibly a demon-related hellhound. Absolutely no one finds this to be helpful.
The grimness intensifies with an autopsy, followed by Andrew's funeral. His father, Rick Eggers, asks fellow Officer Wentworth what's going on. Why won't the FBI release his son's body? Wentworth spills the beans, saying that the agents seem to think there may be a human culprit.
That's all Eggers needs to go full vigilante. Somehow, he hasn't been placed on any sort of leave and is able to search through the sex offender registry via a station computer. He finds one nearby: Melvin Peter. Eggers practically steals a patrol car and leads Chief Strong and Scully on a chase to Peter's home. Nothing much happens, though no one in town pulls over for sirens or flashing emergency lights. It makes for a very manufactured chase scene, to be honest.
While Chief Strong talks Eggers down, Scully takes a call from Mulder. He's just meandering around the crime scene again when he encounters a poorly rendered black wolf looming in the woods. It walks away. Mulder hangs up without saying goodbye (though Scully is probably used to it at this point).
Later investigations of Peter's home reveal way too many party balloons in a bedroom and plenty of pictures of Peter in costume at children's birthday parties. There's also a surprise capuchin monkey in a closet, for no discernible reason other than to provide a jump scare.
"He's potentially John Wayne Gacy with a monkey," says Scully. But Mulder thinks it's too easy. He's also pretty put off by the angry mob forming outside the home. "Mass hysteria, Salem, McCarthyism," Mulder recalls, looking around at the people.
Meanwhile, young Emily sees the purple hell-Teletubby at her door and follows it outside. She meets a gruesome end in a similar fashion to Andrew. Mulder finds a salt circle and Puritan gravestones at the site. That's plenty strange, though Mulder's leap to witchcraft and demons is still a bit of a stretch.
It's enough to unnerve Chief Strong, however. He tells the pair that "I have let the devil into my soul and I have sinned against God… but I did not kill anyone." Strong says he is a "lustful man, an adulterer." In fact, he was on the phone with Andrew's mom when Andrew went missing. He cries that he has opened the gates of hell and then runs off.
"I… did not see that coming," Mulder says.
Later, he pulls out his B-movie dialogue and tells Scully that "I think someone has put a curse on this town and maybe unwittingly opened the gates of hell." Clearly dramatic, but it's hard to argue fully when Melvin Peter – who had a clear alibi – is beaten by a mob and then murdered by a distraught Eggers. Even worse, Eggers is released on a $5,000 bond.
Eggers' wife doesn't want to cut him a break, however. He confronts her about the affair with Chief Strong. They fight, she leaves, he gets a gun and then leaves after her.
Diana speeds along a dark country road, crying, then briefly sees Andrew standing in the middle of the road. She swerves and flips her car. We cut to her wrecked, upside-down vehicle. The computer wolf walks up to it and growls.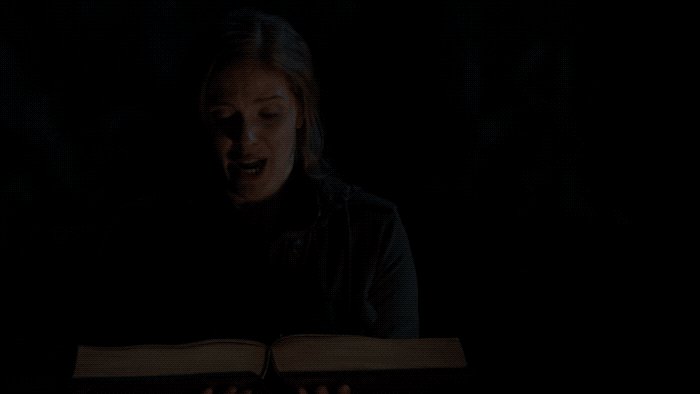 😱😱😱#TheXFiles pic.twitter.com/jR6sL7IHgy

— The X-Files (@thexfiles) 8 de março de 2018
Meanwhile, Eggers breaks into the Strong household and experiences utter strangeness. First, there's the "Mr. Chuckleteeth" song, apparently sung by his deceased son with plenty of otherworldly vocal distortion. Then he actually sees Mr. Chuckleteeth and starts shooting, though of course, he does not land a single shot.
The TV starts playing a Mr. Chuckleteeth clip, which, in true creepypasta fashion, ends with a line about "[sending] you straight to hell." It's complete with a fast zoom into that awful face and some flames in the background. We've got some real Candle Cove vibes here.
Eggers tries to leave, but he comes face to face with Strong on the doorstep. When Mulder and Scully arrive after the commercial break, they find Eggers on the ground, dead of a gunshot wound. They drive off to find that Chief Strong has found Diana's wrecked car and followed her doppelganger into the woods.
Once deep into the forest, Strong discovers his own wife, Anna. She's holding a huge grimoire and chanting in the midst of a candle circle. Must have taken forever to light each one. "I have to end what I started," she tells her husband. "I only meant to curse Diana, for what you were doing behind my back".
The computer-generated wolf chooses this moment to leap in and chow down on Chief Strong. Mulder and Scully rush in, only to see Anna go up in flames. Scully and Mulder just stand there, because I guess what else would you do? You know, apart from trying to help her or something.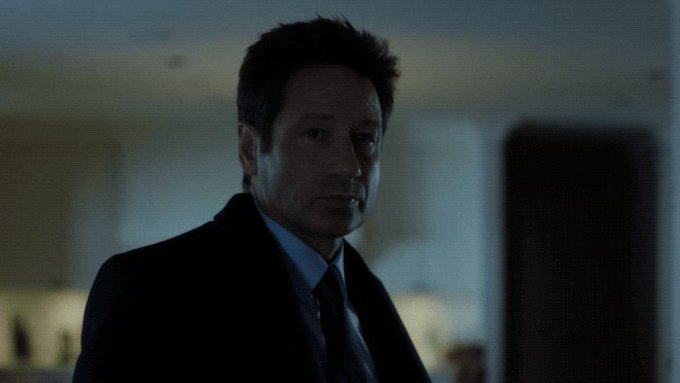 How do kids watch this? 😮#TheXFiles pic.twitter.com/SZua8xWNZe

— The X-Files (@thexfiles) 8 de março de 2018
The grimoire, however, survives intact. Later, Scully hands the book to Officer Wentworth, saying, "somehow, this didn't burn." He looks like he really, really doesn't want to receive this particular piece of evidence.
"Let's get out of this town, Mulder," Scully sighs. They do just that, but as their car pulls away, a piece of playground equipment starts moving on its own. You can't end an episode of The X-Files without some lingering strangeness, you know.
Apart from the deeply sad and grim deaths of children, "Familiar" wasn't a bad episode. It did, however, spend a little too much time focusing on the boring interpersonal relationships of awful adults. More demons, please!
No, it's not that I'm a sadist (really, I'm not). But how many of us tune in to The X-Files for small-town drama? Sometimes, it felt like there were simply too many adults bickering and hurting one another. If we have to face horrible injuries and broken relationships, can you at least properly creep us out while doing so? Heck, I'd even take more of those nightmare-inducing Teletubbies from the underworld.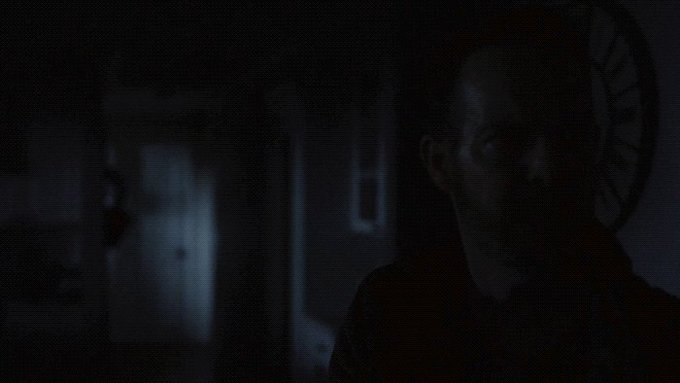 Our favorite doll has returned. #TheXFiles pic.twitter.com/5oL347uMLy

— The X-Files (@thexfiles) 8 de março de 2018
Unfortunately, a lot of the supernatural things that were present were strangely flat. That computer generated wolf spent most of its time wandering the forest, while Mr. Chuckleteeth danced about on screen (with nary an adult commenting on the weird kids' show).
The reveal that Anna Strong is the incompetent witch at the center of the tragedy was also somewhat unexciting. Maybe we should have seen just a little more of her initial witchcraft to make it really stick. This is one of those rare cases where just a touch of backstory could have rooted things more firmly.
In the end, this is a serviceable episode that doesn't quite pack the thrills of other X-Files tales. It's good enough for an evening, but how many people will re-watch it when there are other, more tightly written demonic episodes of The X-Files? At least there were a couple of interesting monsters — in the form of those Teletubbies and Mr. Chuckleteeth.
Next week is "Nothing Lasts Forever," which looks to be a pretty gross one, with all the talk of organ theft and cult rituals. There may also be a hint of vampires here, with the various stakes through hearts. At least, that's what Mulder wants you to think. We'll have to wait until next week to see if he's right.
Culturess
Pix Queen




Number of posts

: 113904


Registration date :

2007-04-27



The X-Files Inflicts Mass Hysteria with the Creepiest Clown
By Nick Mangione 03.08.2018 :: 1:30PM EST
(Cr: Shane Harvey/FOX)
In a shortened event season, it can feel like there's a pressure to make every episode matter. Especially when it could easily end up being the final season altogether. You want every episode to feel like part of a fitting farewell. Like the show is pulling out all the stops because it may never get the chance again. But even in Season 10,
The X-Files 
made it clear that that wasn't what it was doing. These new seasons are just as much about monsters of the week as the series has always been. Some are great; some are just kind of there. But as last night's episode proved, even the mediocre monsters of the week have a craft to them after all these years. When the story falters, a good monster and chilling atmosphere can make up for a lot.
Right off the bat, this episode of 
The X-Files 
isn't messing around. The first thing we see is a kid in a Connecticut playground singing to the creepiest doll ever made. Seriously, this thing is going to give me legitimate nightmares. And his mom is fine with it, casually pushing him on the merry-go-round and letting it happen. People from Connecticut are weird, man. If the doll wasn't terrifying enough, the kid soon sees a life-size version peering at him through the woods. No, that's an ok show. I didn't need any sleep tonight. The mom gets distracted by a phone call and the kid disappears into the woods, just like you knew he would. God that clown doll is creepy. And what's his name? Mr. Chucklety? Why would anyone let their kid play with that?
Gillian Anderson (Cr: Shane Harvey/FOX)
The kid ends up dead in the woods, and Mulder and Scully are called in to investigate. Scully flips through the gruesome photos of the boy's body because the show decided we weren't disturbed enough already. The local authorities blame it on some hybrid breed of wolf. Scully thinks it's a young male, developing a sexual appetite for child murder. Mulder, of course, isn't ready to rule out the supernatural. Especially since the town has a history of witch hunts and occult happenings. After all these years, they still fall on the same lines. During the autopsy, Scully determines that the boy was likely shaken to death. She thinks it was the father, a detective, and that the rest of the cops are covering up for their buddy. You already know the FBI presence isn't going to be well-received in this small town.
Complicating matters is a strange, white substance on the boy's feet. The same shade as the torn-apart doll. Mulder wants to question a little girl who was also at the playground, and it turns out she has a creepy kids' character obsession as well. It's like Teletubbies, except with even creepier faces. The girl says she didn't see anything, until that creepy Chucklety character shows up on TV. That's when she exclaims that he was in the forest. Mulder has a lead, and I have night terrors.
Scully keeps pursuing the human murderer angle, and word of her profile gets back to the father. The father does a little searching and finds a man in town who matches Scully's profile. A male with a prior charge of sexual assault of a minor. Scully and the chief chase the father to the pedophile's house, but the suspect is nowhere to be found. Mulder is pulled away from watching creepy wolves in the woods to help investigate, and they find a number of unsettling horrors inside the suspect's house. Including a Mr. Chucklety costume.
Gillian Anderson and David Duchovny (Cr: Shane Harvey/FOX)
It would seem they have their man, but Mulder still isn't convinced. This is 
The X-Files.
Things are never as simple as they appear. Especially giving this town's history of witch hunts that becomes a recurring theme. No matter how despicable, no matter how creepy someone is, everyone deserves due process. The revelations inside the house have whipped the town and cops into an angry mob, much like the witch hunters of old. Whatever ends up being the case, something's going on in this town. And it's happening again. The little girl Mulder talked to is lured outside her home, this time by one of those creepy Teletubby things. Next time we see her, she's dead. Why are all these children's characters so scary? This episode's costume design is really top notch.
Mulder finds a salt circle at the crime scene and figures out that someone in town has been practicing witchcraft. The chief admits to it, though it wasn't to kill anyone. He got into it because he's horny, and really there's nothing sexier than witchcraft. Mulder thinks he unleashed something. A creature, an evil familiar taking the form of children's TV characters, something. In any case, he figures out that the man with a prior sexual assault conviction probably isn't who they're looking for. Not that it matters. The murders have got the town into a hysteria. Despite Mulder and Scully's best efforts, the father of the first victim shoots the suspect. It's a modern-day witch burning.
Gillian Anderson and David Duchovny (Cr: Shane Harvey/FOX)
Once the mass hysteria dies down, Mulder and Scully continue the search for the real culprit. Evidence came to light exonerating the suspect, but it wouldn't have mattered. The mob had spoken. That's what it takes for the detective to figure out who's actually behind the strange happenings in town. His wife has been cheating on him, and performing witchcraft with the chief. He calls her a witch, and she storms out, driving away as fast as she can. This is where the episode starts to get really scary. It never gave you a firm grasp of what's going on and in this scene, it takes what little foothold you have away from you. As the wife is speeding away, she sees her dead son standing in the middle of the road and flips her car trying to avoid him. Then, we see a hellhound closing in on her. Whatever demon familiar's been summoned, it's getting more aggressive now.
Meanwhile, her husband storms the chief's house, and is briefly terrorized by Mr. Chucklety and his creepy-ass song. He runs through the house and into the chief, who shoots him dead. Mulder and Scully arrive just in time to examine the body, and be briefly scarred by the image of that dancing clown thing. The house is empty, though. The chief has fled, but Mulder has a decent idea where he's gone. The show pulls off a decent twist in the end. It used multiple red herrings to instill a sense of hysteria in the audience, to make us jump to conclusions much like the witch-hunting Puritans did. In the end, it turns out the chief's wife who was practicing witchcraft. She wanted revenge on her cheating husband, and ended up killing two kids, getting her husband mauled, and lighting herself on fire. By the end of everything, even Mulder and Scully aren't quite sure what they just saw. You really never do know with witchcraft, do you?
There was no way this episode wasn't going to be at least a little bit of a letdown from last week. That still sticks in my mind as one of the best episodes 
The X-Files 
has ever had. This one is fine. It is a standard monster-of-the-week episode that follows the 
X-Files 
formula to the letter. We have a small town, a strange murder, a rational explanation from Scully, a supernatural one from Mulder and beef with local law enforcement. Though it doesn't deviate from this well-worn recipe, it does prepare it particularly well. A scary monster can go a long way. The only downside is, I know we only have two episodes left. As someone who's loved this show for years, it's hard to know we probably have only a few hours left of it and we're spending one on an episode that's, you know, fine. Still, even if the episode itself wasn't all that memorable, Mr. Chucklety is going to stick with me for a while.
Geek
_________________
Credit to original photographer, poster, scanner, site & anyone I may have missed in between




X-Files Recap: Mulder And Scully Revisit A Familiar Theme In Connecticut: Witches!
March 8, 2018
Corrina
Witchcraft, vigilante justice, mob violence, hounds of hell, books that can't be burned, spontaneous combustion and… Mr. Chuckleteeth all figure in the latest mystery Mulder and Scully come up against in this (allegedly) final season of The X-Files. So much can change in just eight episodes. Last season, it felt like the magic that made the series so great had disappeared. Now if feels like it's back, and already we're beginning to fear that, as Gillian Anderson has promised, this really is the last ever season of X-Files. This week's episode wasn't the season's strongest, but it was still fun to take a trip to Connecticut and revisit the story of the Salem witch trials—and discover that not much has changed.
When a little boy is lured into the woods by his favourite TV character, Mr. Chuckleteeth, and brutally murdered the FBI is called in because the victim is the child of a cop. Local law enforcement closed the case quickly, ruling it an animal attack but Mulder and Scully have other theories: Scully believes there's a child-killer on the loose. Mulder believes in witches, hellhounds, and protective salt circles. Because of course he does.
When a second child meets the same fate, Scully and Mulder begin to follow the threads that link the two families and uncover an affair. Meanwhile, the policeman father of the first murdered child pins the crime on a convicted pedophile (it was statutory!) and a mob hands him his sentence before he can be tried. Scully seems ready to call the case closed, but Mulder doesn't like the way this Connecticut mob is mirroring their witch-burning ancestors—and he's proved correct when a third cop comes forward with evidence of the man's airtight alibi.
The situation soon descends into total chaos and Mulder and Scully are sent scrambling all over town as people connected to the case start dropping like flies. Their chase leads them back to the killing grounds where both children were discovered. With the body count now at six, the two agents find just one person involved in the small town adultery scandal still standing (inside a circle of salt ringed with dozens of candles). It turns out she'd known about her husband's affair all along. Did her attempts to invoke the devil and curse him and his mistress open the gates of hell like Mulder believes or were the deaths coincidental? After our modern day witch spontaneously bursts into flames, there's no one left to ask.
"Maybe it was the candles," muses Mulder. But then why didn't the spellbook didn't burn? Was this the rare witch hunt that actually uncovered a witch? We wanna believe.
Space.ca
_________________
Credit to original photographer, poster, scanner, site & anyone I may have missed in between




The X-Files S11E08 Review: Familiar – A little too…familiar?
Posted on March 8, 2018 by Salome G
A little boy in a yellow slicker is lured into danger by a figure that's supposed to be a friend to children. Have you heard this one before?
Despite what you might be thinking, though, we don't all float down here. Instead, once young Andrew's body is found, it seems like a pretty clear animal attack. However, Scully doesn't think it's so decisive. While she's talking about how the bite marks could be postmortem predation, mostly I'm wondering why she and Mulder are there to begin with. I mean, they get there before the body is even removed from the forest. How'd they find out?
Anyway, what no one knows but us and the departed child, Andrew was lured into the woods by Mr. Chuckleteeth, the terrifying star of a children's show. Meanwhile, Scully thinks it's likely a child predator and gives an incredibly broad profile of a man aged 19-42. It's also possibly a parent. Mulder thinks it's hellhounds.
It's…both? But before we get to that explanation, we have to spend a little time with the town. Andrew is the son of a local police officer, Eggers, who is barely able to mask his rage in the aftermath of his son's death. When another officer inadvertently mentions that the "female agent" thinks Andrew's death may, in fact, be a murder and one caused by someone who got off on it, it's inevitable that Eggers will turn that rage toward whomever he considers the likeliest suspect.
In this case, it's a local sex offender, Melvin Peters, who didn't properly register when he moved to town. By this point, Mulder has already mused about the witch hunts in the town's history, so it's no surprise when a mob forms outside Peters's home. This town has it in its DNA, after all. But it isn't just the town. This whole country has it in its chromosomes. Witch trials may have been confined to New England, but lynch mobs were everywhere.
When Peters returns to his neighborhood–he's been out of town the whole time, by the way–he's recognized by the crowd and set upon by Eggers. The rest of the police force is in the woods, where they've found the body of the police chief's young daughter. She was lured out of the house by a Bibbletickle, one of a quartet of creatures who look like demonic Teletubbies.
By the time all the authorities get to the mob scene, Eggers has beat the hell out of Peters. The latter man weakly tries to protest that he never hurt anyone, that his crime was statutory (implying that it was a Romeo and Juliet situation), but it doesn't matter. Facts don't matter. It won't even matter later when another police officer, the same one who initially tipped off Eggers, finds that Peters has a solid alibi. Peters is dead by then, shot by Eggers just as the police get the mob under control, and Eggers will probably walk.
After all this, the real resolution is almost an afterthought. Earlier, Mulder notices salt on Andrew's foot (and around young Emily's body) and a grimoire in Chief Strong's house, but he sort of floats through the episode with that information until it's narratively necessary.
Because another thing we know that they don't is that Andrew's mom and Chief Strong were having an affair. That's the cause of all this. Chief Strong believed he had evil in his heart, but it was only a moral failing. The real evil was conjured by his wife, Anna, who just wanted to curse Diane Eggers and then maybe her husband.
That's the trouble with curses, though. They don't color inside the lines. Evil, like disease, like an outbreak of violence, spreads as far as it can go. And as it always does, it takes everyone with it. Eggers goes to the Strongs' house to confront the chief, who shoots him dead. Diane is lured into the woods by a vision of her son, where the hellhound gets her. When Strong follows her trail, the hound gets him, too. Finally, the evil takes Anna in a burst of flames.
After all this, after all this evil, all Scully wants to do is get out of town. But like Mulder tells her, that's just not possible anymore in this world. "There is no getting out of this town, Scully. Not these days."
7/10 – Like a lot of the revival episodes, this wasn't bad. It was just so reminiscent of earlier episodes that it's like, what's the point? And by reminiscent, I don't mean the vibe–I mean, specific plots. This episode in particular was an amalgam of "Chimera" and my very first episode, "Die Hand die Verletzt." And probably some others I'm forgetting. It was fine. It wasn't great. It was just a little too…familiar.
Cult of Whatever
_________________
Credit to original photographer, poster, scanner, site & anyone I may have missed in between




The X-Files season 11, episode 8 review: Familiar
by Nick Chandler
49 seconds ago
Follow @NickSChandler
A seemingly very standard episode of The X-Files is made all the better by a creepy monster and odes to the classic 'horror' episodes of the shows past. Oh, and we get IT references.
Starting the episode with killing a small boy is very effective way to get under the skin of your audience. Shades of
The VVitch
and Stephen King's
IT
shine through, meaning that writer Benjamin Van Allen knows immediately that any reference to either would bring the dread and set us in that frame of mind for what was to come. Combining these elements into a classic
X-Files
set-up, Mulder and Scully investigate strange happenings in a small town and it uncovers something sinister under the surface, ultimately means that what could be a standard episode elevates into something better.
it is a creepy episode. The familiar that is unleashed upon Eastwood takes the forms of something appealing to lure its victims into the jaws of the Hellhound. And for children that would be any number of things they see on TV. For the boy, it is Mr Chuckle Teeth (below); whom even without the creepy theme song is a disturbing thing to look at (I will leave the link to this gif here, and apologize for any nightmares). For the gir, it's the horrifyingly disturbing
Teletubbies-
like show. Puts it all into context how warped children's TV can become once you apply it into the lens of a show like
The X-Files
.
As I have said, this is a very standard situation that Mulder and Scully find themselves in. There was a Season 2 episode called "Die Hand Die Verletzt," which had the PTA delve into satanism and then deal with the evil that had been set loose. For this town, Hellhounds summoned by love-hurt witches are on the prowl, after inadvertently opened the gates of hell. Salt, magic circle, familiars, it's all there as a witches go to. "This is the killing field", was a quote uttered that had me shivering.
The episode attempts to look for a way out, to be drawn to the something perfect that will solve our ailments. We are drawn to believe that a convicted paedophile had committed the crime. Ensnaring children from playgrounds and their homes. But Mulder doesn't like perfect. Because of this development, Fox and Dana have to deal with the mob hysteria that comes with accusing an innocent man, almost like a curse. Causing the citizens of Eastwood to hate and assault that which is an easy target.
Seeing Chief Strong discover that his wife had unleashed hell upon the town, then getting mauled by the Hellhound was quite satisfying in a weird way. There are umpteenth stories of witches cursing those who have hurt them, but this one seemed a little different for reasons I couldn't quite put my finger on. After she had burst into flames, Scully has a momentary "belief" thought. Had this been the work of the gates of hell or had she caught fire from the candles. The curse of the modern-day witch is something to be left to tourist literature.
Written by Benjamin Van Allen and directed by Holly Dale, "Familiar" is a good solid episode, with a creepy monster and underlying take on what we are living through at the moment. Just like some of The
X-Files
episodes of old. Mulder implies throughout that the town of Eastwood is representative of the world we live at this moment on time, jumping to the dangers of mass hysteria rather than taking things into care consideration; and just like the witch we will have to suffer the consequences of who gets hurt in the process.
The
X-Files
airs every Wednesday night on FOX.
Hidden Remote
_________________
Credit to original photographer, poster, scanner, site & anyone I may have missed in between




The X-Files 11×08 Review: Familiar
Posted by Tara Lynne On March 09, 2018
After watching "Familiar" and then thinking about it for the better part of a day, I'm still not sure how I feel about it, though I think I know what's to blame for that: Mr. Chuckleteeth and the Bibbletiggles.
Don't get me wrong, "Familiar" was a difficult episode for several reasons, not least of which were the deaths of two small children
and
the man wrongly accused of their murders. But yeah, in the end, it's those ultra-creepy kid's show characters that I can't get out of my head.
If it weren't for the fact that in the end, a woman was actually 'calling demons' (or something along those lines) with a grimoire, I would have said that "Familiar" was pretty standard
X-Files
fare. And really, the demon stuff didn't throw it off track too much – it's more that I simply expected (or maybe just hoped for?) better.
Shoot, you know, even as I write this review, I can't get Mr. Chuckleteeth and the Bibbletiggles out of my head long enough to formulate complete thoughts. If that's what they were going for with this episode, well, kudos to them, and hey, someone please tell me I'm not alone here?
When it comes down to it, more than anything "Familiar" was a story of jilted spouses in a small town. Only in this case, one very angry jilted wife and a small town with a history of witchcraft (because apparently that's all New England towns are good for) left a trail of dead people in their wake. And if it hadn't been for the witchcraft twist, this episode would have been just like so many episodes of your regular procedural dramas. One of the better episodes of one of the better procedural dramas, mind you, but still a bit lackluster when compared to all of the truly great
X-Files
episodes.
Or maybe I just can't bring myself to have liked "Familiar" because guess what, I still can't stop thinking about that awful Mr. Chuckleteeth and his Bibbletiggle buddies. Oh well, I suppose there's always next week's episode to look forward to…
The Geekiary
_________________
Credit to original photographer, poster, scanner, site & anyone I may have missed in between




Posted by Josh Zyber - March 9, 2018
'The X Files' 11.08 Recap: "I Was Thinking More Like a Hellhound"
It should be no surprise that last week's playfully inventive episode of 'The X Files' was an anomaly this season. The show returns to classic monster-of-the-week form this week, to some mixed results.
Episode 'Familiar' opens with a little boy at a playground, carrying a super-creepy doll called "Mr. Chuckleteeth" that has an evil smiling skull face and a pompadour. (What parent would let a young child play with this?) As the boy's mother is distracted arguing with her husband on the phone, the child is lured into the woods by a full-size Mr. Chuckleteeth, and is then attacked by something unseen.
A search party scours the woods until the boy's dead body is found, torn up by an apparent animal attack. Mulder and Scully arrive to investigate, claiming FBI jurisdiction because the boy's father is in local law enforcement. Neither of them buys the animal attack story. Scully determines that the victim was asphyxiated and theorizes that a serial killer may be preying on children. Mulder suspects witches, because of course he would. The town had a history of witchcraft trials back in the Puritan days. He says that the post-mortem injuries could have been caused by an animal familiar, such as a hellhound. Scully rolls her eyes. That seems like a stretch, even by Mulder's standards.
Scully later changes her theory and believes that the boy's hot-tempered father, Officer Eggers (Jason Gray-Stanford from 'Monk'), is the most likely suspect. Police Chief Strong (Alex Carter from 'CSI') dismisses the idea. Mulder notes some salt on the corpse's foot. The two of them next interview a 5-year-old girl who was at the playground. She's distracted watching an obnoxious 'Teletubbies'-like TV show, but perks up when Mr. Chuckleteeth comes on the screen, and says that she saw him in the woods. Scully writes this off as a young child's flight of imagination.
Distraught over his son's death, Eggers becomes obsessed with Scully's original serial killer theory and searches a criminal database until he finds a registered sex offender nearby. Deranged with anger, he races to the man's house and kicks in the door. Scully and the police chief follow after Eggers and manage to talk him down. The sex offender isn't home, but they find photos showing him working as a party clown for children. In his closet is a Mr. Chuckleteeth costume.
Believing this to be a John Wayne Gacy scenario, Scully is ready to consider the case closed. Mulder remains unconvinced, and is very unsettled by the mass hysteria brewing in the community, which is ready to condemn this man without a fair trial.
The little girl named Emily, who happens to be Chief Strong's daughter, is lured outside her house by one of the Teletubbie-like characters and is soon found dead as well. Mulder notices salt on the ground at the crime scene and uncovers what looks like a magic circle around the body. He confronts the chief and accuses him of knowing about witchcraft being practiced in the town. Strong confesses to having an affair with Eggers' wife, and believes that the children are dead because he's being punished for his sin.
The sex offender eventually returns home, having no idea what's going on. Eggers and a crowd of angry bystanders assault the man until Scully breaks up the mob. The man claims that he's only on the sex offender registry due to statutory rape when he much younger, and insists that he never hurt anyone. (I don't like the idea of dismissing statutory rape as a harmless crime, personally.) Eggers doesn't believe him and shoots the man in the head.
At his arraignment, Eggers is released on a very light bail due to being a police officer and allegedly not a flight risk. Mulder considers this a travesty of justice. Another cop named Officer Wentworth (Roger Cross from '24' and 'The Strain', who has played at least four different roles on this show in the past) brings them evidence that the sex offender had a firm alibi at the time of the first boy's murder.
Eggers and his wife, Diane, have a huge blow-out fight over her affair. Diane announces that she's leaving him and drives off. Speeding down the road, she sees her dead son standing in the road and swerves, crashing her car.
Eggers himself, meanwhile, goes to Chief Strong's house in a rage, threatening to kill him. Instead of the chief, he sees Mr. Chuckleteeth snooping around the house and taunting him. Eggers shoots Chuckleteeth multiple times to no effect. Strong then returns home and sees Eggers inside. A gunshot rings out.
Mulder and Scully find Eggers dead at the chief's house. A ring of salt surrounds the house and a book about witchcraft that Mulder had seen there earlier is missing.
Strong comes across the car crashed on the road and walks into the woods in search of his mistress, Diane. He walks right past her body at the base of a tree. Deep in the woods, he finds his own wife, Anna (Erin Chambers). She's standing inside a ring of burning candles with the witchcraft book in her hands. She claims that she cast a spell to curse him and Diane, but inadvertently cursed both of their children as well. Suddenly, a big wolf leaps out of nowhere and mauls the police chief to death.
Mulder and Scully follow the chief's trail. Anna chants a spell, trying to undo the curse she placed earlier. She apparently fails at that, because her body spontaneously bursts into flames. In the aftermath, Anna's body is charbroiled, but the witchcraft book isn't so much as singed.
Episode Verdict
As a parent, I find using the vicious murder of young children as a plot-point both unsettling and distasteful. Getting past that, this is a fairly decent M-o-t-W 'X Files' episode that could have been made during the show's original run. The plotting largely holds together and is more coherent than most this season. The episode conveys strong feelings of suspense and dread. Importantly, neither Duchovny nor Anderson looks lost or bored reading the dialogue, which has been a noticeable problem in some of the weaker entries.
However, the episode also feels muddled in the way it mashes together a bunch of different, unconnected ideas and themes. Mr. Chuckleteeth seems like he was probably an idea one of the writers concocted for another episode all to himself, only to wind up being foisted into an episode about witches.
High-Def Digest
_________________
Credit to original photographer, poster, scanner, site & anyone I may have missed in between




5 Ways 'Familiar' Was the Boldest 'X-Files' Episode Yet
By Brinkwire on March 9, 2018
Holy Mr. Chuckleteeth.
The X-Files
, admittedly, with the exception of the painful premiere, has been phenomenal this season. It has done exactly what season 10 (the first attempt at the show's "reboot") should have done by studying the changing world's influence on the investigations of Mulder and Scully. However, "Familiar" really takes the cake.
The season 11 episode tracks our dynamic duo as they explore a reported animal attack in Connecticut. What starts out as a simple "death by coyote" case quickly transforms into an layered examination of police brutality, mass hysteria and adultery. It pushes the boundaries like the
X-Files
of Christmases past, in more ways than one.
1) It Spared No One, Not Even Kids
The X-Files
is not afraid of murder. The rate of death in the show is so high, you'd think it was created by Quentin Tarantino. However, in most cases, the victims are crazed adults or possessed teenagers who deserved their fate. "Familiar" takes an unfamiliar approach by kicking off the episode with the brutal death of not one, but two children, both at the hands of their careless parents who were so wrapped up in their love affair, they couldn't protect their own offspring. I expect this kind of tragic message from Shakespeare or
Game of Thrones
, but not
X-Files
.   
2) It Called out Police for Abusing Their Power …
When Officer Eggers, the disgruntled father of the first child victim, learns that an unregistered sex offender lives in town, he takes matters into his own hands and kills the man in cold blood, in front of his peers and the townspeople. One can easily draw comparisons between this gruesome death and the real-life news reports of undeserving men and women gunned down by scared or prejudiced cops. The episode's cinematography also supports this point: shots of guns and weapons were featured prominently throughout, forcing us to wonder if the writers were trying to make a statement here.
3) … And for Getting Away with It
When Officer Eggers is dragged to court for his crime, one that was clearly witnessed by dozens of townspeople, Mulder leans over to Scully and whispers a prediction: that Eggers will be released with little to no penalty. The assumption quickly proves true, as Eggers is pardoned for his past good behavior. Mulder's assertion that "police protect police" also harkens back to the current news cycle and the reports of officers who are guilty of their crimes getting off due to the help of their friends. 
4) It Showed How Mass Hysteria Can Twist the Truth and Have Deadly Consequences
Let's talk about fake news. Or rather, the massive consequences that "fake news" can have on society. While this "Trumpism" may have started off as a deflection mechanism for the country's president, it has come to represent a huge piece of our current culture. From viral videos that are later debunked to Presidential statements that are quickly retracted or denied, "fake news" has ravaged our society in the past year and, well, in the past few centuries (see: Salem.) 
The X-Files
seemed to take a shot at this unfortunate development — as Officer Eggers is attacking the "sex offender," we hear the victim say "we were kids, it was statutory, I didn't hurt anyone." But his words are drowned out by the rush of the mob, who descend on him in a blind rage spurred by Eggers' accusation that he killed his child. The hysteria leads to Eggers shooting the innocent man in the head. Just like that.
5) The Whole Episode Seemed Like a Horror Movie
While this episode tackled a few big macro themes, it also took some risks with its format: the episode, which featured a terrifying singing clown toy called Mr. Chuckleteeth and demonic Teletubbies knockoff, registered more like a horror movie than a sci-fi TV episode. From the eerie children's music to the lurking "demon" wolves, right down to the first death, which features a boy in a yellow rain jacket being lured to his death by a creepy clown a la the famous movie
It,
every element of this episode was designed to make us want to turn the lights on.
But maybe I'm just a baby. What do you think? Was this
X-Files
episode more hard-hitting and eerie than normal?


The X-Files
airs on Wednesdays at 8/7c on FOX. Like this article? Follow BuddyTV on Facebook for more!
(Image courtesy of FOX)
Brinkwire
(Image courtesy of FOX)
_________________
Credit to original photographer, poster, scanner, site & anyone I may have missed in between




The X-Files 11×08: 99 Problems And A Witch Is One
By Mel Perez - March 13, 2018
The X-Files
episode, "Familiar" feels like a crossover between a Supernatural and a Criminal Minds episodes. We get literal and figurative witch hunts in this episode. Mulder and Scully arrive in a small Connecticut town where a policeman's son has been killed by what looks like a wild animal. After investigating the scene and the body, Scully thinks the boy was killed by a person. A local, possibly the parent of the child. Mulder, of course, thinks there's a more supernatural explanation and it has to do with witches. With years of resigned experience behind her, Scully brushes off his fantastical theories.
In the course of the investigation, the police chief's daughter is killed in a similar way. The title "Familiar" comes from a witch's familiar. In this case, the familiar takes the form of scary looking TV characters that lured the children out into the woods. When I say scary, I I mean it. I don't understand how these are meant for children. Both the creepy teeth man and the no-eyes Teletubby knock-off are clearly the scariest things in this episode and there's some kind of wolf or coyote or coywolf out there mauling people.
Going off of Scully's profile, the father of the dead boy discovers that there's a registered sex offender living in the town. He sees an opportunity to get justice for his son's death and seizes it. A search of the offender's house reveals an eerie dark interior, creepy pictures of children and a mask of the TV character that lured the boy out into the woods. Everything points to this guy being the one behind the crime. The town certainly believes they have their man. A mob gathers outside of his home waiting for him to return and when he does they quickly turn on him.
"What happened to the precious presumption of innocence?" Mulder asks Scully. "You and this mob are re-convicting him right here and now for the sins of his past, with a fervor that we see too often in this American experience of ours." Mulder calls it what it is, a witch hunt. When you're defending a sex offender I don't think you have much of a leg to stand on but there is a point buried in there. We all deserve due process under the law but we don't always get it. The father of the dead boy ends up executing the man right there on the street.
At the officer's bail hearing, Mulder tells Scully that he won't be punished. "The death of an innocent man, and the escape of a guilty officer," he says. I don't know if they meant this to be a nod to all the cases of Black men, women, and children gunned down by police officers who received no punishment for their crimes. If they did, I think they went about it the wrong way. Having a white cop kill a white sex offender does not a deep statement on the impact of police brutality make. Especially considering that this is an episode of X-Files written by a white man starring white people. The officer gets out on bail. His wife leaves him. Having gotten revenge by killing the potential murderer of his son, he feels invincible enough to get revenge against the police chief for having an affair with his wife.
Meanwhile, it turns out Mulder was right about it all being a witch. The police chief's wife found out about the affair and cast a spell to curse her husband. She wanted to punish him for all the pain he caused her but she didn't know what she was doing. The curse spiraled out of control, killing the two children, the officer's wife and the ultimately the chief. All of them were mauled by the wolf, the witch's other familiar. "As we've discussed before, people don't just spontaneously combust," Scully said earlier in the episode. She's proven wrong when that's just what happens to the police chief's wife. While trying to end the curse, she catches on fire and burns to death. Her book of magic remained unscathed. In the end, Scully and Mulder were both right about who was responsible for the deaths. We witnessed the evil in humanity with and without supernatural aid.
Black Girl Nerds
_________________
Credit to original photographer, poster, scanner, site & anyone I may have missed in between




I've never liked clowns

Things We Lost In The Fire





Number of posts

: 4419


Age

: 30


Localisation

: ✘


Registration date :

2010-07-18



Page 3 of 3 •
1, 2, 3
---
Permissions in this forum:
You
cannot
reply to topics in this forum