The Truth Is Out There in The X-Files: Deep State
By Brittany Vincent
Posted on November 27, 2017
The X-Files is coming back in a semi-big way in terms of gaming. It's not getting a triple-A release or anything, which would be too awesome, but it's seeing a mobile/Facebook title resurgence in the form of The X-Files: Deep State. That could be a good thing or a very, very bad thing. Unfortunately all we really have to judge what kind of game it could be right now is a very small clip.
You'll take on the role of Agent Dale as you work to uncover the truth behind spooky and mysterious crimes that seemingly have no explanation. In what looks like something of a blend between hidden object games and Phoenix Wright titles, you'll play through your "own" episodes of The X-Files as they play out.
There's not a lot to go on right now as far as what the game will include, but you can head to the official site today for some additional clues on what might be happening in the game. Hopefully Agent Mulder or Scully will make an appearance. They'd almost have to in any X-Files property, after all.
Twinfinite
_________________
Credit to original photographer, poster, scanner, site & anyone I may have missed in between




The X-Files: Deep State game announced by Creative Mobile and FoxNext
11/28/2017
[This unedited press release is made available courtesy of Gamasutra and its partnership with notable game PR-related resource GamesPress.]
Creative Mobile and FoxNext Games announce the upcoming release of The X-Files: Deep State, an officially licensed  mystery investigation game that will coincide with the release of the hit television series' season 11, in Q1 early 2018 and celebrating the 25th anniversary of The X-Files.
Players assume the role of a FBI Special Agent, investigating mysterious crime scenes that defy explanation. They must uncover hidden clues, collect evidence, solve puzzles, interrogate witnesses and suspects to solve the case.
The events of X-Files: Deep State start to unfold sometime during spring 2010, taking place between the tv series season 9 and 10. The game will feature a storyline revolving around the alien invasion and government conspiracies, as well as self-contained episodes related to various paranormal cases.
Key Points:
• The X-Files: Deep State will be available on the App Store, Google Play and Facebook
• The game is free to play with in-app purchases
• New cases to solve on a monthly basis, with myth-arc and monsters of the week
• Customizable character appearance and style options
• Players make moral decisions that impact the storyline
• Dynamic gameplay complimented with an engaging storyline
• Game languages include English, French, German, Italian, Spanish, Russian
• The game will feature appearances of fan favorite characters
Website: http://xfilesgame.com  
Facebook: https://www.facebook.com/xfilesgame  
Instagram:  https://www.instagram.com/xfilesgame/     
Twitter: https://twitter.com/xfilesgame
Tumblr: https://proj-x-art.tumblr.com/ 
Pintrest: https://www.pinterest.com/xfilesgame/
About Creative Mobile
Creative Mobile is an independent game developer and publisher based in Tallinn, Estonia. Founded in 2010, the company defined a new genre of mobile games and evolved into an internationally recognized studio. Games published by Creative Mobile have been enjoyed by over 350 million players worldwide, and the company continues to reinvent itself and expand into new genres and platforms.
About FoxNext Games
FoxNext is driving immersive, next generation entertainment experiences in the areas of virtual and augmented reality, mobile, console and pc games and location-based entertainment across Twentieth Century Fox Film and Fox Networks Group.
The division consists of FoxNext Games, FoxNext Destinations and FoxNext VR Studio. Fox has a successful track record identifying exceptional games and publishing partners across the mobile and console/PC space, such as Family Guy: Another Freakin' Mobile Game, Animation Throwdown: The Quest for Cards, The Simpsons Tapped Out, Family Guy: The Quest for Stuff, Ice Age Adventures, Sugar Smash: Book of Life and Alien: Isolation.
Gamasutra
_________________
Credit to original photographer, poster, scanner, site & anyone I may have missed in between




November 28, 2017 11:37AM PT
'X-Files: Deep State' Alien-Invasion Mystery Game on Tap for February 2018 Release
By Todd Spangler
@xpangler
CREDIT: FoxNext Games
Do you want to believe? Fans of "The X-Files" will soon get the chance to uncover an extraterrestrial mystery like Mulder and Scully in a new mobile game.
"The X-Files: Deep State" mystery-investigation puzzle game is slated for release in February 2018, coinciding with season 11 of the TV series, set to premiere Jan. 3 on Fox.
The game — which also celebrates the 25th anniversary of "The X-Files" — comes from 21st Century Fox's FoxNext Games division and Estonia-based game studio Creative Mobile. The game's website, xfilesgame.com, features a countdown clock with 70 days currently remaining, indicating the release date will be Feb. 6, 2018.
The events in "The X-Files: Deep State" unfold sometime during the spring of 2010, taking place between seasons 9 and 10 of the TV series. The game will feature a storyline revolving around the alien invasion and government conspiracies, as well as self-contained episodes related to various paranormal cases — with FoxNext Games promising appearances by fan-favorite characters.
In the game, players assume the role of an FBI special agent and must find hidden clues, collect evidence, solve puzzles, and interrogate witnesses and suspects to solve the case — with their decisions affecting how the storyline plays out. FoxNext says there will be new cases to solve on a monthly basis, with "mytharc" and monsters of the week. Players also will be able to customize their character's appearance and style.
"The X-Files: Deep State" will be available on the Apple App Store, Google Play and Facebook. The free-to-play title will include optional in-app purchases, and it will be available in languages including English, French, German, Italian, Spanish, and Russian.
21st Century Fox formed the FoxNext division earlier this year, housing its video game, location-based entertainment and VR and AR business initiatives. In June, FoxNext Games bought L.A.-based Aftershock, following the studio's spinoff from Kabam. The Aftershock team is developing the "Marvel Strike Force" role-playing/fighting game, set for 2018 release, and a multiplayer mobile strategy game based on James Cameron's "Avatar" franchise.
Watch the teaser trailer for "X-Files: Deep State":
Variety
_________________
Credit to original photographer, poster, scanner, site & anyone I may have missed in between




The X-Files: Deep State wants you to escape into an interactive experience
by Susan Leighton
1 hour ago
Follow @SusanontheLedge
The latest addition to the pocket app game Deep State is out. Now is the chance to become a real-life G-man or G-woman. You determine the outcome!
The truth is in your pocket on February 6th!
In Search of Melissa Bay
This week the
X-Files
pocket app game released a new addition on their site.
Agent Hooper
has discovered an important clue. The name
Melissa Bay
in one of the archived files.
Bob the Janitor
is on the case and is heading to a clinic in New Jersey to find Ms. Bay. Your task is to help him through the maze of nurses, doctors and other potential obstacles in order to achieve the objective.
Like I had mentioned before as you advance in the game the levels and tasks increase in difficulty. I am embarrassed to say it took me three times to get through this particular level.
Once Bob is at the clinic, you will answer his text messages and instruct him on where to go. Each answer prompts a specific outcome. You actually feel as if you are in a scene from the
X-Files
which makes this interactive experience pretty cool.
The name of the game is to eventually end up locating information on Melissa Bay. Check out what one of the screens looks like:
Be prepared because every action has a consequence. Sometimes you will succeed and sometimes you won't. This fact makes it even more like life.
Visit XFilesGame.com and take a tour, if you haven't already. There are many hidden mini-games, puzzles and other surprises to take you even deeper inside
The X-Files
.
The X-Files Deep State releases to the App Store, Google Play and Facebook on Feb 6, 2018.
1428 Elm
_________________
Credit to original photographer, poster, scanner, site & anyone I may have missed in between




The X-Files: #DeepState makes me an honorary G-woman
by Susan Leighton
1 hour ago
Follow @SusanontheLedge
The other day I received a mysterious X-File from an unnamed source at #DeepState, the upcoming mobile game based on the series. Now, I have a case to solve….cue Mark Snow…
The truth is hopefully out there!
My FBI Gig
Well, it happened. I am now an honorary G-woman. This basement office isn't so bad. I really dig Foxy's I Want to Believe poster.
It's pretty quiet so time for me to start trying to crack this case. My mission is to post my findings at 1428 Elm and social media because the other news outlets would just label this "fake." You know, the Mandela Effect is in full force.
The Facts
Special Agents Casey Winter and Dale were the original duo to work this file. The first item I notice is a request for further investigation. Time for a deep dive.
Two grossly mutilated bodies were found in the Lexington, Kentucky area. Parts of this report have been redacted. The victims' names have been blacked out. It would appear that they came in contact with some sort of contagion.
Apparently, whatever the bodies were contaminated with could create an epidemic. In order to avoid that, the special agent in charge (name blacked out) obtained access to the patient data from Manners Memorial Hospital.
One of them was identified based on evidence and witness testimonies. This particular vic was a volunteer in a study conducted by Hidetaka Mori, MD at the same hospital. The Department of Homeland Security was overseeing the trials that Mori was running.
Several dozens of people were admitted to Manners Memorial possibly to contain an outbreak or escalation of the mystery contagion. A person of interest named Malone could have been "Patient Zero" and was confronted at the airport by Agent Winter.
The origins of this potential bio-hazard remain inconclusive. Agent Winter recommended that the case be investigated further while Section Chief Bowman denied the request.
Flu Outbreak
Dr. Hidetaka Mori is dead after an outbreak of unknown origin. He is a hero much to the chagrin of the Lexington Real News who feels that something is fishy with the way the contagion was taken care of in a timely manner.
The Witness Interview
The witness transcript features Edward Higgins chairman of the local AA chapter that one of the victims, Megan Schmidt, was a part of.
As it turns out, Henry Malone was also a member of that particular AA group. Malone would only interact with Megan and the other victim Peter Miller.
Peter was Malone's sponsor and Megan was having a relationship with Malone.
Medical Examiner Report on Pete Miller
Dr. Maria Rivera conducted the post mortem on Pete Miller. According to her notes, Pete presented symptoms similar to the other victim, Megan Schmidt. Both bodies exhibited gross mutations associated with Hansen's Disease more commonly known as Leprosy.
The unknown auto immune disorder which afflicted Miller and Schmidt caused their internal and external organs to change uncontrollably. These transformations caused slow and gruesome deaths for the pair. For both individuals to contract this similar affliction is highly rare and seems suspect.
Henry Malone Severe Injury Report
It would appear like Henry Malone was the victim of a horrible accident. He suffered from multiple face fractures, a severe jaw fracture, burns, sternum fracture, diaphragm rupture and multiple tibia fractures.
The report doesn't state how he got his injuries. Clearly noted by the physician is that he is a good candidate for experimental treatment with no further explanation.
At Manners Memorial, Malone received surgical therapy, reconstructive surgery, a skin transplant and chronic pain therapy. Eventually, according to witness Edward Higgins testimony Henry was scar free.
The Bluegrass Enquirer
An article ran in the Bluegrass Enquirer about the death of Pete Miller. From a source in the coroner's office, it looked as if the body was growing new organs on top of existing ones.
The unnamed source went on to say that the government is adding chemicals to the water. Some people adapt, others don't. Miller wasn't so fortunate.
Before his body and Megan Schmidt's corpse could reach the local morgue, the men in black took over the investigation.
Another possible clue is listed on the page in the form of the Daily Crime Crossword. Epidemic Budget Sponsor Connection Shin. Could this be the name of the person who approved of the experimentation on subjects with the mysterious virus?
There are also other clues. "Poets use this word to refer to the sea," (4 letters) and "Say; nation," (9 letters). What could this possibly mean?
Manners Memorial Funding Request
Alisa Wilson the Deputy Head of Research at Manners Memorial Hospital made a funding request for Dr. Hidetaka Mori in the amount of $1,012,525,000. This money is to go toward Substance X research.
Substance X creates artificial skin. The testing process would entail sustainability in extreme temperatures and shapeshifting abilities? Why would extreme temperatures and shapeshifting come into play?
Mori also wanted permission to do further experiments. On what or whom?
National Science Foundation Homeland Security Activities Summary
Agents Dale and Winter did some investigation into Energy Efficiency in Agricultural Infrastructure and found that this particular budget item doesn't exist!
This means that they were diverting funds for Mori's experiments with Substance X into a false account. Hiding money in plain sight to continue the research.
The Theory
It seems likely that Mori was working on genetic engineering. In actuality, he was injecting his subjects with alien DNA trying to manufacture alien hybrids. Somehow, he slipped and the Substance X that he was using to create artificial skin mutated into a virus.
Mori contracting the virus was not an accident. Henry Malone was "recruiting" subjects for the program.
Malone was one of the "successful" subjects. He would scout AA meetings looking for specific candidates for the research.
Megan Schmidt wasn't as successful with sobriety like Pete Miller. Malone would dose Schmidt's flask with the drug.
Pete needed extra cash flow (dollar bills in stacks on his table) so he submitted to the Substance X trials for pay. He became connected to Mori through Malone.
The Theory Part 2
The multiple mutations that both Pete and Megan exhibited were similar to Hansen's Disease or Leprosy according to the Coroner. If you recall in Season 3, Episode 10 "731" in the original
X-Files
series, there was a facility in West Virginia where they were housing their human-alien hybrids.
Some of those hybrids developed Leprosy as a result of their experimentation. This is in line with the symptoms that both Pete Miller and Megan Schmidt displayed.
The case will remain open.
The Experience
I really enjoyed my chance at being part of the
X-Files
. I have to say
#DeepState
is going to be a very hot game when it debuts 
Feb. 6 on Google Play, the App Store and Facebook
. The truth is definitely out there!
1428 Elm
_________________
Credit to original photographer, poster, scanner, site & anyone I may have missed in between




'The X-Files: Deep State' Review - The Truth is Hard to Get To
   Author Nick Tylwalk
   Posted On2018-02-06 11:30:59
   3 stars
Calling
The X-Files 
just another science fiction show is doing it a slight disservice. It became a cultural phenomenon by mixing aliens and the supernatural, as well as mythology and standalone episodes, all while introducing iconic characters led by Fox Mulder and Dana Scully. Similarly, you can't really call
The X-Files: Deep State
[Free] just a hidden object game, seeing as it also has numerous other mini-games, dialogue-driven decisions that affect the story and much more. It's an intriguing mix of elements worthy of its source material, but it's plagued by a sinister array of free-to-play headaches as menacing as anything cooked up by the Cigarette Smoking Man.
You star in
Deep State
as a young FBI agent of your own design, which could serve as
X-Files
wish fulfillment until you realize that horrible things tend to happen to the agents on the show. Along with your partner, you start off investigating a murder case that quickly takes a turn for the bizarre. An influential attorney is dead, but was it really her soon to be ex-husband who did it? Which one of the parents abused their child, and why is said child claiming he saw a blue monster before his mom died?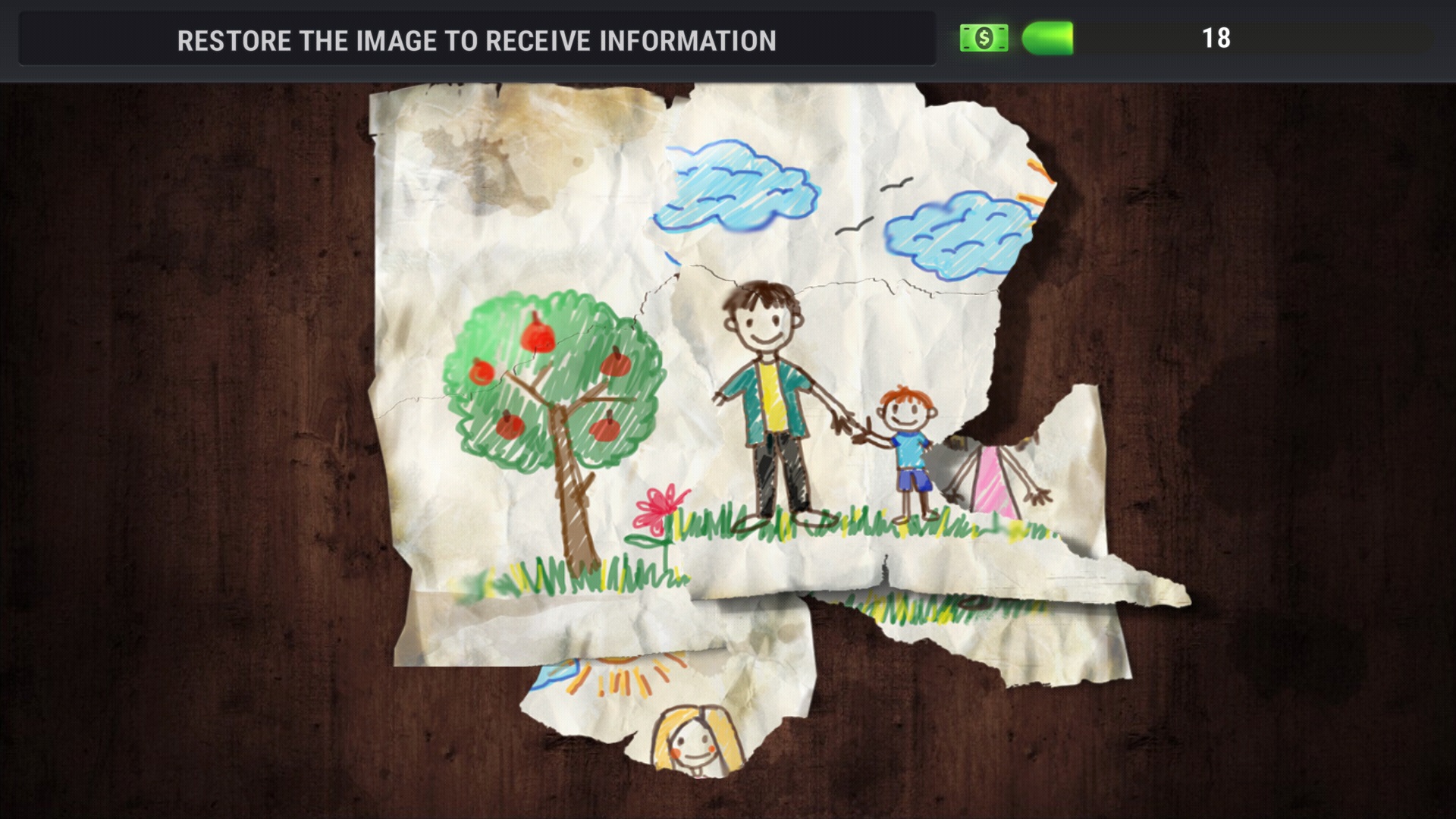 Like good episodes of the TV show, the first case leads you in one direction and then veers off in another, and the hidden object portions of the gameplay are well thought out in terms of how they fit into the story. So well designed, in fact, that you might not even ponder how you've played plenty of games like this before. You also get to sample other small mini-games in-between, with some levels featuring things like pattern matching, assembling torn pictures from their pieces, hunting for fingerprints, and even rudimentary combat sequences. There are occasions where it's not that obvious what you are supposed to be doing, which wouldn't be so bad except almost everything you're doing in this game is racing the clock.
You have a partner, naturally, but whether you fall into the classic believer Mulder and skeptic Scully roles is entirely up to you. The narrative provides plenty of moments where you have dialogue choices that affect how the story proceeds (though their impact isn't necessarily apparent right away), culminating in one big moment at the end of each level where you have to make a binary and difficult decision.
Deep State
gives you a rundown of how your choices align with all of the other players who have finished the same levels, which is a nice touch.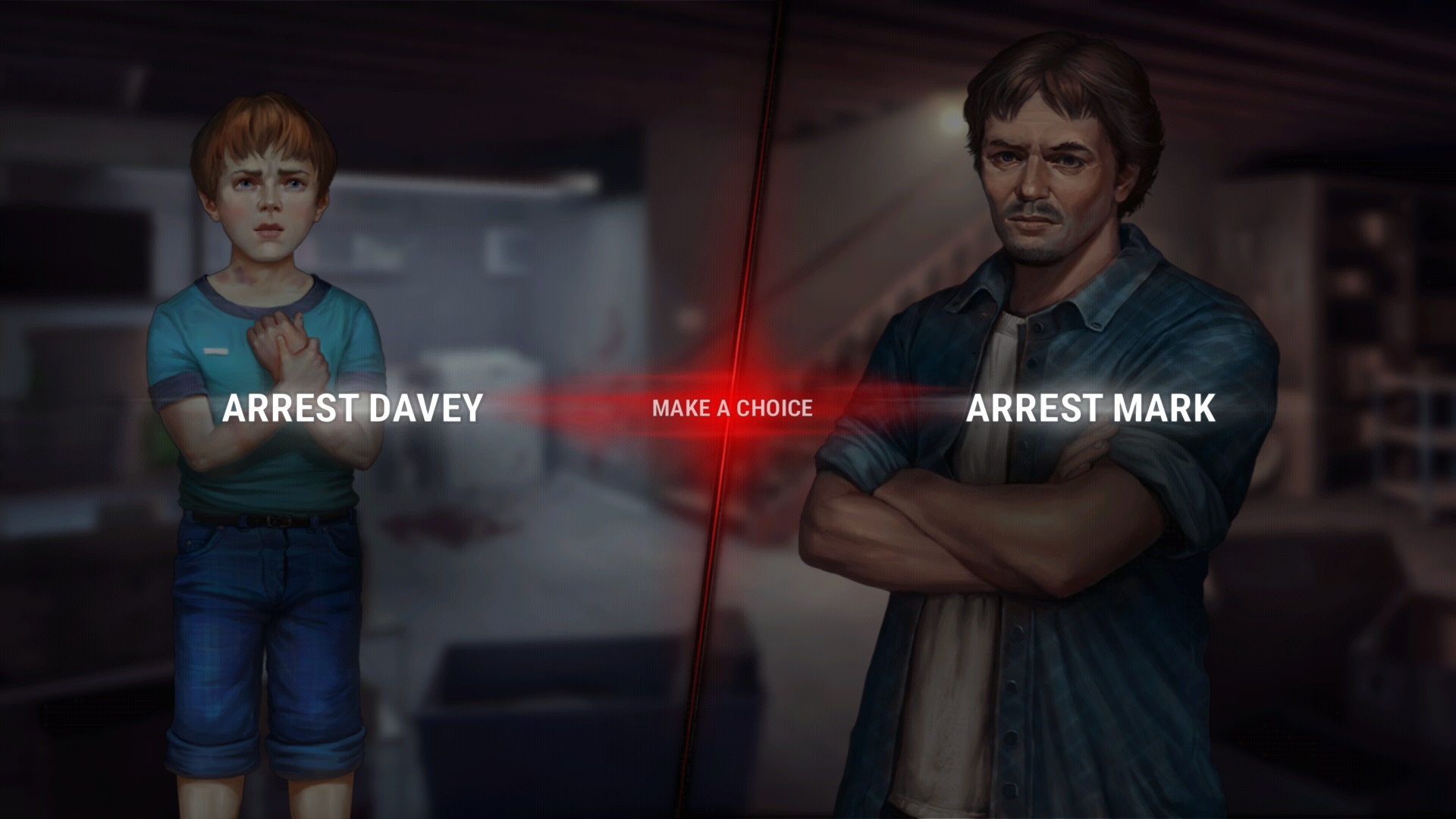 The issues with some of the game's systems don't really come into play as you complete the first episode, and it definitely is a fun and appropriate storytelling choice to package everything like it's a TV series in its own right. It's only when you make your way through the second episode that it becomes apparent how many forces are working against you, and we're not talking about extraterrestrial conspiracies here.
(Although, one supposes you can't entirely rule it out ... )
For starters, there's an energy system, albeit not a particularly restrictive one. Every time you tackle a hidden object scene, you have to spend some energy, including re-upping if you fail the scene and have to go through it again. By itself, not so bad, since you can ask friends for more energy and but more with the game's premium currency.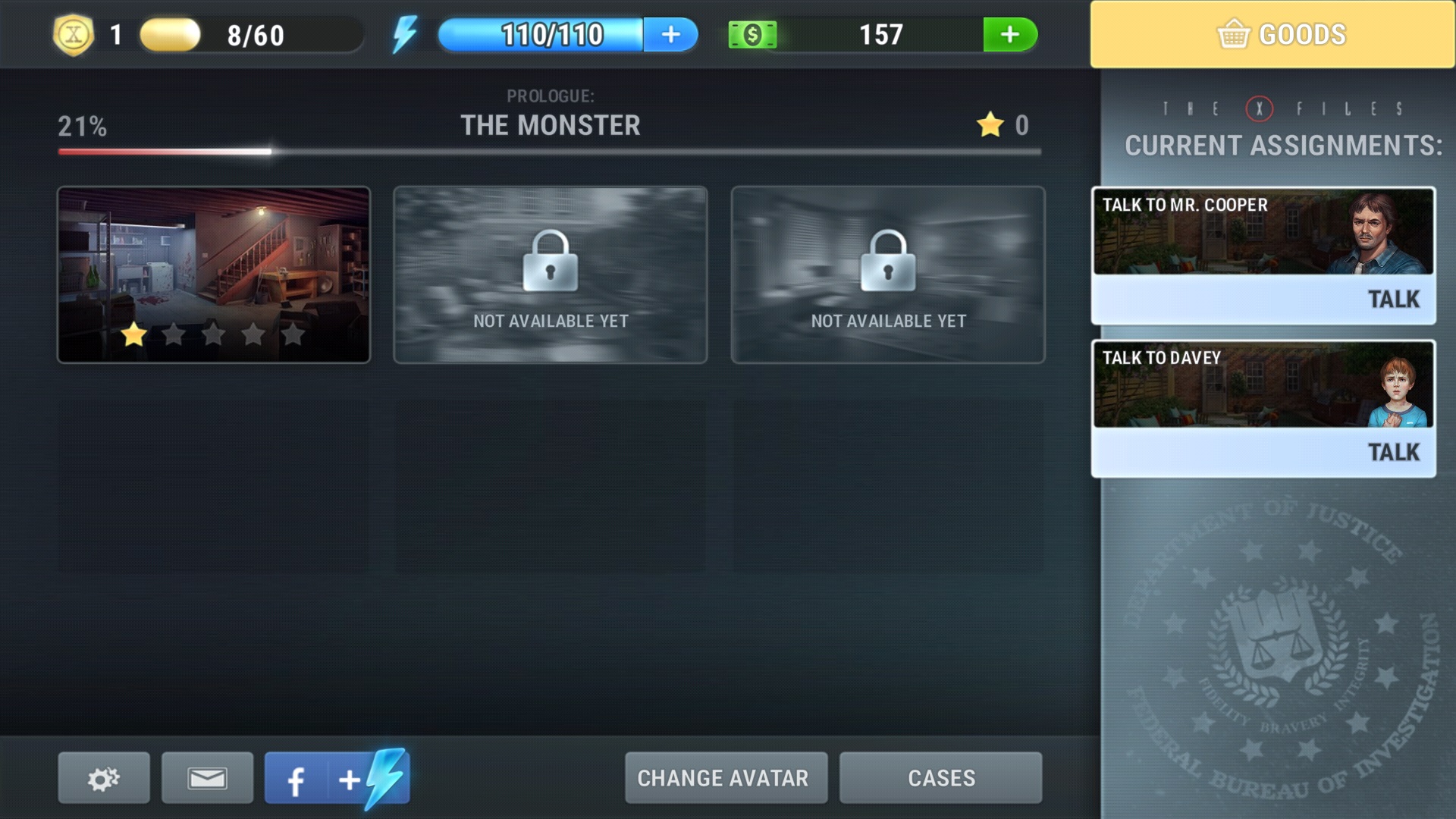 You also have to go back through scenes more than one time to earn enough stars to advance the story. In the first episode, you barely notice this, but it becomes a much digger deal beginning with episode 2. Thankfully, the developers tweak each scene so the challenge is slightly different each time, by making you recognize objects only by their shape or name or rendering the whole picture black and white. It's still a little frustrating to backtrack, and you end up doing so without the cool story bits you're used to getting by that point.
But wait, there's more. Occasionally, you collect evidence and have to wait for the results while it is being examined back at the lab. The first episode gives you wait times of under a minute, luring you into thinking this will be a minor inconvenience, even if experienced mobile gamers will know those timers are going to be longer as you go. Sure enough, the second episode presents one that lasts an hour ... unless you pay $0.99 to skip it. That's not so much building a paywall as picking it up and smacking you in the face with it.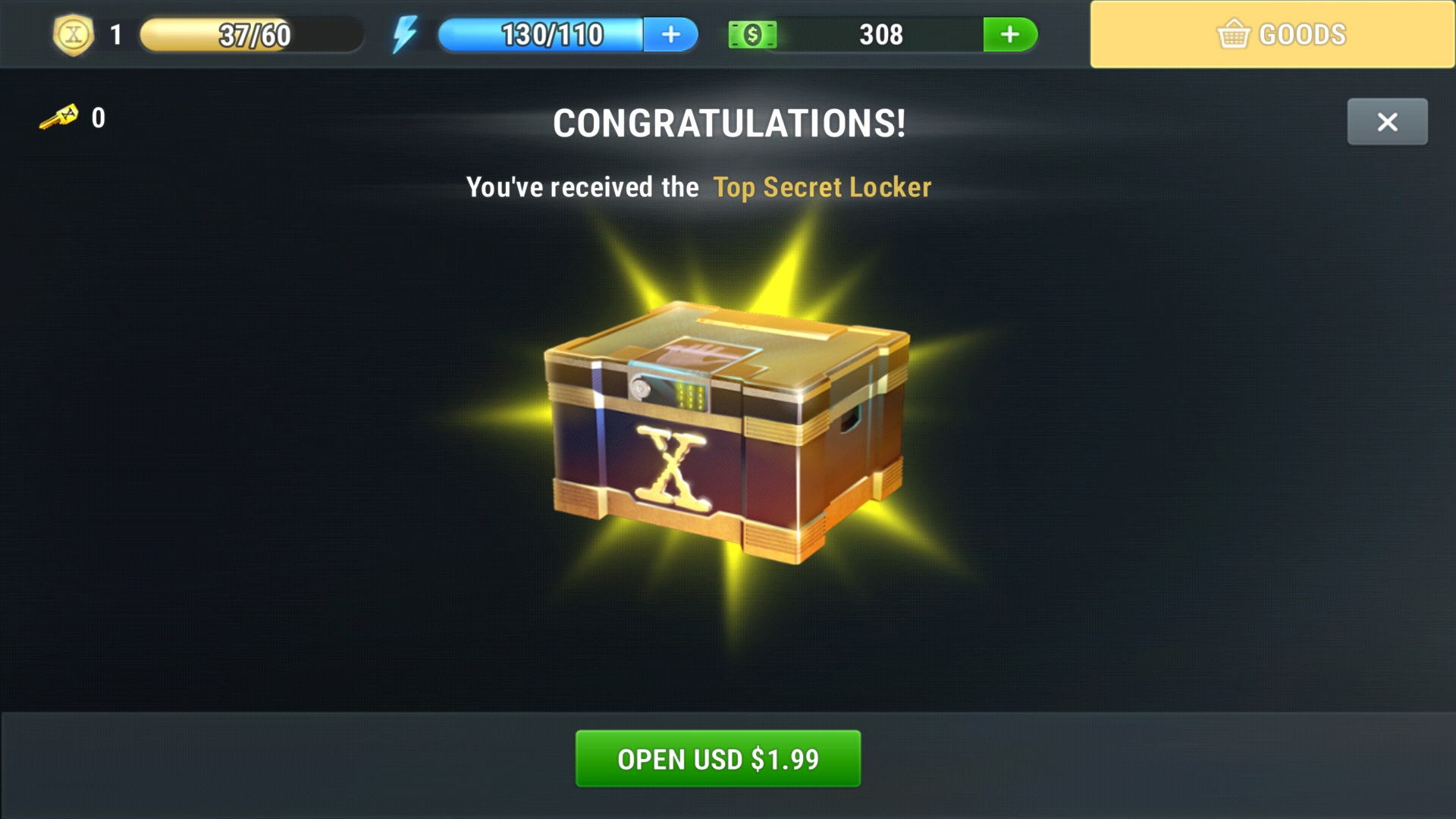 Last but not least are the loot boxes. While working on your cases, you can earn lockers full of goodies like energy items, points boosters or in-game currency. They come in three tiers, the first of which can be opened for free, but the second requires premium currency and the third asks you for $1.99 in real money. That's kind of a big ask, and even though the premium currency can be earned doing lots of different things throughout the game, there are so many things asking for you to spend it that even that starts feeling a little offensive after a bit.
By the end of the first of the game's five cases (not counting the one you start with since that's labeled as a prologue), I had already run into an hour-long timer wait, had two prize lockers I was never going to open since I wasn't spending real money on them and was stuck having to replay two more levels at the hardest difficulty just to move on to the next case. Any one of these situations would be fine in any F2P game, but added together they made me question whether I wanted to continue seeking the truth.
That's a shame, too, because
The X-Files: Deep State
is otherwise assembled from some quality parts, and it just starts to tease you with the involvement of Mulder and Scully themselves when it starts to wear on you. I can only imagine that Fox would find himself getting sucked into playing it for a while between weird encounters only to end up ranting about how "they" were out to get him by striking at him through his wallet. Even if you generally trust no one, you should heed my warnings before you get in too deep.
Touch Arcade
_________________
Credit to original photographer, poster, scanner, site & anyone I may have missed in between




The X-Files: Deep State is bad, even for a hidden object game
Matthew Sholtz
an hour ago
As any
X-Files
fan knows, the truth is out there. And well, the truth is
The X-Files: Deep State
is an appalling release. Even when you take into consideration that this is a casual free-to-play hidden object game, it's still bad when compared to any of the similar titles found within the genre.
The first clue that this is a thoughtless cash grab meant to take advantage of the nostalgic X-Files fanbase is the fact that the in-app purchases range all the way up to $349.30. And no, that isn't a typo. The second clue that this game sucks is, well, the uninspired and highly repetitive gameplay that requires zero skill from the player. Add on top some abysmal writing, and a ton of abusive mechanics meant to shake your pockets empty, and you start to see the complete picture.
To begin with I am not a fan of hidden object games. I understand their appeal for the casual crowd, but for me, they just don't ever seem to offer enough exciting gameplay to make them worth the effort.
The X-Files: Deep State
doesn't stray from the casual design of the genre, but instead leans heavily into it. Of course, if that was the only issue then I could at least be content with this release. Sadly Creative Mobile has included a ton of questionable systems that hound you for your money in order to relieve the purposefully built-in annoyances. You can expect plenty of wait timers, a difficult to earn in-game currency, a bunch of loot boxes, and an ever-present stamina system.
Another large issue I have trouble reconciling is that many of the game's "puzzles" (of which there are only 3 types) need to be repeated ad nauseam to progress. There isn't anything quite like replaying the same puzzle over and over again just to make sure that any redeeming qualities you found are lost in your building hate for such a lazy way to falsely extend the gameplay.
What's really sad though is that there are some intriguing plot points, and the episodic design provides a handful of different stories that could have been worth exploring. But the overall writing suffers thanks to all of the poorly written characters. If you have ever watched an episode of Law & Order: SVU or are familiar with any of the other horrible network TV procedurals out there, you should have a good feel for how
The X-Files: Deep State'
s snarky veteran cop and rookie dynamic plays out. Honestly, it's just painful to read and is nothing like the original X-Files TV show.
If you removed the X-Files branding from this release, I'm sure no one would have even given this game a second look. But because a high-profile property is attached, one that has a huge cult following as well as a new show that's currently airing,
The X-Files: Deep State
has gotten some attention. That attention is entirely unwarranted, and I am taking the time to warn each and every one of you that this game is bad in so many ways that I'm befuddled that it was even released. Creative Mobile, you should be ashamed of what you have done with this license. What a waste.
Android Police
_________________
Credit to original photographer, poster, scanner, site & anyone I may have missed in between




The X-Files: Deep State review - A hidden object game which wastes its source material
For: iPad   Also on: Android, iPhone
Things are getting strange
Product: The X-Files: Deep State | Publisher: FoxNext | Format: iPad | Players: 1 | Version: Europe
by Ric Cowley
The X-Files
is a cultural classic, a sci-fi show which spawned a film, a revival series, and Catatonia's fantastic '90s pop song Mulder & Scully.


The X-Files: Deep State
, however, is a by-the-numbers hidden object game that spends more time trying to stop you from playing it than it does pushing you along its convoluted plot.
It's mired in obvious tropes and dull dialogue, and when you actually get to play something, it's simply no fun.
I'm starting to worry
The main element of
Deep State
is its hidden object levels, which are fairly typical of the genre – you get a list of objects, a single screen, and a time limit to find everything.
Get stuck and you can tap the hint button to show you an item's location, and some objectives allow you to hold down an object on your list to give a better indication of what it looks like.
Finishing a level earns you one star, which you'll need to unlock new story elements and progress through each chapter, meaning you'll need to repeat levels if you want to keep moving on.
New elements get thrown in as you go - you'll be given names of objects instead of outlines, light is limited, everything is in night-vision, and so on - but it's all essentially the same, and objects are only slightly randomised each time.
Beyond finding hidden objects, you'll also be solving quick puzzles, completing simple adventure game-style rooms, and conversing with people.
This could be a case
The conversations offer you a chance to dictate how a story plays out through different dialogue choices, but you don't have much impact on anything.
It ultimately all boils down to one binary choice right at the end of a chapter, and this is usually negated by a post-choice cutscene anyway.
And that story is, in a word, naff. It's filled with annoying, stereotypical dialogue, twists and turns that don't make any sense, and language that hasn't been acceptable in a long time.
But by far the worst part of
Deep State
is the package it's all wrapped up in. There's a pointless energy system, a levelling mechanic which only opens up expensive cosmetic items, and endless wait timers.
You'll be making great progress through the story, learning more and more, and then just as it starts to get interesting, you're forced to wait an hour to unlock the next story element.
And given how underwhelming the rest of the game is, it's unlikely you'll even want to return once that time is up.
For Mulder and Scully
Overall,
The X-Files: Deep State
feels like a waste of a huge licence, which tries to throw too many ideas into the pot and doesn't spend enough time on any of them.
The hidden object levels are bog-standard fare, the story is boring and confusing, and you're constantly battling with it just to play.
Fans of
The X-Files
might find some fun in its ridiculous plot, but for everyone else, this is one to avoid.
Pocket Gamer
_________________
Credit to original photographer, poster, scanner, site & anyone I may have missed in between




The X-Files: Deep State Game Gives Us All the Clues
By Jordan Minor 02.12.2018 :: 3:45PM EST @JordanWMinor
The #brands are out there, particularly,
The X-Files
brand. After a successful original run, two movies, one failed 2012 doomsday prediction, and one modern revival season,
The X-Files
 is back again with season 11 currently airing on Fox (the channel, not the David Duchovny character).
To celebrate the return of the truth, soon we'll get to experience the huge paranoid mind-bending alien government conspiracies of the show as a nifty little cheekily-titled mobile game called
The X-Files: Deep State
coming this February. And to get us in the mystery mood, the creators sent us over our own alien investigation to solve.
As Geek.com's own box expert Will Greenwald will tell you, subscription box services are all the rage these days. But sometimes folks want something a little more active than just receiving a crate full of dolls and T-shirts every month. That's why we've seen the rise of a unique subgenre of subscriptions where recipients are given some kind of challenge of wits to overcome. You're usually like a detective or something and have to use the clues given to you to solve the murder before next month's box. It's a cool idea, somewhere between physical single-player board game and virtual alternate reality game.
Given that the entire point of
The X-Files
is watching folks solve bizarre mysteries and connecting dark dots where seemingly none exist, the franchise is a perfect fit for this mystery box format. And the clues we got for
The X-Files: Deep State
definitely don't hold back. The box, really an FBI folder, includes a lot of paperwork with redacted information and evidence and budget reports that might bore some. But if you really get into it, pay attention and play the role of agent, the sinister undertones begin to reveal themselves.
Why spend hundreds of dollars on agricultural infrastructure that doesn't exist? What was the "flu" outbreak that killed Dr. Mori? Is it connected to the mutilated, decomposed body of victim Peter Miller seen in the photos? Who wrote the blood-spattered message that tipped us off in the first place? Some clues are likely more relevant than others, but They probably want you to believe the newspaper article on the Cosmic Possum is just a harmless gag.
We don't think we've solved the mystery yet. The package has a surprisingly large amount of dense documents to sift through so this will take some time. But it was probably aliens or the cigarette guy.
Presumably, this will all tie-in with the actual
X-Files: Deep State
mobile game. We're supposed to share our findings with #DeepState or #XFilesGame. Given these physical clues may not even be available to everyone, we're assuming the game is actually the bulk of the experience. The original announcement promised new cases to solve every month with both myth-arcs and monsters of the week, so maybe our package is just a tease for the debut case.
The X-Files: Deep State
launched for free on the App Store, Google Play, and Facebook February 6. Catch new episodes of
The X-Files
on TV. Enjoy all the content we can't because we're too far down the real rabbit hole of this fake conspiracy.
[ur=https://www.geek.com/games/the-x-files-deep-state-game-gives-us-all-the-clues-1729261/]Geek[/url]
_________________
Credit to original photographer, poster, scanner, site & anyone I may have missed in between




Similar topics
---
Permissions in this forum:
You
cannot
reply to topics in this forum