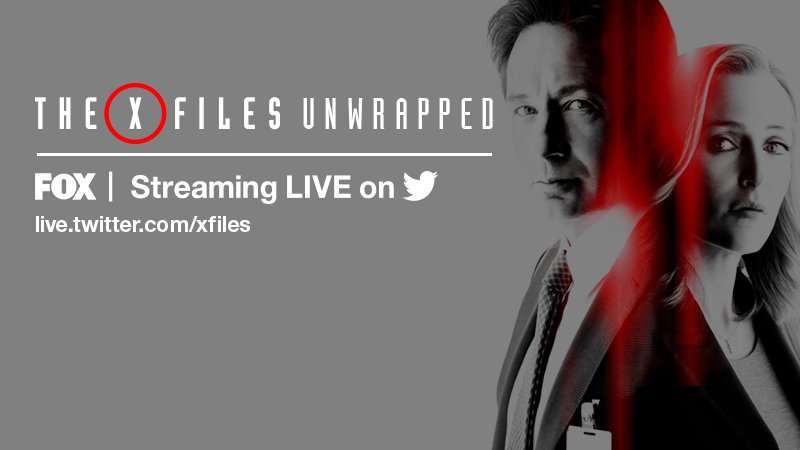 Get ready to unwrap #TheXFiles. @davidduchovny and @GillianA's curated playlist of must-see episodes will be streaming LIVE on Twitter at 9 PM EST TONIGHT. https://t.co/VQ4uO3ecct

— The X-Files (@thexfiles) 20 de dezembro de 2017
_________________
Credit to original photographer, poster, scanner, site & anyone I may have missed in between




Pix Queen




Number of posts

: 114304


Age

: 53


Registration date :

2007-04-27



The X-Files: Gillian Anderson and David Duchovny's infinite playlist
by Susan Leighton
4 hours ago
Last night, the X-Files were streaming six episodes live on Twitter that Gillian Anderson and David Duchovny deemed were "must-see" shows in the series. At 1428 Elm, we are pretty excited to share that list with you!
"I just put money in the Magic Fingers." – Dana Scully
Start Your Engines!
The X-Files
streamed six episodes live on Twitter last night. It just so happens they were hand-picked by stars
Gillian Anderson
and
David Duchovny
! For casting information and other tidbits go to IMDB. So, without further ado, let's delve into the list!
@thexfiles Would it be possible for you to list the episode playlist so international fans can watch on different platforms and tweet along? #TheXFiles

— Laurice Ms Claus™ (@LauriceF) 21 de dezembro de 2017
Join us.
1. Ice
2. Humbug
3. Jose Chung's from Outer Space
4. The Post-Modern Prometheus
5. Bad Blood
6. Triangle#TheXFiles

— The X-Files (@thexfiles) 21 de dezembro de 2017
Gillian and David's Infinite Playlist
Ice
– Something is in the ice and it is deadly. Mulder, Scully and two scientists (played by
Xander Berkeley
and
Felicity Huffman
) trek to a distant location in Alaska to investigate why a team of geophysicists killed themselves. What could possibly be a case of cabin fever turns out to be something more terrifying.
Humbug
– This episode was kind of memorable for a myriad of reasons.
Michael Anderson
(Twin Peaks) and
Jim Rose
, professional geek and owner of Jim Rose Circus guest starred in it. In the 90s,
Jim Rose Circus
was a very popular sideshow that appeared at such venues as
Lollapalooza
.
After a bizarre murder of a sideshow performer, Mulder and Scully go to Florida to investigate. What they end up doing is getting involved in a crazy mystery where any one of the freaks could be guilty.
Jose Chung's from Outer Space
– For those of you that are old enough to remember the 70s puppet extravaganza,
H.R. Pufnstuf
,
Charles Nelson Reilly
was a part of that whole deal starring as Horatio J. Hoodoo on
Lidsville
.
Mr. Reilly plays Jose Chung. The author of From Outer Space which recounts the story of an abducted couple that were investigated by Mulder and Scully. This is one of the more humorous episodes written by Darin Morgan.
The re-enactments of the case are hysterically funny because Scully is recounting the events and From Outer Space definitely does not jibe with her recollections.
More Playlist Favorites
The Post -Modern Prometheus
–
John O'Hurley
, better known as J. Peterman on the iconic
Seinfeld
was Dr. Pollidori on this show. Harkening back to the days of the classic Universal monsters, specifically Frankenstein, the story revolves around a local legend in a small town called the Great Mutato.
Mutato is played by
Chris Owens
who eventually ended up joining the series as Mulder's half-brother, Jeffrey Spender. His crime or why Mulder and Scully get called in, is that he drugs local girls and impregnates them. One of his quirks is that he likes
Cher
!
Of course, Scully is skeptical about his very existence until she spots him in the woods.
Bad Blood
– This is Gillian Anderson's personal favorite episode.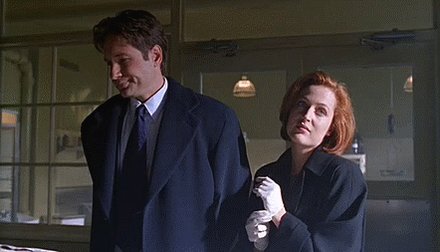 Get ready to slap on some latex everyone! For my favourite @thexfiles episode Bad Blood. Yee-ha! #BadBlood #TheXFiles https://t.co/lO0DIANRGP pic.twitter.com/V9CZuiSzD2

— Gillian Anderson (@GillianA) 21 de dezembro de 2017
Bad Blood
is another nod to a classic monster, Dracula courtesy of 
Vince Gilligan
. Gilligan later went on to become the showrunner and creator of
Breaking Bad
.
Is there a vampire lurking in Texas? Well, that is what Mulder and Scully must find out. However, when Fox ends up driving a stake through a resident's heart, he has quite a bit of explaining to do back at the FBI where Assistant Director Skinner is holding an inquiry.
Of course, his recollection of what went down diverges from Scully's interpretation of events.
Somewhere in Time
Triangle
–  This show is widely considered one of the most romantic episodes of the
X-Files
. It is also notable for two reasons. Scully and Mulder kiss and Mulder declares his love for her.
When Mulder goes searching for the missing Queen Anne in the Bermuda Triangle, he ends up boarding the ship and getting transported back in time. Meanwhile, and this sounds very much like a
Doctor Who
episode, Scully has to convince Skinner and the Lone Gunmen to help her retrieve Mulder.
Binge Out
Fox is featuring all the episodes of the original
X-Files
to prepare everyone for the series return on January 3, 2018 at 9 p.m. If you want to catch up or simply re-watch your favorite shows go directly to their site by clicking on the highlighted item in the above sentence.
1428 Elm
_________________
Credit to original photographer, poster, scanner, site & anyone I may have missed in between




Pix Queen




Number of posts

: 114304


Age

: 53


Registration date :

2007-04-27



Similar topics
---
Permissions in this forum:
You
cannot
reply to topics in this forum