In November I went to Vancouver, ventured into the muddy woods and watched @davidduchovny & @GillianA bring Mulder & Scully to life on @thexfiles. It was emotional and thrilling. Here's why: https://t.co/Gfcxa3x29X

— Chris Harnick (@chrisharnick) 3 de janeiro de 2018
Mulder, Scully and Me 2: On Set as The X-Files Comes Full Circle 25 Years Later
by Chris Harnick | Wed., Jan. 3, 2018 7:00 AM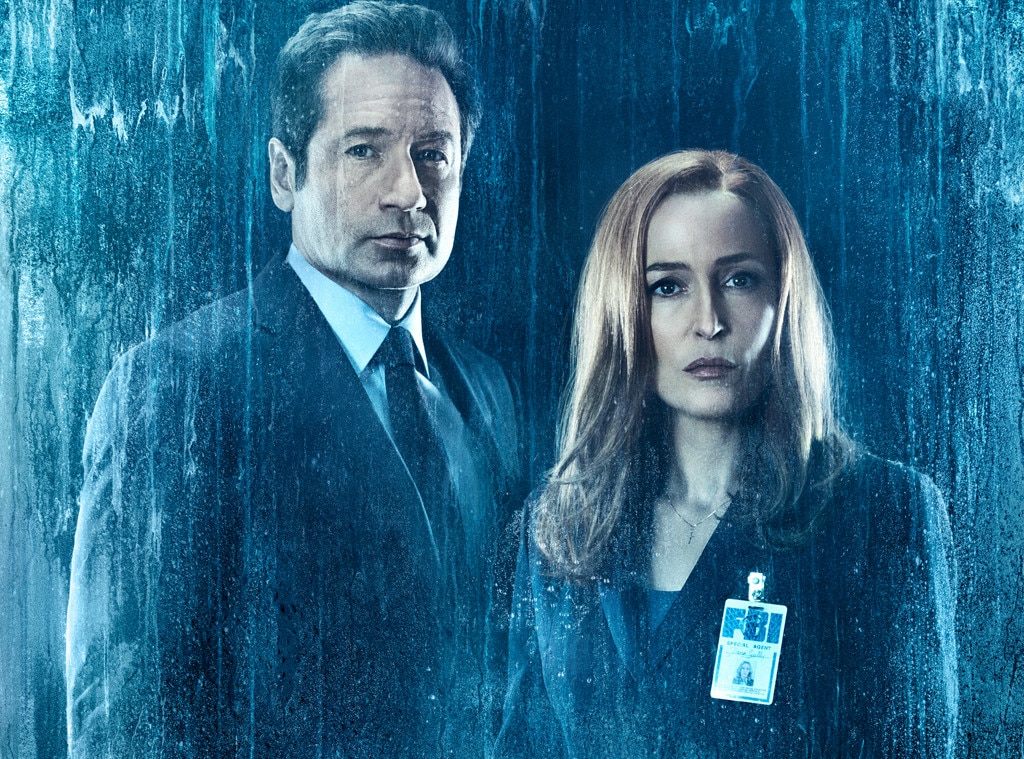 It's around 6:30 p.m. in mid-November and the Vancouver ground is soaked with rain. It's not quite pouring, but the rainfall is steady enough to require those of us out in woods to use umbrellas and hoods. What was once a footpath is now just a muddy disaster, a messy fall waiting to happen. Lamps are shining in enough light to make the haze just the right amount of spooky. And…"Action!"
There are Mulder and Scully, flashlights in hand, roaming through the trees in search of…well, that'd be a spoiler. So let's just say they're in search of the truth.
The X-File
s is back. Again. And once again, I am there. I am a witness to television icons doing what they do best. There are no lines in the scene I'm watching, just the sound of cracking twigs and Gillian Anderson's breath as she and David Duchovny roam. They make sure their flashlights crisscross and create just the right amount of lens flare on the two cameras on them. This is, of course, to make it the quintessential
X-Files
eerie outdoor scene. Series creator Chris Carter is also present, directing the pick-up shots for what is currently slated to be the sixth episode of the 10-episode next chapter in
The X-Files
' return to TV 25 years after it first premiered.
As a witness to TV history before, when the show returned for a new season after nearly 14 years away from TV (it was the duo's first time playing the legendary characters since the 2008 flick The
X-Files: I Want to Believe
), this time feels different. The energy is crackling as the impressive crew acts as a well-oiled machine. Anderson and Duchovny seem more at ease in their famous roles once again (and it shows in the episodes). There are people here working on the episode who worked on the very first episode of the series. Carter asks Duchovny if he knows that fact. Duchovny says yes, then cracks a smile and jokes he's aware because the crew member won't stop talking about it. For a show that tackles scares and government conspiracies, the mood on set is the total opposite—it's light, which is a feat considering how miserable the weather is.
Looking around, there's easily more than 50 people here to establish the shot, from the stand-ins to the crafty crew member holding what appears to be a 20-pound tray full of everything, specifically chocolate that hits the right spot to lift the blood sugar levels to just the needed point. These people genuinely care about bringing this show to life, especially the creator. Carter is in his element, standing in the mud while watching Anderson and Duchovny portray his characters who sprang to life on Fox 25 years ago.
Like many out there,
The X-Files
holds a special place in my heart. I grew up watching it with my father. Well, watching as much of it as I could before I got scared, I was 6 years old when the show premiered.
The X-Files
has become a bonding experience between my father and I, one of a few times we both grasp how truly cool my career is. We unpack the new episodes together, warts and all. The theme song always sparked excitement (and a little fear) when it would start. It still does—for both of us.
I know I'm not alone in having this show play a part in my formative years, that fact is abundantly clear looking around this set. It's clear by looking at Twitter every time Anderson or Duchovny tweet a behind-the-scenes photo or video. It's clear by seeing the lines of people waiting to get into panels at comic book conventions. These actors and their accidental chemistry—Carter doesn't believe Anderson and Duchovny ever read together prior to the pilot—are rightfully iconic.
The X-Files
is now a multi-generational series, evidenced not only by my dream-come-true experience, but by the crew members who grew up watching the show with their parents. There are writers on the show who are now penning scripts for characters they first encountered at 7 years old. That's what makes
The X-Files
revival special.
Back in the woods, I'm making my way through the mud and I hear Duchovny and Anderson behind me, we're all seeking the comfort and warmth of a car.
"Hello! Aren't you glad you came out?" Anderson says to me after we complete our trek to solid asphalt. Yes, I am, I told her. This is awesome.
The X-Files
returns Wednesday, Jan. 3 at 8 p.m. on Fox.
_________________
Credit to original photographer, poster, scanner, site & anyone I may have missed in between




Pix Queen




Number of posts

: 114304


Age

: 53


Registration date :

2007-04-27



Similar topics
---
Permissions in this forum:
You
cannot
reply to topics in this forum