Page 5 of 5 •
1, 2, 3, 4, 5
chocogoat
#thealiencon #aliencon #alien #convention #xfiles #mulder #skinner #davidduchovny #mitchpileggi #pasadena #california #travel
Pix Queen




Number of posts

: 113367


Registration date :

2007-04-27



very beautiful pics, thanks
Phantom





Number of posts

: 17149


Registration date :

2011-01-20



Mission: Duchovny part Two
Thrillorama Films
Publicado em 4 de jul de 2018
After receiving TV waves from Earth, A Grey Alien Attempts to Contact Actor "David Duchovny" to help him with his Barbecue plans. A Thrillorama Films Short. "Mission: Duchovny". With Special Guest Stars from "Ancient Aliens" "Giorgio A. Tsoukalos", ""Ramy Romany" and "Robert Picardo" of "Star Trek" and "Space Command".
_________________
Credit to original photographer, poster, scanner, site & anyone I may have missed in between




Phantom





Number of posts

: 17149


Age

: 60


Localisation

: Bologna - Italy


Emploi

: Housewife


Your favorite David's role

: Fox Mulder


Registration date :

2011-01-20



AlienCon 2018
_________________
Credit to original photographer, poster, scanner, site & anyone I may have missed in between




a_girl_has_no_name_84
•
Pasadena, California
Beau😍
#davidduchovny #mitchpileggi #aliencon2018 #pasadena #xfiles #awishcometrue #happiness #dreamscometrue #usa2018 #idol #aktex #meetyourfavoritestars #foxmulder #spooky #skinner #directorskinner
_________________
Credit to original photographer, poster, scanner, site & anyone I may have missed in between




_________________
Credit to original photographer, poster, scanner, site & anyone I may have missed in between




Phantom





Number of posts

: 17149


Age

: 60


Localisation

: Bologna - Italy


Emploi

: Housewife


Your favorite David's role

: Fox Mulder


Registration date :

2011-01-20



AlienCon 2018
Violet Krueger
July 18, 2018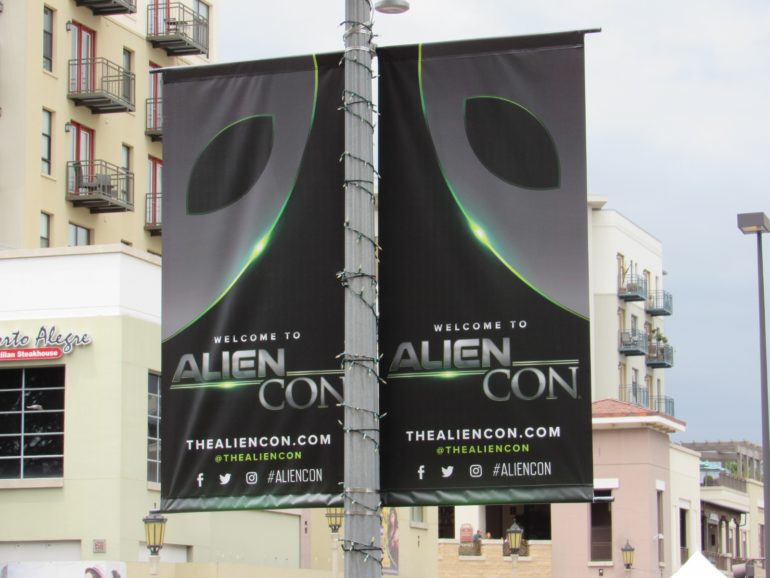 AlienCon took place at the Pasadena Convention Center in Pasadena, California on June 15-17, 2018. The organizers graciously provided us with Press passes, and we were able to attend on the Sunday of the convention. Read on to find out what our experience was like!
Although we attend and report on various conventions, mainly in the Southern California area, this year was the first I had heard of AlienCon. Apparently it had taken place once before in 2016 in Santa Clara, which is in Northern California. I'll admit, what drew my attention was the announcement that David Duchovny would be appearing on a panel. As a child of the 90s, you bet I grew up watching 
The X-Files
, and I've also been watching the more recent episodes as well. Between the two of us, I am more of the open-minded Mulder, while Josh is the very skeptical Scully.
Do I believe in aliens? Sure. As many other planets, stars, and galaxies there are, how can there not be any other intelligent life out there somewhere? Additionally, when I was a teenager, I saw an unidentified flying object moving around in such a way that a normal aircraft could not possibly move. My brother and sister saw it as well. So AlienCon also interested me in that aspect. I've also seen a few episodes of 
Ancient Aliens
, which it seems this convention is mostly based around.
So we headed up to the Pasadena Convention Center on the morning of Sunday, June 17. This was our first time visiting this venue, so we weren't sure how parking worked. The AlienCon website suggested using ParkWhiz, so we did, and found a spot just a block away from the con for $12. When we arrived, there was a sign at the lot saying that it was $20, but since we had pre-paid, we just showed our pass and saved $8!
There was a lot more going on at and around the convention center than just AlienCon. There was an old-timey car show on the street in front of the convention center, which was blocked off to traffic, there were people doing sidewalk art, there were police displays including a helicopter, there was also another convention called ReptileCon sharing building space — it was just one big block party, which gave the atmosphere a pretty cool vibe.
After we picked up our Press passes, we went to get in line at the Civic Auditorium, where the 25 Years of 
The X-Files
panel would be taking place. However, there was a last minute room change. The 
Ancient Aliens: 
Metaphysics and Prophecy panel would now be taking place in the Civic Auditorium, while the 
X-Files
panel had been moved to the smaller Orion room. This seemed like an odd choice to me, but as it turned out, apparently the 
Ancient Aliens
related panels had had a much bigger draw than the sci-fi/celebrity themed panels had, so the convention changed plans accordingly. This information was posted on the doors of and near the affected rooms, and the electronic schedule was updated accordingly. I applaud the convention organizers for recognizing this and taking swift action to accommodate the needs of their attendees. Indeed, by the time the
X-Files
panel started, the smaller Orion room ended up not filling up all the way, to my surprise.
25 Years of The X-Files
The
X-Files
panel included not only David Duchovny, but also Mitch Pileggi as well, who plays Skinner. The moderator started things off by asking if 
X-Files
fans should consider this the end of the road. Mitch Pileggi and David Duchovny tried to dodge the question at first, but Duchovny then gave the best answer he could: "F*ck if we know."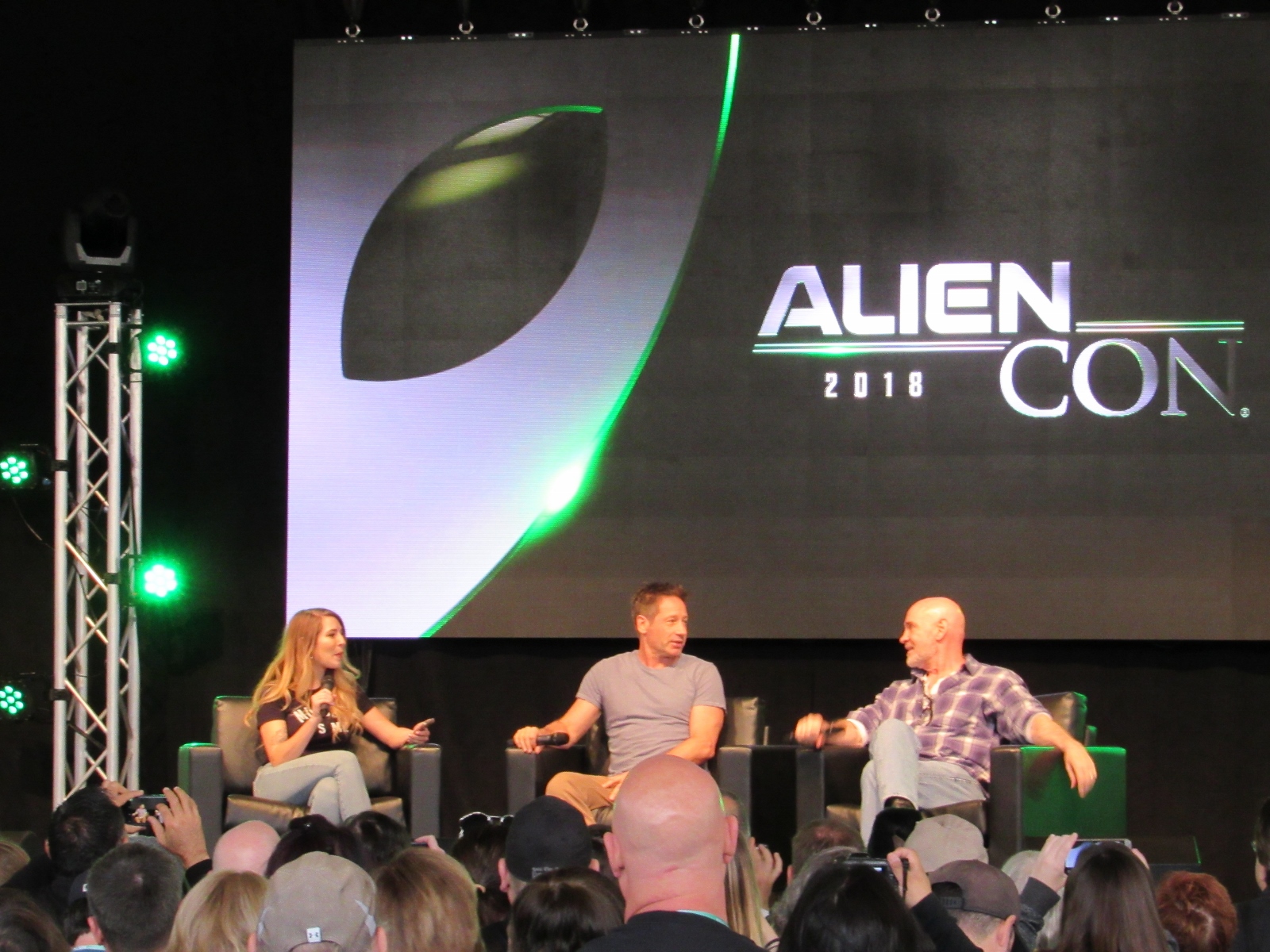 The first topic of discussion was the Season 11 finale. (Caution: spoilers ahead if you're not caught up.) Pileggi talked about his character, Skinner, ending up "under a car" and recalled how when he found out that Gillian Anderson would not be returning, he had commented to Chris Carter that Skinner should go out in a "blaze of glory" at the end of the season. However, then later on he changed his mind and asked that Skinner not be killed, "just in case." It is a little ambiguous as to whether or not Skinner is in fact dead though, and Pileggi commented that if the show comes back, then he's not dead, but if it does not come back, then it's up to your imagination.
Duchovny spoke about how they shot the final scene at 4am, and it was very cold. They had only gotten the script for that scene earlier in the day, as Chris Carter had wanted to keep everyone in the dark, so he and Gillian Anderson were concerned about making that scene the best they could with the short amount of time they had with the material.
When asked about Mulder's emotional journey this season, specifically with regards to William, Duchovny commented how to him the show is an action/thriller, and that when trying to fit in "soap opera" elements, such as Scully being a mother and Mulder being a father, it's difficult to strike that tone. Both Duchovny and Pileggi praised the actor who played William, Miles Robbins, saying they thought he did a great job portraying a 19-year-old. Duchovny mentioned William being taller than him (you'll recall that Mulder commented on that during the episode!), and joked that Scully must have had a large grandfather.
The moderator brought up Season 11 Episode 7, 
Followers
, which has very little dialogue, and asked if it was a challenge for Duchovny. However, he answered, "It gave me more free time," because he didn't have to spend time memorizing a script. Pileggi seemed jealous. Duchovny had been skeptical at first, but said that it came off as one of the better episodes this season. As for whether Duchovny actually ate the blobfish in the sushi restaurant, he said that it was fake. The moderator then enlightened him about the what a star the blobfish had become, as Gillian had tweeted out pictures of it.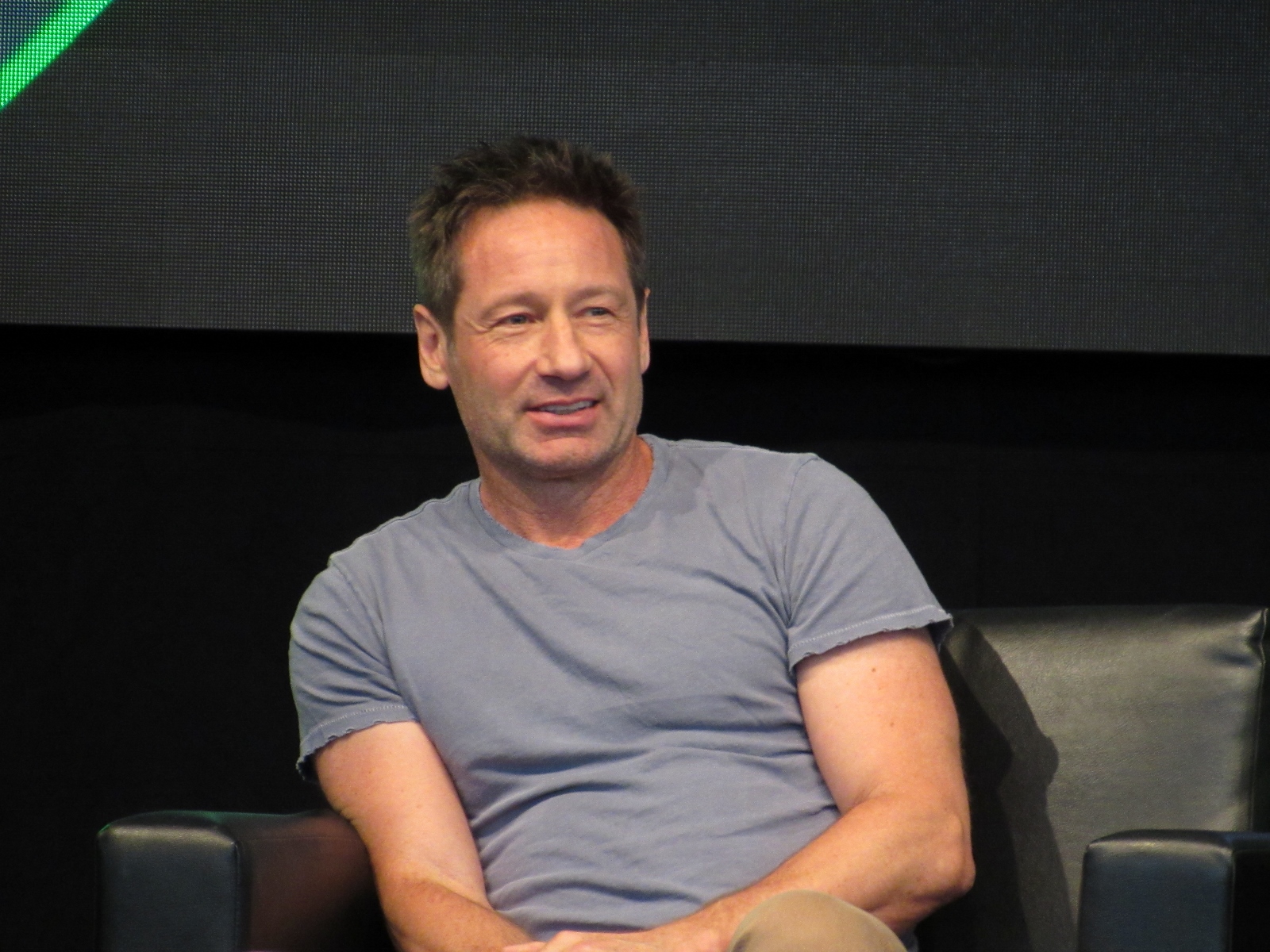 The moderator then went on to point out how Gillian Anderson had been posting a lot of "BTS" (behind the scenes) content about the show, and asked how social media has influenced how they experience filming the show. Duchovny replied, "I'd like to take the T out of BTS." Pileggi commented how things have changed since they first started the show, before social media existed. He also declared, "I quit social media. I'm done with it," to which Duchovny joked, "I can't wait to get back on Twitter and see the reaction to that." Duchovny then went on to talk about his own "old school" feelings about social media, saying that he gets that it helps with the fan connection, but he would rather things remain a mystery and be a surprise rather than get revealed ahead of time.
Moving on, the panelists talked about this season's episode which gave us Skinner's backstory. Pileggi praised Haley Joel Osment's performance (he had played the title character of the episode, "Kitten.") Duchovny pointed out how most episodes you only get brief scenes with Skinner, who is more there to provide exposition and drive the story forward, so it was nice to have an episode where Skinner took center stage for once. Duchovny also reminded Pileggi that he was the only writer who had given Skinner a girlfriend, for which Pileggi then thanked him. Pileggi in turn reminded him that he also gave him a whore in the episode titled 
Avatar. 
Speaking of guest stars, they also talked about the various guest stars they've had on, including Barbara Hershey. Duchovny talked about how it's a challenge for guest stars to figure out what the tone is going to be for the episode they're in, because it can be vastly different depending on the director. Duchovny also spoke about having his daughter, West, on set. She appeared in the final episode (as Maddy), and he got to do a scene with her. He commented on what a fantastic job she did, and how he thought she was better than he was at her age, and very natural, adding that she takes after her mother (Téa Leoni).
A self-admitted Mulder/Scully shipper, the moderator pointed out that there had not been a Mulder/Scully kiss this entire season. She mentioned that the way the previews for the penultimate episode, 
Nothing Lasts Forever
, were cut, fans thought that was the episode where it would happen. There was a scene in the church where Scully whispers something into Mulder's ear, and Duchovny revealed what Gillian Anderson actually whispered into his ear: nothing. She just flapped her gums, which he said reminded him of Mr. Ed! Pileggi joked that what she had said was, "Wilburrr!" The moderator tried to push for an answer about the kiss, asking if there had been a kiss originally written into the script that had been cut, but Duchovny said not to his knowledge.
Duchovny mentioned that at one point his back went out, and he had to stand for makeup, because if he sat down, he wouldn't be able to get back up. Pileggi had laughed at him, because Duchovny had been giving him a hard time all those years when he was younger, but now that Duchovny was older, and not so spry, he was experiencing the same things that Pileggi had!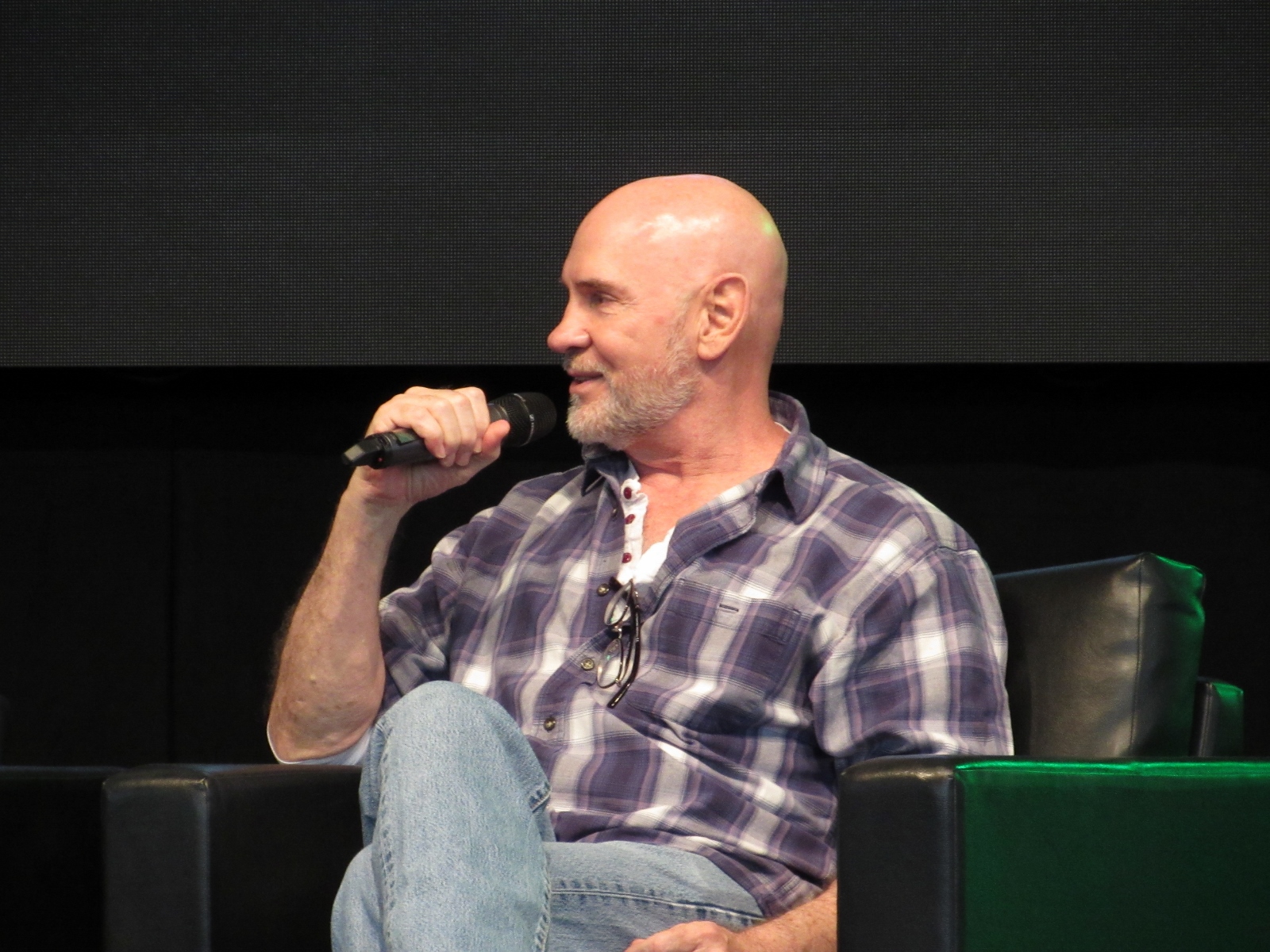 He also told us about a prank he had played on Gillian Anderson in Season 10. Anderson had backed into a pole while driving with him in the car at Riverview, which was apparently hard to do, since it was a wide open area. The next day, Duchovny came in to work wearing a neck brace to make her think that she had really injured him! However, he said that he's not good at practical jokes, so he started laughing as soon as he saw her, which gave the joke away.
When asked about the chemistry that Duchovny has on screen with Anderson, Duchovny pointed out that he also has good chemistry with Pileggi and others with whom he has had a long time working relationship, and that over time, you develop history, which you can draw upon. However, Pileggi commented that Duchovny and Anderson had good chemistry as Mulder and Scully "from the get go."
The two also talked about the show's legacy over the past 25 years, and how gratifying it is that it's still prevalent in pop culture. In particular, Pileggi mentioned how he has met 10 year olds who are binging the show, which spans three generations at this point — grandparents who have shared it with the parents, who are now sharing it with their children.
It was then opened up for audience questions. At this point, something really strange happened that I had not witnessed before at another convention — and as you know, we got to a lot of conventions! At least 1/4 of the audience or so just got up and left! Pileggi even commented, "She said ask questions, not leave." Another 1/4 of the audience took this as a cue to just start walking around, not even getting in line to ask a question, many going up closer to the stage to take selfies! It seemed not only strange, but rude, since the panel was still in session. It was very distracting, as it never really completely settled down throughout the audience Q&A.
One audience question was about the influence of technology on the show over the years. Duchovny spoke about cell phones, and how they started becoming more commonplace by the third or fourth season, which was "lifesaving" for him and Anderson, as it allowed the two of them to be in two different places, which he said is essential for investigative type shows.
Regarding which episode was the most difficult, Duchovny answered that the episode where he had to wear old age makeup was difficult for him, as it was physically challenging. Pileggi agreed, recalling the episode where he had to wear prosthetics, saying, "Prosthetics are a pain in the ass." Duchovny added that Darin Morgan episodes were always the most difficult — but in a good way, in that they challenged him.
As for their favorite episode to watch, Duchovny talked about how answering that question is more personal, and recalled the first time he got to direct, praising the support he received from the cast and crew. However, he clarified that he wasn't saying that episode was his favorite. Pileggi answered that one of his favorites was 
Clyde Bruckman's Final Repose. 
Upon hearing that, Duchovny said, "I want to change my answer."
When asked how he approached coming back to play a character they hadn't played in many years, Duchovny commented that it was challenging because we all change over the years, so he had to consider "How do I play this guy differently, yet have him remain the same character?" Pileggi added that they try to make things as organic and natural as possible. Duchovny also spoke about how, in general, people get better with experience over time, so after 25 years of acting, they've all gotten better, so they have to then figure out how to now play their character with that experience.
We recently attended #AlienCon, which featured an #XFiles panel with @davidduchovny & Mitch Pileggi, Lady Bam Live Podcast with @MaryMcDonnell10 & Gates McFadden, and Ancient Aliens panels with Giorgio A. @Tsoukalos! Check out our recap & photos: https://t.co/4d2HNJKyPr

— GB Reviews Ready for SDCC! (@gb_reviews) 18 July 2018
_________________
Credit to original photographer, poster, scanner, site & anyone I may have missed in between




Cheri Root Photography
2 de julho
Have I mentioned I got to photograph David Duchovny at AlienCon...
www.cheriroot.com
_________________
Credit to original photographer, poster, scanner, site & anyone I may have missed in between




Phantom





Number of posts

: 17149


Age

: 60


Localisation

: Bologna - Italy


Emploi

: Housewife


Your favorite David's role

: Fox Mulder


Registration date :

2011-01-20



Page 5 of 5 •
1, 2, 3, 4, 5
---
Permissions in this forum:
You
cannot
reply to topics in this forum