Page 29 of 29 •
1 ... 16 ... 27, 28, 29
Pix Queen




Number of posts

: 114327


Registration date :

2007-04-27



Phantom





Number of posts

: 17219


Registration date :

2011-01-20



Episode 17 - Holy Cow by David Duchovny
Apr 4, 2017
David Duchovny is a female, teenage cow with a surprisingly good grasp on technology. In Holy Cow, he leads us on a journey through factory farming, Jewish stereotypes, and the Israel-Palestine conflict.
We read David Duchovny's Holy Cow on Episode 17! https://t.co/7EfWkIN1KG

— Terrible Book Club (@TerribleBooKlub) April 4, 2017
_________________
Credit to original photographer, poster, scanner, site & anyone I may have missed in between




_________________
Thank you Maria!
Pix Queen




Number of posts

: 100670


Age

: 48


Your favorite David's role

: Hank Moody and Fox Mulder


Registration date :

2007-05-07



Phantom





Number of posts

: 17219


Age

: 60


Localisation

: Bologna - Italy


Emploi

: Housewife


Your favorite David's role

: Fox Mulder


Registration date :

2011-01-20



My Book Recommendations
bernardjan
5 hours ago
It's been a long and exciting year and we are all sorting our impressions at the eve of the new year. Some of us are relaxing, others are sick and trying to get better (like my parents), but we all wish for the smooth transition from the old to the new year.
Whatever our plans are for these last days of 2017, it's always good to spend time with our best friends—books! Here I have made a list for you, a few suggestions of the books I enjoyed and loved reading in 2017.
This list is reduced because I couldn't list all the authors and books I loved reading, so I hope they will forgive me for that. Some of them I have already recommended in my earlier post
In the Making and Out Now
, others I will mention in my future posts.
Without further ado, here are my book recommendations. I start with my favorite book I read in 2017 and continue in random order.
Holy Cow
by David Duchovny
Elsie Bovary is a cow and a pretty happy one at that. Until one night, Elsie sneaks out of the pasture and finds herself drawn to the farmhouse. Through the window, she sees the farmer's family gathered around a bright Box God—and what the Box God reveals about something called an 'industrial meat farm' shakes Elsie's understanding of her world to its core. The only solution? To escape to a better, safer world. And so a motley crew is formed: Elsie; Shalom, a grumpy pig who's recently converted to Judaism; and Tom, a suave turkey who can't fly, but can work an iPhone with his beak. Toting stolen passports and slapdash human disguises, they head for the airport...
My Book Recommendations — @Steemit https://t.co/Hez7QqigNs Some of the #books and #authors I liked to read in 2017! @aaciman @AuthorEllie @victoriampatton @KThompsonWalker @rlgransden @jhillwriter @davidduchovny @mikelsantiago @MichelNilles #amreading Happy 2018, everyone!

— Bernard Jan (@BernardJanWorld) 30 de dezembro de 2017
_________________
Credit to original photographer, poster, scanner, site & anyone I may have missed in between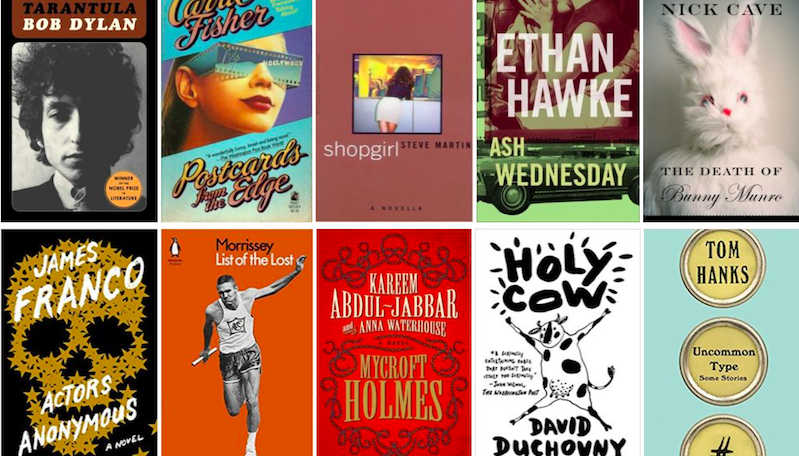 When Celebrities Write Novels
From Bob Dylan to Morrissey, Carrie Fisher to David Duchovny, we've got the good, the bad, and the ugly of celebrity fiction
April 2, 2018  By Book Marks
Here then, in chronological order, are a taste of the critical responses to ten of our favorite works of celebrity fiction: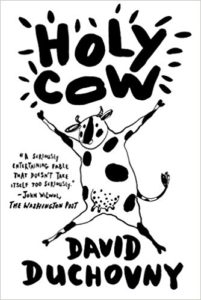 Holy Cow by David Duchovny (2015)
"…for the most part, Duchovny does a good job. This is a funny book, if an acquired taste. You either like the sound of a novel about a cow wanting to escape to India (because cows are sacred there), with a pig who wants to go to Israel and changes his name to Shalom as part of his understandable appreciation of all things kosher—or you don't … it is refreshing to read a novel by a Hollywood actor who—unlike the James Francos and Ethan Hawkes of this world—is not aiming for literary cool. This prose does not squint; it is wide-eyed and playfully juvenile. Indeed, if you were being picky, you would have to wonder who this novel is aimed at—the only swear words have asterisks in, as Elsie says the film version would be for kids, though 90% of the jokes would be lost on anyone under 14. And although Elsie's 'memoir' feels slight, and reads too often like a funny first draft of something more substantial, it does what all good animal novels do—it makes us think about our relationship with the other species we share the planet with."
–
The Guardian
"
Holy Cow
, in other words, does not have a plot so much as a set of high-concept scenes that barely relate to one another at all. The most coherent sections are Elsie's polemics against factory farming, which sound very much like a PETA pamphlet. This makes sense: most likely, all chill cows oppose being slaughtered. But heavy-handed agitprop in the name of a good cause is still heavy-handed agitprop, and readers of all ages tend to hate being lectured … David Duchovny is, by all accounts, an intelligent man. He has a master's degree from Yale, where he studied under Harold Bloom. He is a talented actor, and he clearly feels deeply, as he should, about animal welfare. But 
Holy Cow 
is one of the most half-baked, phoned-in books I've ever read, and it's hard to look at it as anything but a vanity project. Of course, his fans want to believe. When it comes to this novel, they shouldn't."
–NPR
From Bob Dylan to Morrissey, Carrie Fisher to David Duchovny, we look at what happens when celebrities write novelshttps://t.co/HrS3eMdu3f pic.twitter.com/4XyPGX3g3O

— Book Marks (@bookmarksreads) April 2, 2018
_________________
Credit to original photographer, poster, scanner, site & anyone I may have missed in between




Phantom





Number of posts

: 17219


Age

: 60


Localisation

: Bologna - Italy


Emploi

: Housewife


Your favorite David's role

: Fox Mulder


Registration date :

2011-01-20



Page 29 of 29 •
1 ... 16 ... 27, 28, 29
---
Permissions in this forum:
You
cannot
reply to topics in this forum