Gethin Anthony Talks Aquarius, Becoming Charles Manson And More [Interview + Series Premiere Preview]
Mary Powers
May 25, 2015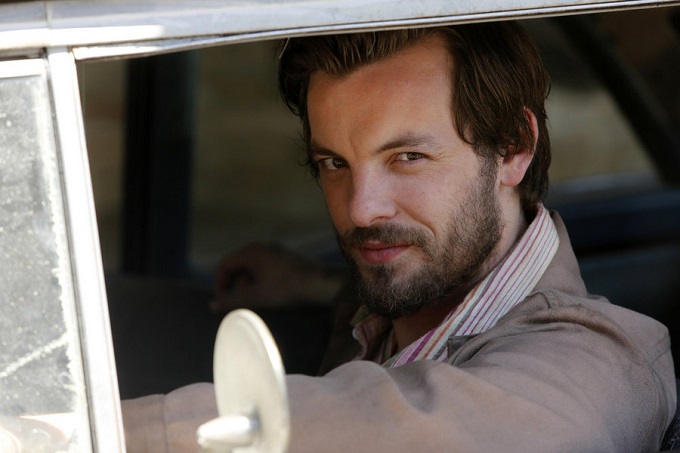 AQUARIUS — "The Hunter Gets Captured by the Game" Episode 102 — Pictured: Gethin Anthony as Charles Manson — (Photo by: Vivian Zink/NBC)
Warning: General spoilers ahead
Starting this week, NBC will be owning my Thursday nights for a good portion of the summer. It all begins this Thursday with the 2-hour series premiere of 
Aquarius, 
which will also be the lead-in to 
Hannibal 
when it returns for season 3 the following week on June 4th. Needless to say, I'm super-excited.
Aquarius 
is set in Los Angeles in the late 1960s and stars 
David Duchovny
 as Sam Hodiak and 
Gethin Anthony 
as the notorious Charles Manson. Duchovny portrays a police sergeant whose personal life is about as big of a mess as his job, at least until he sets his sights on Manson, who had just been released from prison, was working on a career as a rock star, but who had also just began to build his cult-like group of hippie followers.
Even if you didn't live in this era, I think most people are familiar with Charles Manson (heck, the guy still makes headlines today with his marriage proposals, etc., and the man is pushing 90 years old!), and I haven't run into too many folks who haven't heard of the novel and movie
Helter Shelter
 that is based upon the events that lead up to Manson's incarceration. Given that, one big thing to note is that this show is not one big serialized version of
Helter Skelter.
That is, the series doesn't begin with the famous Tate-LaBianca murders and instead, starts with a journey about 1 and a 1/2 years before the killing spree takes place. A little ballsy for a series to put off the well-known climax of the story it's trying to tell, but I'm truly hopeful the viewers will stick around because the writers and cast have done a stellar job in these first 13 episodes. Just trust me and tune in on Thursday.
I was fortunate enough to participate in a press conference call with series star 
Gethin Anthony 
last week to get all the deets on what to expect from the new series, what he did to morph into one of the nation's most infamous criminals, and why we should be excited about this show and give it a watch.
I think most viewers know 
Gethin Anthony 
from 
Game of Thrones 
fame, and so, one of the first questions was just coming off GoT, what was it about
Aquarius 
and this particular role that made him want to sign onto the project. As Anthony explained, 
"I think my first and strongest reaction was to reading the script from a Saturday morning back in London last year, and I got really strong reactions to the authenticity of the dialogue that had been written for the Manson character and the characters around him in that world. I was aware somewhat of that era of history in U.S. history, but it felt that the dialogue was really authentic for me and so it made me want to dig deeper into understanding the late 60s. And, yes, I think that excitement, that they could have the courage to make a show about that sort of sensitive subject matter with authenticity excited me."
AQUARIUS — "The Hunter Gets Captured by the Game" Episode 102 — Pictured: Gethin Anthony as Charles Manson — (Photo by: Vivian Zink/NBC)
Of course, given that Manson is so well-known and is familiar to most people, after Anthony accepted the role it clearly became important that a great deal of research would be required in order to do the Manson character justice and to make his portrayal appear and feel authentic. After all, people have read the newspapers, they have read the novels, and they have seen the movies, and so if Anthony's depiction was "off," the viewers would certainly call him on it. 
"Well, when I first got the script I was aware that the process of being cast would probably be about a month or maybe a bit longer so all the while I started to read the biographies that are available. One of the useful things about playing such a notorious man is that there's a wealth of information out there and so I could have almost got sort of snowed under with reading and watching. But it really became about listening to his voice, and that was a very helpful thing that I did. There's an interview that he did with a studio engineer in 1967 before he was a part of the crimes and was imprisoned. That I found very useful to take me back to the point in the story, of the history that our stories take place."
"So, yes, it was close listening to his voice. And, also I got once I got the role like a college reading list from our show manager John McNamara [Laughs]. It was a big old list of books and films and music to listen to which is probably the most fun bit. Actually all of it was fascinating, but the music of the era is just fantastic," 
as Anthony explained, obviously very excited about his role and about the series.
Also, for those who do not know, Charles Manson is not technically a murderer. People are very quick to label him as a "serial killer" or "mass murderer," but the fact of the matter is Charles Manson actually did not kill a single person. Yes, people, no joke. Instead, he created a cult-like group of followers, young drifters who were desperately seeking some purpose in their lives and who could easily be swayed, and he convinced these people to kill for him. And, horrific killings they were.  Actress Sharon Tate, who was 8 months pregnant at the time of her death, was one of their victims, and Manson's followers were so enthralled with their leader that they brutally slashed Tate to death even as she pleaded for the life of her unborn child. No mercy. No remorse. What was it about Manson, this small man who stood only 5′ 2″, that mesmerized his followers to the point of committing such cold, brutal murders for him. Anthony had a very interesting take on that and said,
"I think that having done the research that I did there, increasingly I understood why that might have been the case. I don't claim to know if there was the silver bullet of understanding why these young women were drawn to him, but I think there are a few key factors."
"One of the few books that mentioned and said he has read is how to make friends and influence people. That is something he read in prison. [Manson] claims to have listened to pimps in prison as a way of understanding how they got their way with presumably mostly women, but basically control people from there on end."
"He describes in (Berkeley) in his own word is his kind of schooling in a way. And so he obviously was actively sort of engaging in how to influence other people. It's way before any of the crimes took place."
"And then he was a man who was out of prison at a time when there were a lot of liberation in the air. [He was] around young people and a lot of young impressionable minds out and about meeting new people with this feeling of liberation. So, yes, I think it was kind of a perfect cocktail of circumstance really."
AQUARIUS — "The Hunter Gets Captured by the Game" Episode 102 — Pictured: (l-r) Gethin Anthony as Charles Manson, Emma Dumont as Emma Karn — (Photo by: Vivian Zink/NBC)
Besides the Manson character, another reason viewers are getting pretty excited about this series is the return of
David Duchovny
to television. Audiences have watched for years as Duchovny played Hank Moody in Showtime's 
Californication
, and I think most are ready to see the actor back into more of an 
XFiles
-like role that he has become so well-known for. Anthony was equally excited to be working with Duchovny on the series and had nothing but great things to say about the actor.  
"[In speaking of working with David], obviously I don't want to spoil it, but I don't think it spoils too much to say yes [Hodiak and Manson] have some interaction, but [David's character] has got a whole lot of other stuff to be dealing with. But there is some interaction between the 2 characters in the first season."
"And having met David, sort of not just working way of filming but also around the set, I hugely look up to him growing up and still do as an actor. He's just a generous and lovely, very professional presence and a heck of a leader on the set so it's kind of very nice to be around. I think I've been very lucky in my work to [interact] with some fantastic professionals and I definitely count him in the top sort of that league."
AQUARIUS — "Never Say Never to Always" Episode 103 — Pictured: (l-r) Emma Dumont as Emma Karn, Gethin Anthony as Charles Manson — (Photo by: Vivian Zink/NBC)
And, if you're not already excited about the series and absolutely cannot wait for the premiere, here's another teaser for you. As Anthony mentioned earlier, the series begins with Manson working towards becoming a rock star. Because of that, there are several scenes with Manson performing publicly, and so as part of his role, Anthony actually had to learn to sing and play the guitar. Anthony laughs as he explains,
"Y
es, you will hear Charles sing because in our story that's basically what he's done. He's just trying to get record deals. Just a guy who spent some time in prison and is looking for a record deal and he goes about that particular quest with some very unconventional methods. But yes, you will hear the character sing. And I had to learn to play guitar to play the role as well which is probably a bit unfair on the neighbors [Laughs], but I can sort of throw a few chords together now. So I am getting a bit better."
The 2-hour series premiere of
Aquarius 
airs this Thursday at 9/8c on NBC. In the meantime, check out the below picture and video preview.
PHOTOS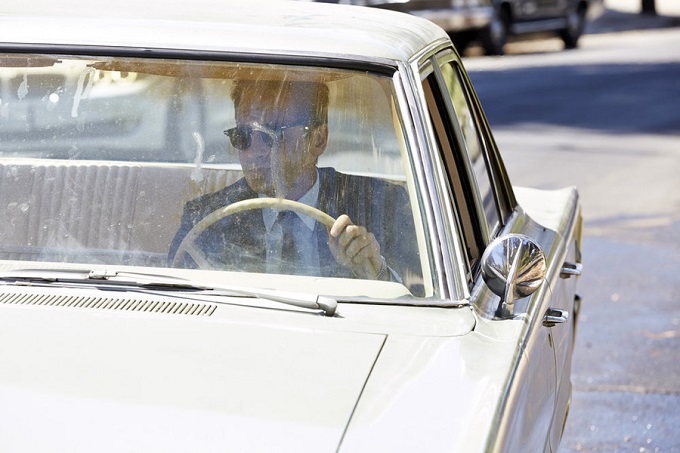 AQUARIUS — "Everybody's Been Burned" Episode 101 — Pictured: David Duchovny as Sam Hodiak — (Photo by: Ben Cohen/NBC)
AQUARIUS — "Everybody's Been Burned" Episode 101 — Pictured: Gethin Anthony as Charles Manson — (Photo by: Vivian Zink/NBC)
AQUARIUS — "Everybody's Been Burned" Episode 101 — Pictured: (l-r) Michaela McManus as Grace Karn, David Duchovny as Sam Hodiak — (Photo by: Vivian Zink/NBC)
More here: TV Geek Talk
_________________
Credit to original photographer, poster, scanner, site & anyone I may have missed in between




Pix Queen




Number of posts

: 113350


Age

: 53


Registration date :

2007-04-27



_________________
Thank you Maria!
Pix Queen




Number of posts

: 100670


Age

: 48


Your favorite David's role

: Hank Moody and Fox Mulder


Registration date :

2007-05-07



---
Permissions in this forum:
You
cannot
reply to topics in this forum