From Westeros to Hollywood, Gethin Anthony Talks About Playing Charles Manson in ĎAquariusí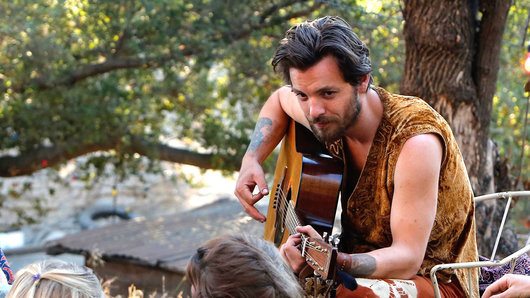 In NBCís Aquarius, Gethin Anthony plays an eerily charming version of the infamous Charles Manson that makes us understand why some people found him irresistible. His fine performance modulates Mansonís explosive personality through subtle, seductive touches; a bravura work of acting that might come as a surprise for those who only know Anthonyís work from Game of Thrones, where he played the too noble Renly Baratheon. The Oxford graduate has an extensive theatre background, and has also appeared in iconic BBC television shows like Call the Midwife and Doctors. With Aquarius showing his impressive range, it should only be a matter of time before he becomes a household name. With the NBC show, where he acts opposite David Duchovny, about to be released on DVD and Blu-ray we talked to Gethin about his turn as Manson, his personal ways of consuming television, rumors of his extraordinary dance skills, and inevitably we found our way talking Sondheim.
As an actor coming from an immensely popular property and then playing an iconic character like Charles Manson, were you intimidated or insecure in any way thinking people would perceive the show as Special Agent Mulder chasing after Renly Baratheon?
(Laughs) As far as being an actor, you canít ignore the opportunity thatís in front of you and Iíve been very, very lucky to work with some great people. I was lucky to talk to the people in Aquarius about how they were going to do it, how they were going to do it, and they gave me the confidence. It was a huge opportunity and I jumped into it with both feet.
Did you find it necessary to try to find any redeeming qualities in Charlie?
Itís not about that really, it was more about understanding him and his life experience up until 1967 when the story takes place. Then it was about trying to understand each scene as it comes up in the story by virtue of inhabiting the character as best you can. I never really had to stand back and ask myself if I liked him or not. I think that also helps you keep your own sanity.
I read that at some point someone from the crew brought in a shaman to bless the place where you were shooting. Considering how much the figurative ghost of Charles Manson haunts Los Angeles, how did this affect your work?
I donít know if Iíd use those words (laughs), seriously though, just to be in LA and understand the significance of the story and how so many people who were alive back then are still alive and were being affected by it, helps you be sensitive to how youíre doing what youíre doing. Then, the simpler thing of the shaman was a sweet thing, someone thought we were dealing with a tricky subject matter, so we started it right by have the shaman dispel any negative energy, something that Iíd never done before. It was a very pleasant experience and Iím doubly grateful because I missed the first day, so they brought him back the day I started.
Iím sure that you did a fair amount of research to play the part, and Iím really curious, now that you know more about Los Angeles history and how the Manson murders changed Hollywood, did you detect anything new that you hadnít noticed about films of the era that you thought you knew well enough already?
Thatís a fucking good question (laughs) and I haven't looked at it in that angle before, itís so interesting. Iím now desperate to go watch them all again to see if I see anything different. I know that in a wider sense, the crimes extend to the hippie movement going into a remission at the end of the 60s, not only because of the crimes, but because there was a change in the environment and how people treated each other. Iím sure things done in the early 70s reflect that, Iím gonna go back and watch some movies after this, write down stuff in my notebook.
Itís strange to think that without Mansonís disciples murdering Sharon Tate there would be no Chinatown for instance. I find this even more interesting because Manson felt that the entertainment industry owed him something, because he was denied a recording career.
Working on the show, the most immediate thing to concentrate on was being frustrated and what that frustration and energy could do to your decision making. I think you have to limit yourself to the parameters of the stories youíre telling and not get too lost in it, there are definitely moments in telling this story that were difficult for me to confront on a personal basis, and you sort of do that by leaving set and at the end of the shoot reconnecting with your family and friends.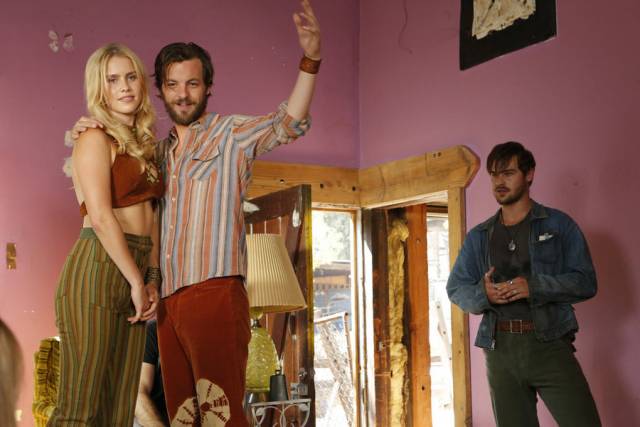 Have you listened to Karina Longworthís You Must Remember This podcast, which covered the Manson murders? Itís one of the scariest things Iíve found recently and youíve mentioned that you became fascinated with a 1967 voice recording of Charlie, so can you comment on how sound helped you find this character?
Itís helpful for me personally on a number of levels, I have a background in theatre in the UK, which is a very normal route for many British actors because weíre doing plays in school and things like that. Oratory, pitch and how you use your voice are very important, so seeing what I could do with my voice to play him was essential. There is one clip of him speaking to a studio engineer that was helpful not only for the rhythm of his voice, but also because of the things he was talking about, which connected to the dialogue the writers wrote for him in the show. The clip was the beginning of the process of inhabiting him, by learning it like a monologue and doing it over and over. It was a very useful first step.
Charlie was notoriously also a terrible singer, but youíre a tenor. Other than having done The Sound of Music as a kid, are you interested at all in musicals?
I sadly am actually (laughs) the truth is Iím a little bit out of practice, but Iím a huge Sondheim fan and I have to be honest with myself and say that if I ever get to do a musical I have a lot of work to do first, and train for a while.
Now you have to tell me your Sondheim dream parts!
You know Iím going to say Assassins (laughs).
You also have African dancing skills. Maybe you can do The Lion King! Or Hair?
Yeah, letís talk about thatÖthatís not the most accurate story about me out there (laughs). Iím not trained in African dance, I did a community project with a wonderful Nigerian troupe when I was 14, but we werenít ďtrainedĒ.
By the time this interview is out, Aquarius will be out on DVD as well, not to mention NBC made it available to stream. Whatís your preferred way of watching a TV show?
For me personally it depends on the show. Some things I watch live on TV, but I also have a habit of saving things and just binging them four episodes at a time, itís been a while Iíve been able to watch something like 13 episodes in a row, so Iím impressed by people who can do that. A good example would be Game of Thrones, I back them up a bit, and watch three episodes at a time which makes them like little films.
I happened to catch Copenhagen in which you were great, are you doing any more indie film work? This movie made me think a lot of Harold and Maude in its tone.
Oh wow, thanks, Iíll tell Mark Raso you said that, itís an interesting connection. I keep pushing him for us to do two sequels to that, itíd be great to do Copenhagen 2 with a better title obviously. Part of the excitement of that was telling a story in under two hours.
Back to TV, Aquarius also has a web series which compliments the story, so Iím curious about how you feel about the idea of shows being so immersive nowadays?
Well...I remember when I watched The Wire I watched all seasons in a few weeks. All I could do was talk about those people, I would tell my friends ďyou have no idea whatís going on with OmarĒ, or Bubbles really, heís actually the one I worried about the most.
Now, the most important TV question of our times: to spoil or not to spoil?
We live in a really instant time, there was a time when there wouldíve never been a thing like spoilers, but now after big moments on TV I avoid my Facebook. I tend not to post spoilers about anything, but itís tricky in this job, when I finished Game of Thrones, Iíd go into casting rooms and assistants would be like ďwait, so youíre available?Ē (Laughs) Itís hard to avoid them!
Aquarius will be available on DVD and Blu-ray on September 15.
Stagebuddy.com
_________________
Thank you Maria!
Pix Queen




Number of posts

: 100670


Age

: 48


Your favorite David's role

: Hank Moody and Fox Mulder


Registration date :

2007-05-07



_________________
Credit to original photographer, poster, scanner, site & anyone I may have missed in between




Pix Queen




Number of posts

: 113353


Age

: 53


Registration date :

2007-04-27



---
Permissions in this forum:
You
cannot
reply to topics in this forum