X-Files Palz
Scully, Mulder, Cancer Man, Conundrum,
Frohike, Gray Alien, Flukeman, and Pfaster
While the truth might still be out there, the X-Files lives on only in syndication. But it's popularity remains, and it's no real surprise that it is also still a popular license for action figures.
Then again, maybe it is surprising. Mcfarlane did one series based on the movie, with fairly weak bottom line results. Moore Action Collectibles tried to pick up the gauntlet and get another series out, but it never made it to production. Right now, Sideshow is doing a series of 12" figures though, and these seem to be doing much better, largely due to the limited nature and high quality.
Palisades has jumped in shadowy world of government conspiracies and nasty aliens with a line of X-Files Palz. Palz are their mini-figures, block-like toys that have lots of personality and fun.
The first series is now hitting stores, and includes 8 main characters - Mulder, Scully, Deep Throat, The Conundrum, a Gray Alien, Donnie Pfaster, Flukeman and Melvin Frohike. There are also three 'chase' figures, Captured Scully, Men in Black Mulder, and Demon Donnie Pfaster.
I picked up my set at the local Media Play for about $7 each. As always, I have other online options at the end of the review as well.
I just recently learned that the second series of X-Files Palz, which hasn't been completely finalized, will be 'blind' packaged.  That means you won't know which ones you'll be getting when you buy one.  And yes, the chases will still exist.
Buying a case will guarantee you get a set of the regular figures, but you may still not get the chase figures.  This is a terrible idea in my opinion, and could spell the ruin for all the Palz and 4" figures Palisades has planned.  And yes, they plan on going blind across the board with the smaller figures.
First, this will drive away completists, since they will have no interest in buying multiple figures playing the action figure lottery, trying to hit a chase they need.  And while completists aren't everybody, they make up a big segment.  They are also very valuable to have on board, since they'll buy entire waves, whether the figures are all that great or not.  What they won't do is fall for this ploy.
Second, you'll also lose casual buyers.  There are lots of folks that might just want two or three of the next series, but they aren't going to have any interest in playing the lottery to get them either.  And once folks find out that series 2 will be blind packaged, there is very good odds that the sales of series 1 will get effected.  If I only want key characters, and one of them is CSM who's planned for wave 2, why bother with picking up any of wave 1?
This is a bad marketing idea, and I'm truly sorry to see Palisades attempt it.  I think the outcome will be bad all around, and that's never nice to see.  With blind packaging, the price is supposed to drop from $7 to at least $6, but even a buck less will mean nothing if I've got to buy 10 figures to get the one I want, which could easily be the case for the chases.
Packaging - ***
These are on small cardbacks with thin bubbles. They are very attractive, although somewhat similar from character to character. They'll store easily though if that's your thing, and will hold up pretty well to peg wear.
Sculpting - ***
If you're looking for complex, detailed sculpts, don't look at mini-figures. It's not their style or design, but they do have some nice sculpting touches that makes each figure unique and different, and they can actually capture the essence of the character in even this simple design.
The hair sculpts is one way that they've managed to capture that essence, especially with characters like Frohike, Scully and Mulder. In other cases, there is actually some face sculpting - I think this is a first with Flukeman. The Gray Alien also has a uniquely shaped head, another first for the Palz series. Using small touches they manage to make everyone of these characters instantly recognizable.
Extra parts on certain figures, like the skirt on Scully or the extra large shoulders on Flukeman, further add specific details to the general Palz body.
Paint - ****
If the sculpt details are light, you can be they rely a lot on paint ops to convey appearance. That's definitely the case here, and it's nice to see that the paint ops are so terribly clean and neat. I'm not sure how they are doing it, or even what kind of masking process is being used, but just look at how clean and neat the puzzle piece design on the Conundrum's body is, and you'll see what I'm talking about.
Further examination will expose other excellent detail work - the fine wrinkles on Flukeman, the individual stripes on Donnie's shirt, the beard stubble on Frohike. All of it is clean and neat, and the quality is quite impressive.
The only character with an extreme expression is Flukeman, but that makes sense. The rest are basic expressions, but they work fine for the characters.
Along with the excellent paint, there is excellent text and graphics on the many small accessories.  Scully's monitor has something up about someone, and that someone is a Palz figure.  Likewise, on the circus poster and the Lone Gunman paper, pictures of people are actually Palz, in keeping with the theme of the line.
There's also some sort of inside joke with the circus poster, but I'm not sure what it is...
Articulation - ***1/2
If you've bought other mini-figures, you won't be surprised by the articulation of the Palz. There's neck, shoulders, elbows, wrists, waist, hips, knees and ankles. The hips and shoulders are designed to give them a tad more range of movement than many other mini-figures, and the pieces can be disassembled and swapped around to create whatever wacky guys you want.
The joints are tight, they hold together pretty well, yet are easy enough to swap around. The hold lots of poses, and are surprisingly versatile.
Accessories - ****
Perhaps my favorite aspect of this set is the nifty accessories that come with every figure. There's some reuse in some cases, but for the most part it's only there when it makes sense.
Everyone of the figures has a small 'X-file'. This is a simple single sided file printed up with barely legible text. There is also a small clear plastic clip for every one of them to allow the figure to hold the file easily in a hand.
Scully and Mulder have the most reuse, but that's not surprising since you'd expect them to carry some similar items. They both have a gun, flashlight, cell phone, and F.B.I. badge. The badge has different labels of course, which sport nifty little graphics and text.
Mulder also has a copy of Chung's "From Outer Space", and Scully includes her desktop computer, both the monitor and the keyboard. I was particularly impressed with her machine, since it's pretty well scaled and very nicely detailed.
Frohike, one third of the Lone Gunmen, comes with a laptop with a hinged lid, hat, whiskey bottle, cable de-scrambler, and a front page of the Lone Gunman paper. All the accessories look great, and the clear clip can be used on the newspaper as well, allowing him to hold it in either hand. The hat fits on his head over his hair, but I had a tough time keeping it in place.  BTW, I realize that the laptop ended up in Mulder's photo somehow...not sure how, but anything is possible.
Deep Throat has a hand gun and cel phone, but both are different sculpts than the ones that come with Mulder and Scully. He also has the MJ data file that looks like a clear hard plastic data tape. Finally, he has a gas mask which fits under his neck, with prongs similar to a fork lift.
Then there are the less than human characters. Donnie Pfaster has the sympathy wreath from the funeral, a couple shampoo bottles, and a little packet of 'human' hair. Did we get some of Ken Lilly's DNA with this set? If you know Ken, you know he wasn't the donor.
The Gray Alien comes with a really spiffy little autopsy piece that snaps on his chest similar to how the gas mask snapped on Deep Throat. It makes it appear as though he's splayed open on the operating table. He also has a nitrogen container, and a small alien fetus that fits nicely inside. I did have to remove the handle from the fetus' container to get the larger nitrogen canister to close with it inside. Finally, the Alien also comes with a UFO photo, perhaps something for his wallet.
The Conundrum has a large cauldron, just right for any Palz to fit inside, a half eaten fish, and a circus poster of Jim-Jim the Dog Faced Boy.
Finally, there's my favorite, Flukeman. He comes with just two unique accessories, but they are so perfect. One is a little flukeworm, just right to crawl down your throat. The other is a nifty outhouse, from the Lilly (Lilly, get it?) Sanitation Service. YOu can pop Flukeman's head right onto the inside of the seat, giving any other Palz figure the story of a lifetime. I almost sat on a snake in an outhouse once as a kid, and I thought that was special, but it was nothing compared to this.
Fun Factor - ***1/2
These mini-figures are toys, first and foremost, not pop culture sculptures. They need to be fun to have any value, and they are definitely fun. With lots of accessories, great articulation, and good quality parts and assembly, they are a ton of fun for any kid old enough not to choke on them.
Value - **1/2
At about $7 each, these are some expensive little figures.  It seems to be the trend for mini-figures to be expensive, but it still hurts when you are looking to pick up a full set of all ten figures, and realize you'll be dropping over $70!
Still, the price on these is a pretty average value compared to other lines. It does mean that the demand won't be what it would be at $4 - $5 each, but the current economics of the action figure market is dictating these higher prices. At least Palisades has done what they can to add value through a ton of accessories.
Things to watch out for -
Be a little careful with your outhouse door.  Opening it too far can break the hinges pretty easily, as my four year old son figured out all on his own.  I'm sure it was some sort of scientific experiment.
Otherwise, things were great across the board, and I didn't have any issues with any of the figures.
Overall - ***1/2
This is the second series of Palz from Palisades, the first being the Buffy series. While that series had the extra cool feature of transforming outfits, this series sports new sculpt details and some extreme paint ops. I think the Palz are an excellent style of mini-figure, and the attention and care that Palisades brings to every line takes them above the norm.
Now I have to find one of those Demon Donnie's...damn chase figures!
SCORE RECAP:
Packaging - ***
Sculpt - ***
Paint - ****
Articulation - ***1/2
Accessories - ****
Fun Factor - ***1/2
Value - **1/2
Overall - ***1/2
Where to Buy -
I picked these up at Media Play, and other specialty retailers should have them in now. You can also find them online:
- Killer Toys has them individually for $8 each.
- CornerStoreComics has them individually for just $7 each, or $54 for the set of eight regular figures.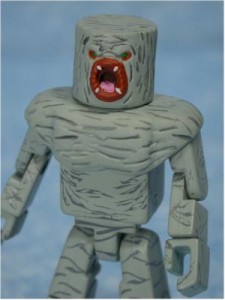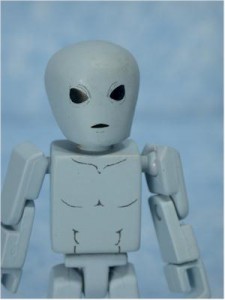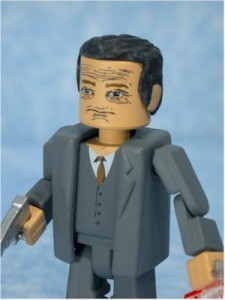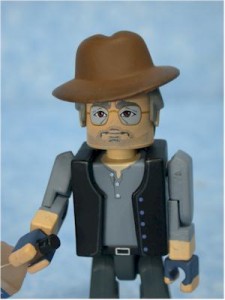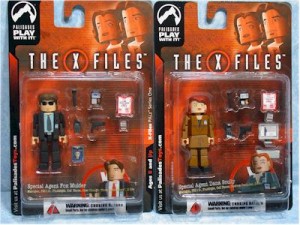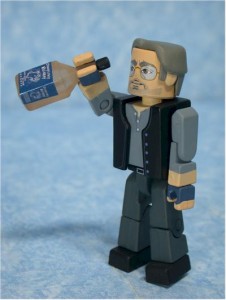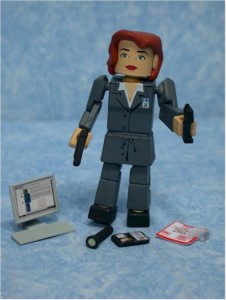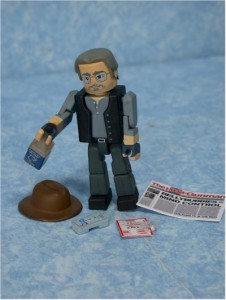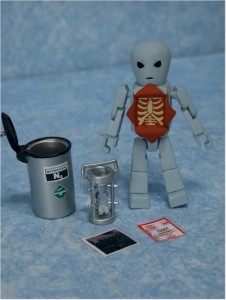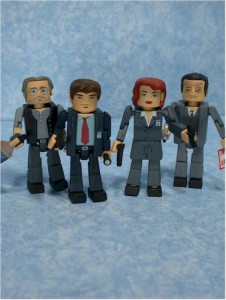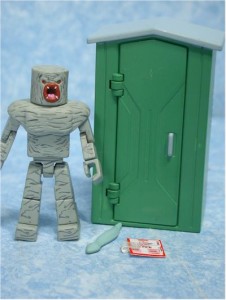 Toy Review by Michael Crawford
_________________
Credit to original photographer, poster, scanner, site & anyone I may have missed in between




Pix Queen




Number of posts

: 100670


Age

: 48


Your favorite David's role

: Hank Moody and Fox Mulder


Registration date :

2007-05-07



Minimate Mini-Review #285 - X-Files Classic TV Minimates Series 1
Posted on April 3, 2016 by yo go re
#285 - X-Files Set 1
Agent Fox Mulder and Agent Dana Scully represent the FBI's X-Files division, investigating the cases that present no reasonable explanation. Throughout their investigations, from mysterious abductions to the sewer-dwelling Flukeman, they have seen evidence that something is out there... and the Cigarette Smoking Man is helping to cover it up.
Hey look, it's a guy in a suit! Honestly, as much as I like
The X-Files
and as glad as I am that someone is finally making toys of them, one Minimate in a suit is pretty much the same as the next, isn't it? Jasper Sitwell, the Crazy 88, James Munroe, Jim Gordon, Agent Coulson, Aldrich Killian, Mr. Negative, Tony Stark, Shingen Yashida, a
different
Tony Stark, Jules & Vincent and Senator Roark all use the same coat and tie as Mulder, so the only thing that really makes him him is the haircut and the design of the face. It's as Mulder-y as a Minimate can possibly be, but he's mostly just his clothing.
Scully, on the other hand, doesn't even get that. To keep her looking smaller than her male partner, her jacket is just painted on the chest block, and she has a small "skirt" piece to make the lower edge of the jacket. Her hair is a new mold, and she's painted with two small wrinkles near the corners of her mouth - is she smirking at some ridiculous theory Mulder spouted, or is she frowning at him? You make the call! Her suit is dark grey, rather than true black like her shoes are, and her cross necklace is included on the tampograph. Both figures include a badge hand, a flashlight, and a pistol. Unfortunately, the standard Minimate articulation, while good, isn't sufficient to allow them to do the "crossed hands" flashlight/gun pose they always used when exploring all those dimly lit warehouses.
Cigarette Smoking Man is not only the worst superhero to ever come out of North Carolina, he's also the most iconic villain of the series. Mostly he just skulks around ominously, serving as the face of the conspiracy Mulder and Scully are up against. William B. Davis, the actor who plays CSM, tried out for a different role in the pilot, but lost it - however, the minor role he was given as a consolation eventually became incredibly important. He has the same tie as Mulder (in red, instead of blue), and a long coat. His face has just the right number of wrinkles, but no nose. Foreshadowing! Cleverly, he comes with a Silent Bob hand, so he can smoke his Morleys!
The set also includes a second copy of Mulder's jacket and a pair of plain arms, both in a warm grey shade. Since this is the same color as Cigarette Smoking Man's pants, we can assume those are meant for him - you know, for those times when he's being sinisterly mysterious in an office setting, rather than being mysteriously sinister outside. Alternatively, you could give the coat to Scully, to make her look like she's bundled up in the cold. Or give them to the next figure, who's buck naked!
So, true confession time: I don't remember Flukeman. I didn't remember him when McFarlane made a toy of him, I didn't remember him when Palisades made
X-Files PALz
, and the only reason I remember him now that he's a Minimate is because of those other two toys. As far as I know, Flukeman may be a joke character created by toy companies. Flukie was played by Darin Morgan, who went on to write some of the best episodes of the show, though there's no way you'd recognize him in the toy - not under all that makeup! This is a standard body with black wrinkles painted on, though sadly they were forced to forego the paint apps on the figure's sides, the inside of his arms, and the backs of his legs. His mouth looks like a flatworm's scolex, which is not actually its mouth: that's what it uses to attach to the interior of its host, while "eating" is done at the other end. A rare scientific inaccuracy for
The X-Files
!
OAFE
_________________
Credit to original photographer, poster, scanner, site & anyone I may have missed in between




Pix Queen




Number of posts

: 100670


Age

: 48


Your favorite David's role

: Hank Moody and Fox Mulder


Registration date :

2007-05-07



X-Files Palisades PALz 2 MiniFigure Agent Mulder FBI Jacket David Duchovny New https://t.co/H61My0Abnh pic.twitter.com/8cC6fqqIgZ

— good deal (@cervantesamin3) May 31, 2016
_________________
Credit to original photographer, poster, scanner, site & anyone I may have missed in between




Pix Queen




Number of posts

: 100670


Age

: 48


Your favorite David's role

: Hank Moody and Fox Mulder


Registration date :

2007-05-07




[Memorabilia] Palisades – The X-Files PALz Figures – Series 1
12/03/2015
RainKnight
In 2005, the now-defunct Palisades Toys released two series of The X-Files "PALz" mini figures. The PALz figures were articulated block figures similar to the Minimates line, which the PALz figures were originally a derivative of, separating into its own line once a licensing deal between Palisades and Art Asylum fell apart. (Interestingly enough, ten years later, Art Asylum finally plans to release The X-Files Minimates in a few months to correspond with the 2016 X-Files limited series.) Three series of the X-Files PALz figures were said to be designed, however, only two were released before Palisades went under. Despite that, the two series that  were released still represent the most variety of any of the X-Files toy lines to date, with a combined 16 characters represented, spanning mythology and MOTW alike.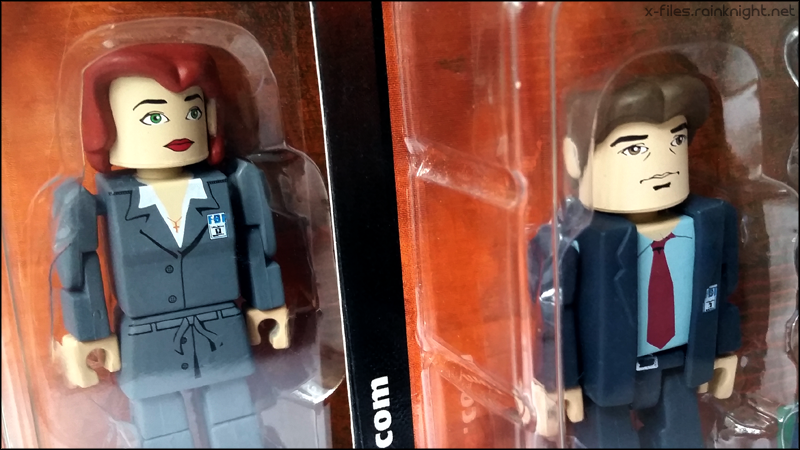 The major difference between the two series that were released was the way they were packaged. The first series was released on nicely-designed blister cards, whereas the second series was released as blind-packaged boxes — a decision that greatly upset collectors at the time, especially in North America where blind-packaged figures weren't as common or popular as they were in some other markets, such as Japan.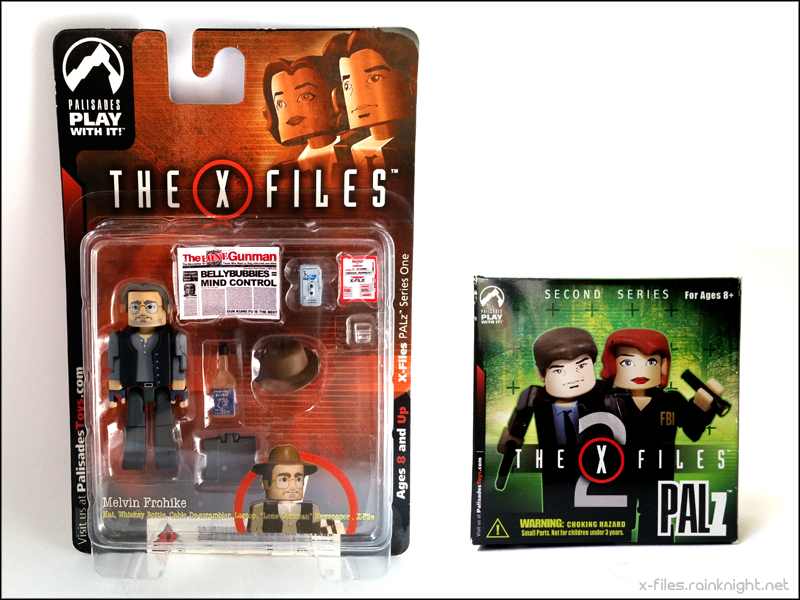 PALz Series 1 vs. Series 2 packaging.
The figures were available from specialty retailers both in stores (Sam Goody, Suncoast, Media Play) and online (Entertainment Earth, ToyWiz). The blister packaging of Series 1 seemed to be a bit more popular with North American retailers, so this series may be slightly more common.
Front and back of Series 1 packaging. Full credits for the figures' production team are listed on the back of the box, which is pretty cool.
Despite their simple, playful look, adult collectors were definitely the target audience for this line. It was released a few years after the series ended and didn't shy away from some of the darker elements of the show. Palisades was a favorite among collectors due to their dedication to attention to detail in their licenses and reception to feedback from their fanbase. This attention to detail was reflected in the characters selected, from MOTW fan-favorites to recurring secondary characters often ignored in merchandising such as Frohike and Deep Throat, and the accessories included, such as Donnie Pfaster's creepy lock of hair and shampoo bottle and the Flukeman's porta potty.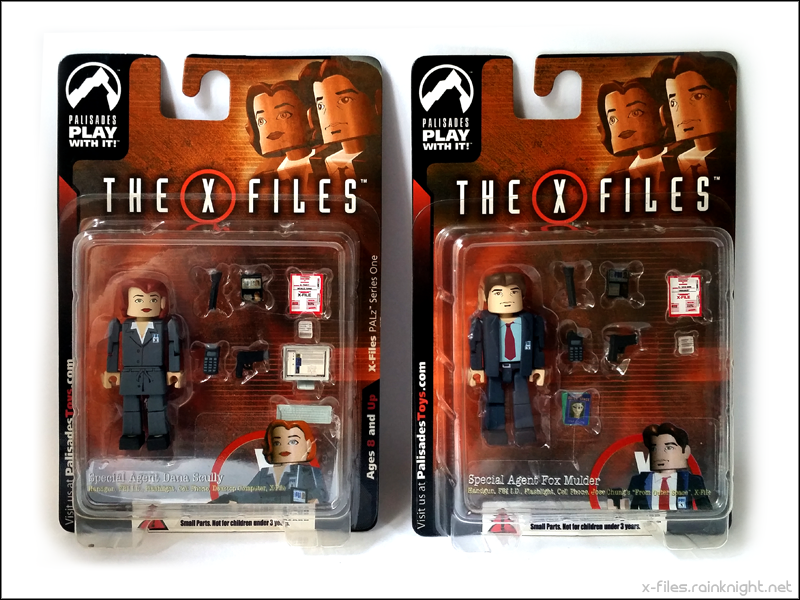 Each figure came with a number of relevant accessories. Pictured here are the standard versions of the Scully and Mulder figures. They both come with their badge, gun, cell phone, and a flashlight. Scully also comes with a computer, and Mulder comes with a copy of Jose Chung's
From Outer Space
. Each figure also comes with an X-File. Here, Scully has her own X-File, and Mulder's X-File is based on the episode
Anasazi
.
At the time, the prices of the PALz line were considered a little on the high end for mini figures (with a suggested retail price of US $6.99 each), though they were still the more affordable choice compared to the contemporary line of X-Files 12″ figures being released by Sideshow Collectibles, which featured more realistic detail at a much larger scale and went for $40.00 and up.
With the history out of the way, let's focus on Series 1.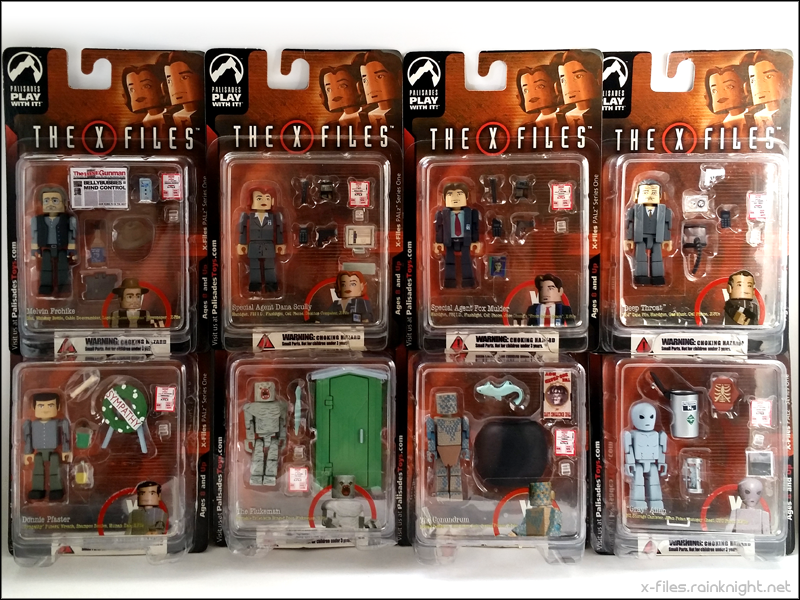 Series 1 base set, excluding the 3 chase variants. 
Series 1 was released around April 2005 and featured 11 different figures: 8 standard, 3 chase variants. In this series, the chase figures were all variations of characters featured in the standard set of 8 rather than a mix of variants and new characters, as we would later see in Series 2. A case of Series 1 contained 24 figures in the following quantities:
– Special Agent Fox Mulder (x3)
– Special Agent Dana Scully (x3)
– Flukeman (x3)
– The Conundrum (x3)
– Gray Alien (x3)
– Donnie Pfaster (x2)
– Melvin Frohike (x2)
– Deep Throat (x2)
– Mulder Repaint Chase "Special Agent Fox Mulder (Man in Black Variant)" (x1)
– Scully Repaint Chase "Special Agent Dana Scully (Captive)" (x1)
– Demon Pfaster "Donnie Pfaster (Face of Evil)" (x1)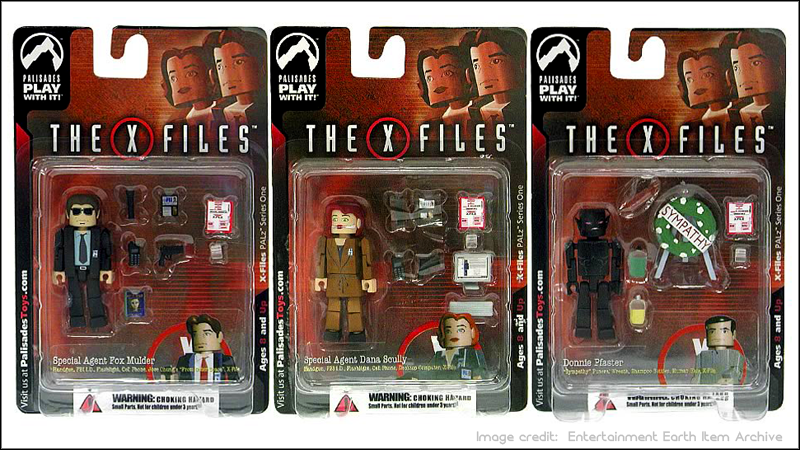 Series 1 Chase Variants of Mulder, Scully, and Donnie Pfaster. Demon Pfaster comes with a lock of red hair instead of blonde, so that's really fucking creepy. 
In addition to the 11 figures released at retail, there were also a couple of variants available only at specific shows. At San Diego Comic Con 2005, a packaging variant of The Conundrum was released that included just the figure without any of the accessories. It was packaged in a plastic bag with a cardboard hanger that featured a blank space where it could be autographed by The Enigma, the actor and inspiration for The Conundrum on The X-Files. A photo of The Enigma himself is also featured on this packaging, as opposed to the render of the figure that's displayed on the standard retail packaging. It is also marked with the official SDCC Exclusive logo.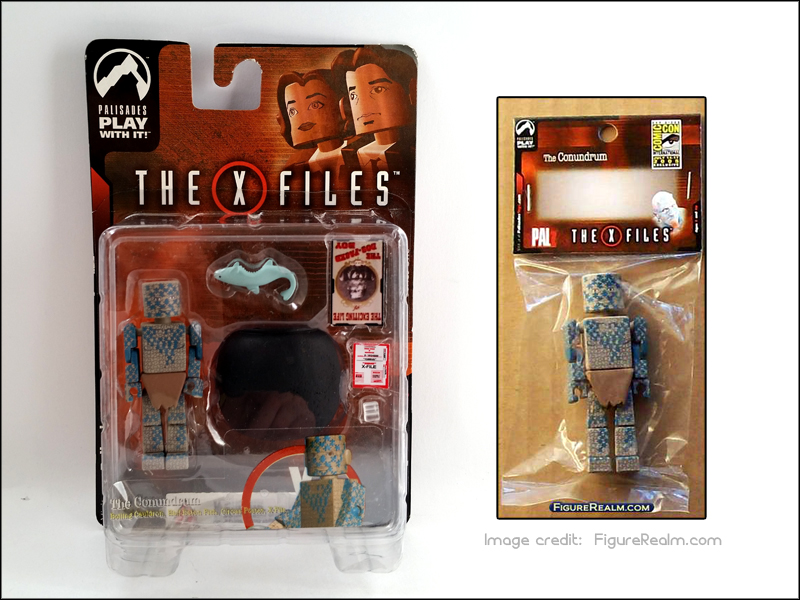 Standard version of The Conundrum figure (left) next to the SDCC 2005 Exclusive version (right).
But the very first X-Files PALz were actually a promotion for the line at New York Toy Fair 2005, which likely predated the commercial release by a couple of months. These prototype-esque figures featured all-black, unpainted versions of Mulder and Scully along with a gun accessory and were available at the Palisades booth at the show. They're shown below along with a small flier advertising the upcoming toy line.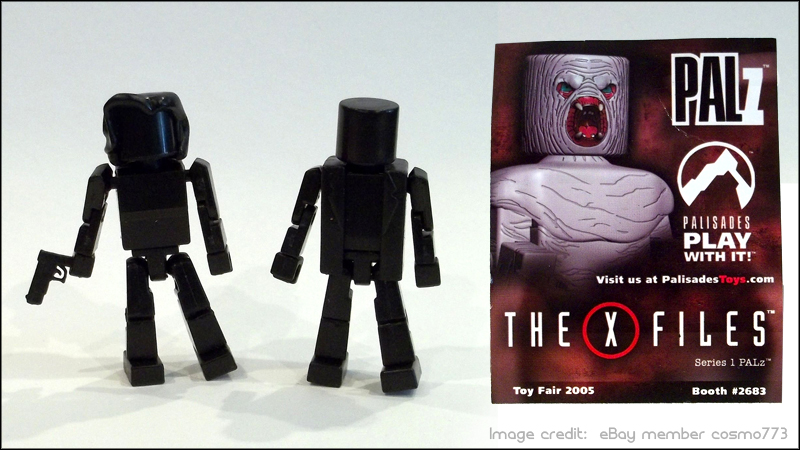 2005 New York Toy Fair Exclusive Mulder & Scully figures with card advertising the upcoming X-Files line of PALz figures. 
And that's a wrap for Series 1! Stay tuned for Series 2, where we'll investigate even more characters, more variants, and more disturbing accessories hidden within those unassuming blind boxes. 
Information was compiled from my own memory and 2005 email receipts, as well as old retailer and eBay listings (especially the super-informative Corndog Collectibles) and message board posts.
Chasing Monsters With Butterfly Nets
_________________
Credit to original photographer, poster, scanner, site & anyone I may have missed in between





[Memorabilia] Palisades – The X-Files PALz Figures – Series 2
02/14/2016
RainKnight
"A television cult phenomenon began in 1993 with the creation of The X-Files.  FBI Special Agent Fox Mulder and Special Agent Dana Scully encountered mutants, vampires, aliens, madmen and government conspirators to investigate unexplained phenomena contained in what the FBI labeled the "X-Files", cases that defied traditional explanation. These all-new Series 2 X-Files PALz action figures feature great well-loved characters and some incredible fan favorites from the creepy and compelling series, and prove once again that "The Truth is Out There."
— PALz Series 2 Case
In this post we're taking a look at the second set of The X-Files PALz block figures. For the first set and general history of the PALz line, check out The X-Files PALz Figures – Series 1.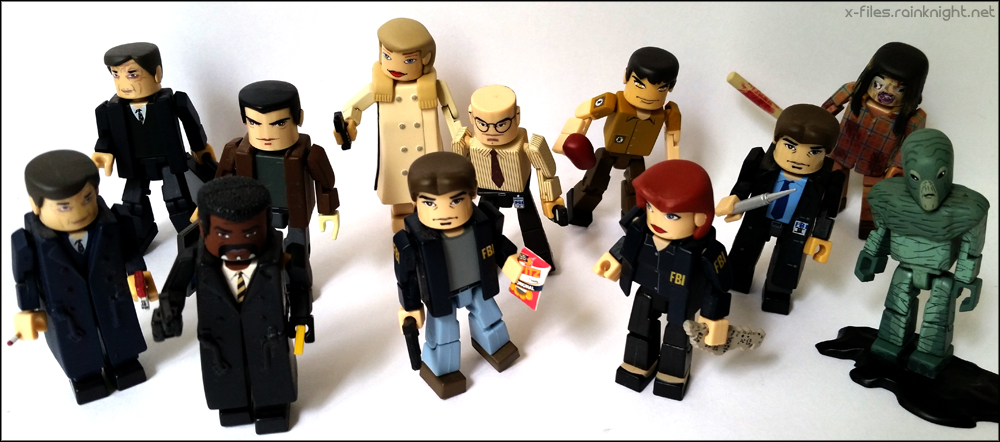 12 of the 14 figures in The X-Files PALz Series 2 set. Not pictured are the variants of Skinner in his trench coat and Scully in her autopsy gear.
The second and final set of The X-Files PALz figures arrived about nine months after the first, in November of 2005. During this time, the decision was made to switch from the nicely designed blister packs of Series 1 to blind packaging for Series 2. While blind packaged figures are common in North America now, this was an unpopular decision among fans back in 2005 who didn't want to spend a fortune buying random characters in order to complete the set. In addition to the blind packaging, the chances of acquiring a chase figure had also grown slimmer. Whereas the three chase figures in Series 1 were limited to 1 per case of 24, the six chase figures in Series 2 were limited to either 1 in 32 or 1 in 64.

Packaging for The X-Files PALz Series 2 blind packaged box. Like Series 1, the box features the credits on the package. The Series 2 boxes also provided the rarity of each figure. The figure and accessories were held within a clear plastic bag inside.
But perhaps the blind packaging did have one silver lining: It forced you to open the figures up and play with them! The Series 1 packaging was perhaps a little
too
nice. They looked great on display in the package, so why ruin that by taking them out?  But at the same time, the point of the figures was to pose them and play with them and make use of all of those neat little accessories, and blind packaging by its very nature forces the customer to open it just to see what's inside.
While both series seem to have received a relatively small production run, figures from Series 2 tend to appear even less frequently than Series 1 in the aftermarket, leading me to believe that this series may have been even more limited than the first. Either that, or perhaps spread a little more thin, as this series contained 14 different figures compared to the 11 from Series 1. Like Series 1, the base set contained eight different figures, but here we have six chase figures instead of three, with four of them being variants of figures in the base set, and two being entirely new figures (Alex Krycek and Marita Covorubius).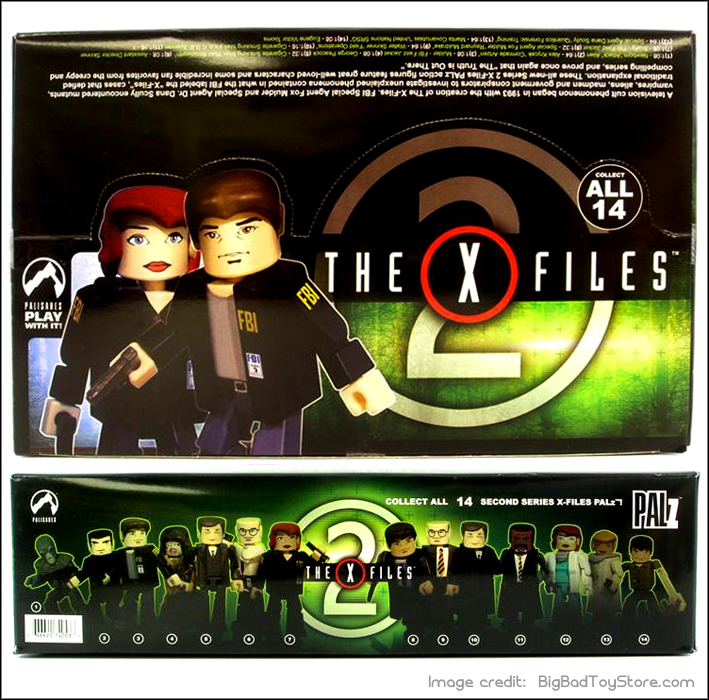 Box containing 16 blind-packaged figures. Due to the rarity of the chase figures, it is extremely unlikely, if not impossible, that one would be able to obtain a full set of 14 figures from a single box of 16, as the chase figures were limited to either 1 in 32 or 1 in 64.
The individual packaging divides the second series into two categories, separating the standard and chase figures by rarity. They're listed as follows:
X-Files PALz Series Two
1:8 Mulder – FBI Field Jacket
1:8 Scully – FBI Field Jacket
1:8 Assistant Director Skinner
1:8 Newborn "Attack" Alien
1:8 George Peacock
1:8 Eugene Victor Tooms
1:16 Cigarette Smoking Man
1:16 X
X-Files PALz Limited Edition Chase Figures
1:32 Special Agent Fox Mulder "Reynard Muldrake" (Mulder in suit with trench coat)
1:32 Cigarette Smoking Man "Raul Bloodworth" (CSM with briefcase [no trench coat])
1:64 Walter Skinner "Field Operations" (Skinner in trench coat)
1:64 Special Agent Dana Scully "Quantico Forensic Training" (Scully in scrubs)
1:64 Alex Krycek "Comrade Artzen" (a misspelling of Krycek's alias "Comrade Arntzen")
1:64 Marita Covarrubias "United Nations SRSG"
Overall, of the 14 Series 2 figures, 10 are unique characters, and the only characters repeated from Series 1 are the new versions of Mulder and Scully. As far as variety of characters, this would put the PALz Series 2 set just behind the recently released set of The X-Files Titan vinyl figures, which contains 12 unique characters in its base set (the four chase figures are all variants of existing characters), though the combined Series 1 and 2 PALz end up beating it with 16 unique characters between the two.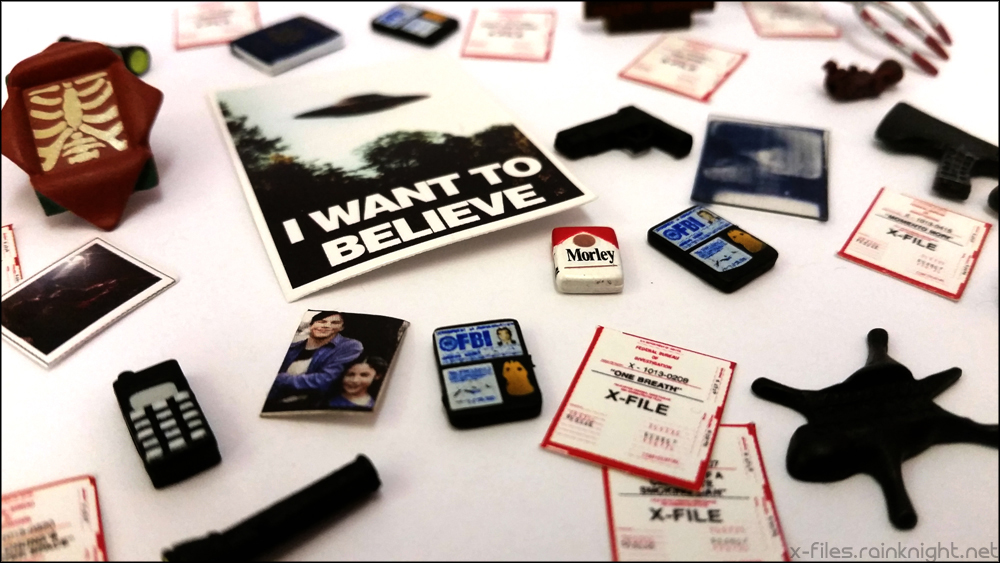 A sampling of the PALz Series 2 accessories.
One of the highlights of the PALz figures are the various show-specific accessories. Each figure comes with its very own little paper X-File based on an episode of the show, usually one that in some way relates to that particular character. There are also the standard sort of accessories that we've seen other figures come with such as guns, FBI badges, flashlights, and cell phones, but the PALz line isn't afraid to tap into the details of each episode for some more unique (and occasionally disturbing) items. Tooms comes with an extra set of stretchy arms and a roadkill snack, and CSM comes with an alternate hand holding a cigarette and a pack of Morley's. Mulder's iconic sunflower seeds and "I Want to Believe" poster are there, as is the classic photo of Fox and Samantha Mulder as kids. The Alien comes with an alternate chest plate that can fit over any character's torso, just in case you need to simulate its "birth." Scully comes with an amusingly bizarre PALz version of the x-ray film of her brain tumor from "Momento Mori," and George Peacock comes with a bloody ax, pitchfork, and baseball bat, as well as a little block figure version of a deformed dead baby. Uh… Let's just not mention that last one to LEGO when trying to defend The X-Files from getting shot down for not being a family-friendly property…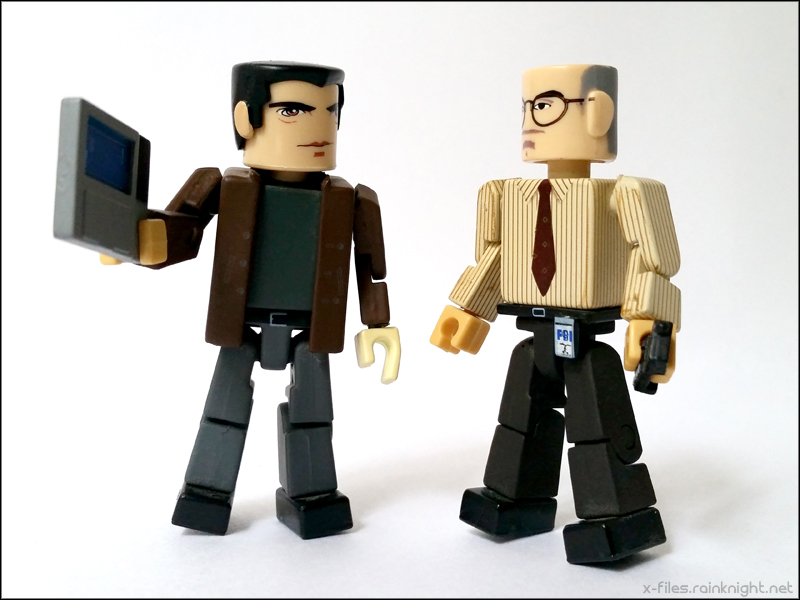 Krycek taunts Skinner with nanobots, his fake left hand hanging at his side. Skinner is not amused.
Despite their small size, the PALz line of figures is pretty well articulated and fairly poseable. Their arms and legs have a decent range of motion, and they can bend at the knees and elbows and rotate the hands and feet. The blocky heads can rotate and tilt slightly, and the hair/ear pieces are removable. They can technically be moved a bit at the waist, though that is often limited by longer shirts and jackets. Like most block figures, the pieces can come apart and are interchangeable between figures.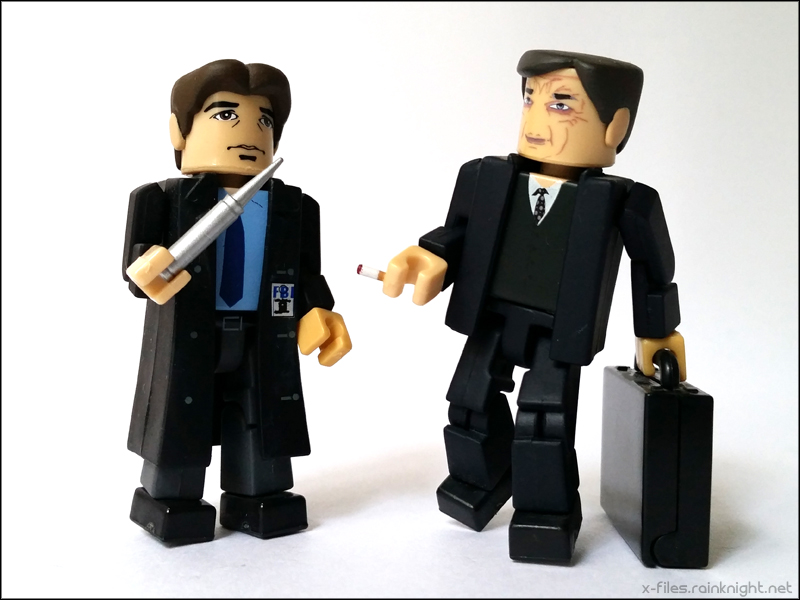 "Hey, look, I found this thing in a lamp. Now, what were you talking to my mom about?"
On the downside, however, the flexibility of these figures seem to come at the cost of fragility. While they're certainly meant to be played around with and put in fun poses, they can really only be recommended for adult collectors, as they just won't hold up to rigorous play. The arm and leg joints in particular tend to come apart very easily, which is fine if you want to swap some body parts, but they often come off too easily when just trying to pose a figure. Also, now that it's been more than a decade since their original release, it's become clear that some of the plastics used are prone to discoloration over time. So far, this generally seems most noticeable with some of lighter colors, such as the hands.
Um, Scully, you might want to get that alien artifact away from Mulder, or we might have to deal with more awful "brain disease" plotlines.
So, now that Palisades is no more and the proposed third series of X-Files PALz figures never saw the light of day, is this the end of The X-Files block figures? The demand was obviously there after the X-Files Revival was announced in early 2015 when Brent Waller, designer of the excellent Ghostbusters LEGO set, proposed a set of X-Files LEGOs, complete with Mulder and Scully's basement office, to LEGO Ideas. The proposed set was very popular with both X-Files and LEGO fans and was widely reported on in collector's circles, however it was ultimately rejected by LEGO due to the show's mature themes (damn it,
Home… 
we still love you, though). While unofficial, custom versions of the LEGO Mulder and Scully figures can be ordered at a premium, it sadly doesn't appear that we'll be getting official versions anytime soon.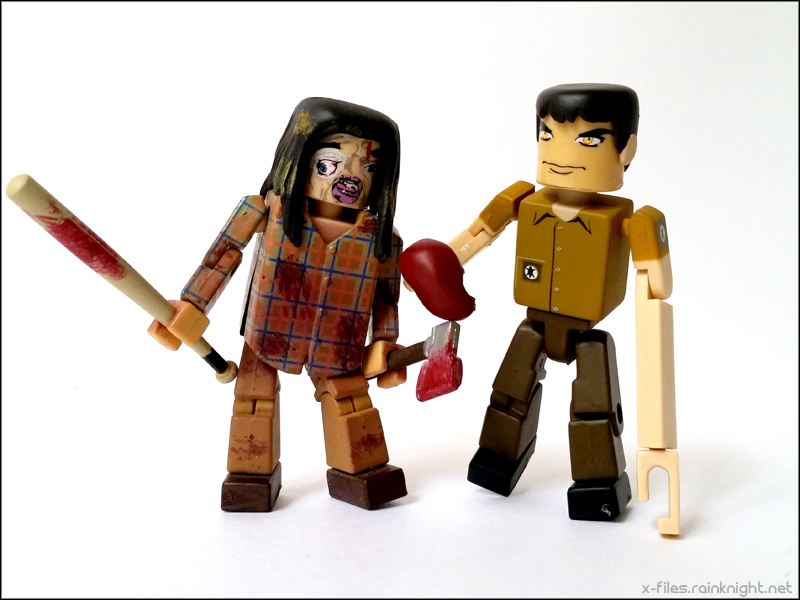 "Hey, George, I think you've got a little something on your shirt. Want a bite of my liver?"
But fortunately LEGO's lack of interest was not the end. As I mentioned in the PALz Series 1 review, the PALz figures were originally a derivative of Art Asylum's Minimates line, and now it seems that we've come full circle, with Art Asylum picking up the license and putting out figures for both the 2016 limited series as well as a set of figures for the classic series. So far the range of figures is nowhere near the variety seen in the two PALz sets, but these will be the first new figures released specifically based on Mulder and Scully's Season 10 look, so it's still an exciting prospect.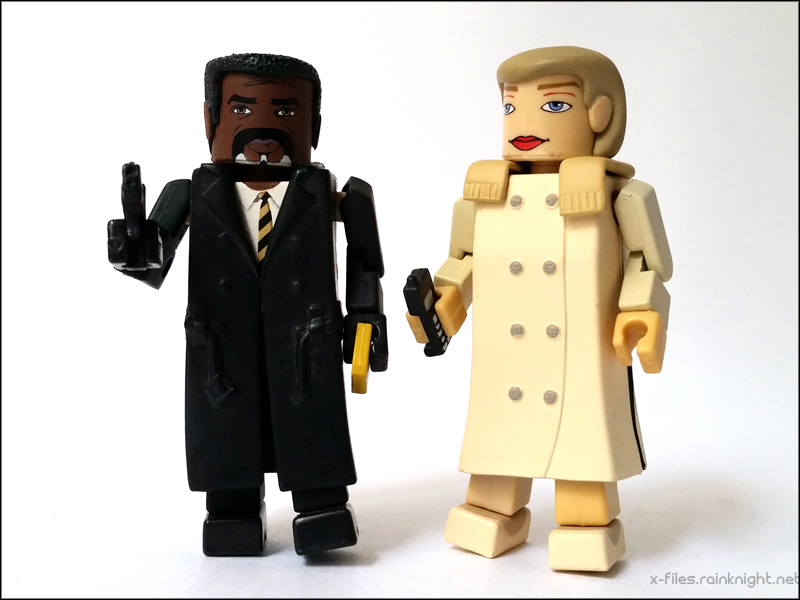 Currently the only available figures of the informants Mr. X and Marita Covarrubias. I realized after taking this picture that Marita's scarf is on backwards. Oops. Also, her coat is removable, however, the plastic has stiffened with age and no longer comes off easily!
So, that brings us to the end of the road for the X-Files PALz line. As mentioned earlier, these figures can be hard to come by these days and can be quite pricey when they do appear for sale. With that said, if anyone has the Scully and Skinner chase figures and would like to contribute photos for this review, please feel free to leave a message in the comments section or contact me on Twitter! And hopefully we'll be able to check out just how the PALz figures stack up against the new Minimates in an upcoming review…
Information was compiled from my own memory and 2005 email receipts, as well as old retailer and eBay listings (especially the super-informative Corndog Collectibles) and message board posts.
Chasing Monsters With Butterfly Nets
_________________
Credit to original photographer, poster, scanner, site & anyone I may have missed in between




Phantom





Number of posts

: 17193


Age

: 60


Localisation

: Bologna - Italy


Emploi

: Housewife


Your favorite David's role

: Fox Mulder


Registration date :

2011-01-20



Pix Queen




Number of posts

: 100670


Age

: 48


Your favorite David's role

: Hank Moody and Fox Mulder


Registration date :

2007-05-07



---
Permissions in this forum:
You
cannot
reply to topics in this forum