TBT Review: Topps The X-Files #18

Details
Written by Sophie Brown | Staff Writer
Category: Reviews
Published: 10 December 2015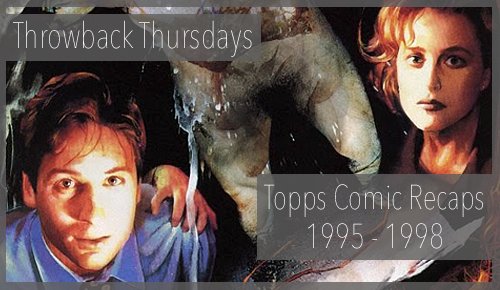 In this week's issues of Topps' The X-Files, we begin a new two-part story in which Mulder and Scully investigate the disappearance of four scientists who were researching ball lightning at Brown Mountain. Read after the jump for our recap of "Night Lights" Part One.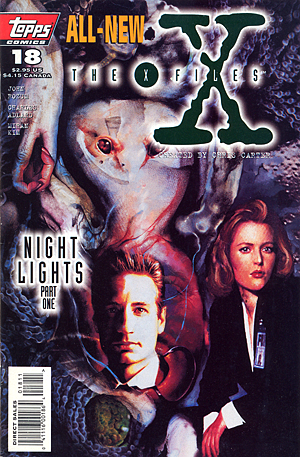 Our story opens on a weather balloon that is floating near Brown Mountain, NC late one summer evening. If Brown Mountain is familiar to you, that's because it's where Mulder & Scully would later find themselves victim to a giant, underground mushroom in "Field Trip". Nearby, a group of men are checking the balloon's telemetry when their electricity goes out. Complaining about the power company, they are suddenly faced with a large, glowing red orb which floats through the window and into the centre of the room, causing enormous quantities of static. The men back away but the orb continues to move, incinerating the first man and eventually killing them all. A few hours later, on a highway north of Hartford, TN, a woman is shocked by the sudden appearance of blood rain. Stepping out of her car, she witnesses a red glow in the sky similar to the orb, which suddenly vanishes.
The next day Scully arrives at the Brown Mountain lab at the request of the men's supervisor, Dr. Meagher, who is concerned that the scientists have gone missing. Scully discovers that the men, who were all great friends, were researching ball lightning and that Dr. Meagher wonders if the phenomena might be behind their disappearance as the air in the room smells of ozone. However the lack of bodies, or of any evidence to suggest an explosion or burning means she has ruled out the possibility, and she asks Scully to please "find out what happened to my scientists".
Mulder shows up & Scully mocks him for being late, but it turns out he was off investigating the blood rain incident. No sample of the "blood" could be collected, but he did discover a lightning bolt shaped pin, which Scully instantly recognises as belonging to one of the missing scientists - she spotted it on a photograph. The two agents discuss the case over food and coffee at a nearby diner. Mulder is convinced the pin is the same one from the missing scientist, but Scully is unconvinced, demanding to know how it could have appeared in Tennessee. Mulder reminds Scully of the phenomena of "anomalous rains", pointing out that they themselves experienced a rain of toads (back in "Die Hand Die Verletzt") but Scully argues back that in North Carolina the skies were clear. Clearly developing a headache, she wonders if the men simply took off after being cooped up at the research station so long, or if perhaps the lightning was to blame after all, reaching a temperature so high it could "incinerate a human body". Mulder rebuffs both her ideas. Their waiter overhears the conversation and talks to them about the "red lights up on Brown Mountain" which gets Mulder's attention - this is apparently the first time he has heard of them. That afternoon, Mulder and Scully speak to Dr Meagher about the lights. Mulder proposes the theory of Earth Lights, which suggests "strain fields within the Earth's crust where fault lines occur, produce electromagnetic charges which create bodies of light". Dr. Meagher thinks the theory is "far-fetched" but considers it irrelevant as a non-corporal light could not have abducted her scientists.
That night, two more scientists - students this time - are checking the balloon's data from the night of the disappearance at Dr. Meagher's request, looking for "any indications of ball lightning". The lights go out and they see a red glow outside the window. The female student moves to the window and is incinerated just as the other men were, but her male friend - Kurt - runs for his life and makes it outside. The following afternoon Mulder and Scully interview him in his bed at the nearby hospital. He remembers nothing but is suffering from "minor electrical burns and some temporary retina damage from staring at a bright light". Dr. Meagher, who discovered Kurt & brought him to the hospital, is skeptical of his story considering how rare ball lightning is but accepts that his symptoms validate his being exposed to the phenomena. Mulder posits that perhaps the scientists had found a way to generate ball lightning and that the two students accidentally did the same thing after turning on the equipment in the lab. Dr Meagher replies that "there's only one way to find out".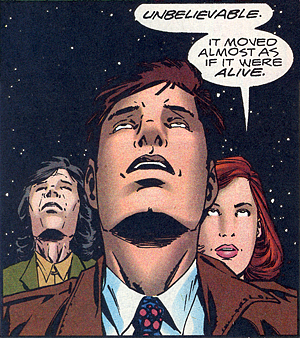 That evening Mulder, Scully, & Dr. Meagher, return to the lab and begin booting up the scientists' equipment. Mulder wonders if the ball lightning could be generating "an intense, localized heat" similar to a nuclear blast, but Scully points out that if that were the case then surely the window would have melted when the ball floated through it. Dr. Meagher gets the equipment running and begins downloading the same data. Everything looks normal and the equipment is all working. As Dr. Meagher begins to give up on finding anything to back up their theory, Scully notices a strange hissing noise. The equipment is still reading normally, but Mulder spots one of the giant red orbs outside the window. Scully and Dr. Meagher evacuate, but Mulder stays inside trying to read something on a computer screen. He attempts to print it off as Scully shouts from outside. The ball comes up behind Mulder, then stops and retreats through the window where it floats up into space and vanishes. "Unbelievable," Scully says as the tree of them watch it go, "it moved almost as if it were alive".
Xfiles.news

_________________
Thank you Maria!
Pix Queen




Number of posts

: 100670


Age

: 49


Your favorite David's role

: Hank Moody and Fox Mulder


Registration date :

2007-05-07



_________________
Credit to original photographer, poster, scanner, site & anyone I may have missed in between




TBT Review: Topps The X-Files #19
Details
Written by Sophie Brown | Staff Writer
Category: Reviews
Published: 17 March 2016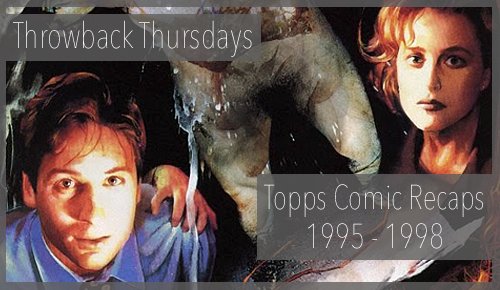 t's been awhile since our last Throwback Thursday where we look back at The X-Files Topps comics of the 1990s. When we last left them, Mulder and Scully were investigating the disappearance of several scientists at a meteorological research station near the infamous Brown Mountain and had come face to face with a mysterious, floating red orb. Read after the jump to discover what happens next in "Night Lights Part Two".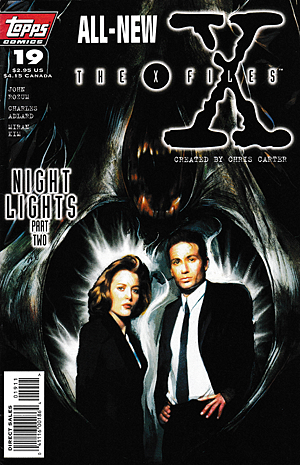 Picking up from where we left off several months ago, Mulder calls The Lone Gunmen for information on "atmospheric life forms", so called space animals that are thought to live in the upper atmosphere. Byers gives Mulder information on the phenomena, including tales from Sir Arthur Conan Doyle, Charles Fort, and Kenneth Arnold, but explains to him that the theory has fallen out of favor in recent decades.
Scully and Mulder decide to hike up Brown Mountain together, Mulder sporting an eye-watering yellow and green plaid shirt, but find nothing unusual in the woods for what must be the first time ever. Meanwhile, Dr. Meagher has managed to locate the remains of the downed weather balloon, however, when she and the agents get to see it they discover that its transmitter has been damaged rendering it and any data it may have recorded, useless. The damage matches what would be expected from a lightning strike, except there hasn't been any lightning in the area since the balloon was launched. Mulder begins to plot one of his elaborate schemes - you can practically feel Scully's dread dripping from the page - and asks Dr. Meagher if she would be able to get hold of another transmitter for him.
Back in town, and with Scully now taking over bad outfit detail thanks to a lovely yellow-orange pantsuit, the agents are approached by the dreaded Local Law Enforcement representative. In this case, it is Police Chief George Hambrick who joins them for a tasty meal of nondescript grey stuff (try it, it's delicious!) at a local diner. To their dismay, Hambrick has heard about Mulder's Brown Mountain lights theory and is understandably sceptical. Despite her own significant doubts, Scully immediately defends both Mulder and his theory when Hambrick begins to personally attack her partner's abilities. Mulder lets slip that he is planning a test "to determine whether or not [he] is right", and to their further annoyance, Hambrick invites himself along to witness it for himself.
Driving back to the motel, Mulder elaborates on his theory to Scully. He explains that he believes the transmitters may be producing sounds similar to "the creature's mating call", and that the attacks may be due to the creature mistaking the balloon and the research station for a potential mate, or another "sexually competing creature." Scully finally loses her composure and starts crying laughing over the way Mulder has already "worked out the mating rituals.. for what is more likely an anomalous atmospheric condition", marvelling at the way he makes the whole scenario sound "so rational." Grinning himself, Mulder replied that "it's all in the delivery."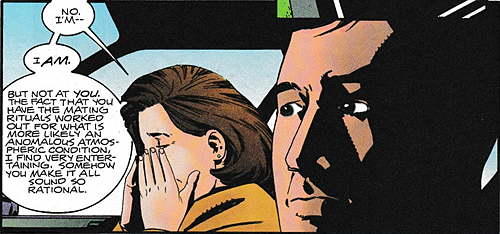 The next morning, Mulder and Scully discover what must be most of the police department up at the research laboratory. Somehow, Hambrick has gotten hold of several sticks of dynamite which he plans to attach to the balloon, killing the creature if it appears. Mulder is horrified but his outrage falls on deaf ears. Hambrick is more concerned with keeping his region safe for hikers, and not jeopardizing its economy than he is with studying the creatures.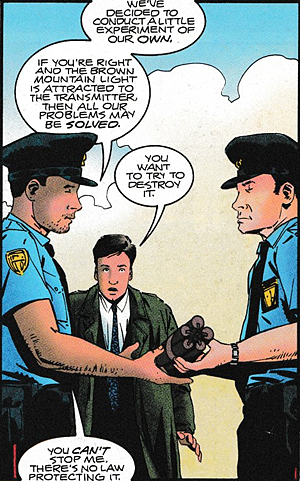 Unwilling to listen to any more of Hambrick's rambling, Mulder steals the transmitter and makes a break for it. He doesn't get very far before is is knocked to the floor by one of the deputies, breaking the transmitter's activator switch in the process meaning it cannot be switched off. The red light appears between the trees, rapidly approaching the three men and the beeping transmitter. Hambrick is entranced by the light, disturbingly calling it "sensuous", until it begins to get too close. He drops the transmitter, allowing Mulder to shoot and destroy it, and the creature floats back up into the sky and out of sight.
In his closing report, Mulder writes that he believes the Brown Mountain lights are indeed an atmospheric life form, but that none of the other witnesses could agree on exactly what they saw. The meteorological research station has been closed down, and, unsurprisingly, the disappearance of the scientists remains unexplained.
Xfiles.news
_________________
Thank you Maria!
Pix Queen




Number of posts

: 100670


Age

: 49


Your favorite David's role

: Hank Moody and Fox Mulder


Registration date :

2007-05-07



_________________
Credit to original photographer, poster, scanner, site & anyone I may have missed in between




TBT Review: Topps The X-Files #20
Details
Written by Sophie Brown | Staff Writer
Category: Reviews
Published: 14 April 2016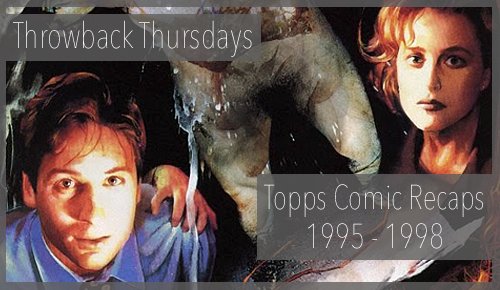 In this month's issue of Topps' The X-Files, originally released in July 1996, author Kevin J. Anderson takes the writing reins when Mulder and Scully track down a killer camera in the Black Hills of South Dakota. Read after the jump for our recap of "Family Portrait" Part One.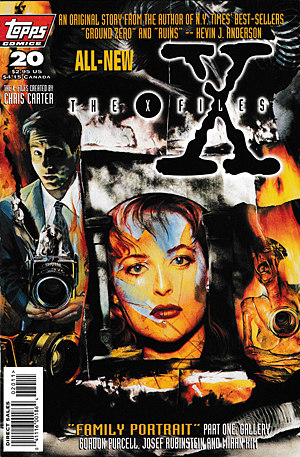 Issue #20 opens with the first of many painfully obvious sections of exposition. This one takes the form of the "testament of Henry Franklin" inside his now-closed photography studio, which is located in a remote cabin. Franklin is clearly a man afraid of something and we watch as he prepares to swing a baseball bat into an old-fashioned camera, sweat pouring down his face. Before he can destroy it, a huge wooden beam in the cabin's ceiling cracks and crashes on top of him, but not before we catch a glimpse of his "gallery of victims", and of a strange, glowing something hidden inside a glass jar.
In their Washington DC office, Scully and Mulder discuss the case. Mulder presents Scully with a number of photographs that show Franklin's corpse, now grotesquely mummified only a week after he went missing, and the two perform some impressively rapid investigations. Scully analyzes an abnormal tissue sample from the corpse only to discover it completely lifeless and lacking even natural bacteria while Mulder uncovers a "years-long trail of missing persons reports" worryingly quickly. Within a single page, they're off to South Dakota on the trail of a suspected serial killer - that's quick even for these two!
On reaching South Dakota, Scully has somehow located a turquoise pantsuit with the world's highest waistband. The agents themselves have been located in turn by Mister Dubay, an acquaintance of Franklin's who discovered his body. Dubay gives the agents directions up to the cabin and its isolated location has Scully instantly surmising that it would make a perfect base for a serial killer - she must be fun to take on camping trips. Mulder, on the other hand, is taken with the cabin's "rustic hunting lodge" charm. The pair check out the studio and the old camera which is still set up just as Franklin left it. This also allows Mulder to give us another round of exposition, this time, to explain how old fashioned cameras work. He also spots a series of strange symbols around the lens.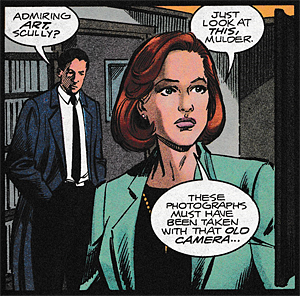 Mulder heads off into the dark room to poke around. He spots the glowing something we saw earlier but it vanishes as soon as he gets close. Scully, meanwhile, is poking around the rest of the studio, checking out Franklin's library and the victim gallery. Mulder soon joins her and the two admire the dead man's work. They're soon waxing lyrical about the photographs, Mulder pointing out how you, "can feel flashes of their lives. As if their ghosts are trapped within the frame". This issue will not be winning any awards for subtlety. It takes less than a page before he's (unsurprisingly) telling Scully the classic Native American folk legend which claims photos can steal a person's soul, and wondering aloud about where Franklin found his unusual camera.
As if to answer his question, we're whisked away to Germany's Black Forest (apparently this camera has a thing for locations with "Black" in the name) and the home of Welfft Gunthers. Gunthers too is a master of exposition, talking to himself about the loss of his camera. Through a series of old photographs, we see him in his younger days and learn that he used the camera to steal youth from others, only to have the camera in turn stolen from him by a soldier during the World War II. Gunthers continues his long rambling monologue, telling us how he survived for decades after the theft of the camera, tortured by the countless incubi he kept in jars, each one "hungry for human souls". Well, that would certainly make for an interesting episode of Hoarders. He fed the incubi through his magical soul-stealing camera and they granted him energy/youth in return. Now, however, the very last incubi is dying and Gunther realises he must get his camera back, because apparently it hadn't occurred to him before?!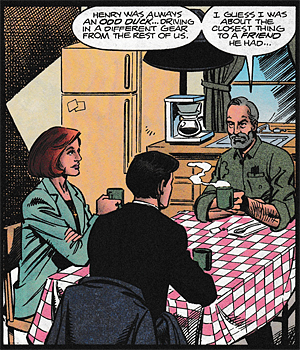 Back in South Dakota, Mister Dubay visits Mulder and Scully at Franklin's cabin, because stopping by crime scenes for a coffee with the investigating officers is a totally normal thing to do. The three sit down at the victim's table for some steaming hot mugs of crime scene coffee and Dubay tells them more about Franklin's photography studio which one had people "lined up in the waiting room". He asks Mulder to take his picture with the old camera because Franklin had always refused (hmmm, I wonder why…) Mulder agrees, finally being handed an excuse to play with the device, but as soon as the image is taken, Franklin begins feeling exhausted.
Mulder heads into the darkroom to develop the picture using knowledge from his "amateur photography lessons" - the man really does keep unfolding like a flower. However, once the image begins to form Mulder is assaulted by waves of dizziness. "It's as if I'm seeing visions… snapshots of Dubay's life, all his darkest secrets" Mulder says in yet another subtle as a brick section of exposition. The dizziness causes him to knock over the equipment and destroy the developing picture, but when Mulder offers to retake it for Dubay the other man leaves, claiming exhaustion.
Elsewhere in the Black Hills, Gunthers has arrived from Germany and is being slowly drawn toward his long-lost camera. He drives and we get even more exposition in the form of old photographs. We learn that the camera was stolen in or before 1944 - which means it's taken him 52 years to follow this gut instinct and try to reclaim it! Over the years the incubi died, giving Gunthers horrifying nightmares and destroying his home as they did.
Back at Franklin's cabin, Mulder has been trying to correlate local missing person reports with the photos on the gallery wall, and having some success. Scully points out that they still haven't looked outside, guessing that they may find bodies buried nearby. They head out into the dark night (because when would be better to search a forest?) and soon find an old cellar door. Opening it up, they discover two of the missing people, mummified just like Franklin himself.
To be continued…
Xfiles.news
_________________
Thank you Maria!
Pix Queen




Number of posts

: 100670


Age

: 49


Your favorite David's role

: Hank Moody and Fox Mulder


Registration date :

2007-05-07



_________________
Credit to original photographer, poster, scanner, site & anyone I may have missed in between




---
Permissions in this forum:
You
cannot
reply to topics in this forum